Download Minecraft 1.16.200.53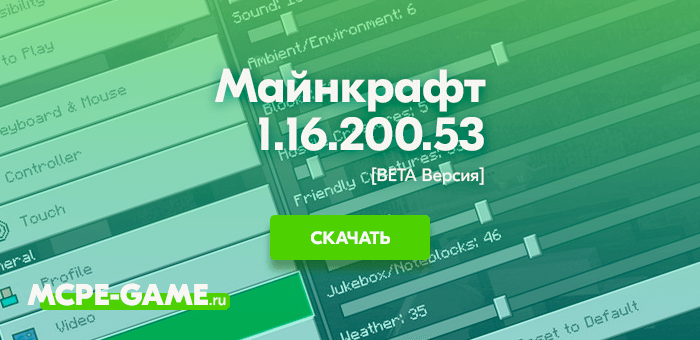 Download Minecraft 1.16.200.53, the first beta of the coming winter, with an updated sound setup menu!
What's changed in MCPE 1.16.200.53
Minecraft update 1.16.200.53 adds a new menu for fine-tuning the sound in the game. You will now be able to control the volume of certain effects, events, items, and mobs by customizing them as you wish! Precise volume settings are available for background music, environment sounds, blocks, creatures, players and weather conditions.
Fixed errors
In-game optimization
Fixed a bug that caused a character's arm to keep wobbling, even if you turn it off in the settings
Fixed bugs that caused the game to crash when loading worlds
Minor changes in the character editing menu
Fixed interface bugs when converting text to speech
Gameplay Changes
Bees will not be able to fly further than 22 blocks from the hive
Non-merit armor will reduce the repulsion effect by 90%
Warning! Before you install Minecraft PE 1.16.200.53 please make sure to back up your worlds!
| | |
| --- | --- |
| Game version | 1.16.200.53 |
| OS | Android |
| Publisher | Microsoft |
| Developer | Mojang |
| The license | Free |
| Launch Date | 05.11.2020 |
| Xbox Live | Supported by |
Leave comment