Download Minecraft 1.16.0.55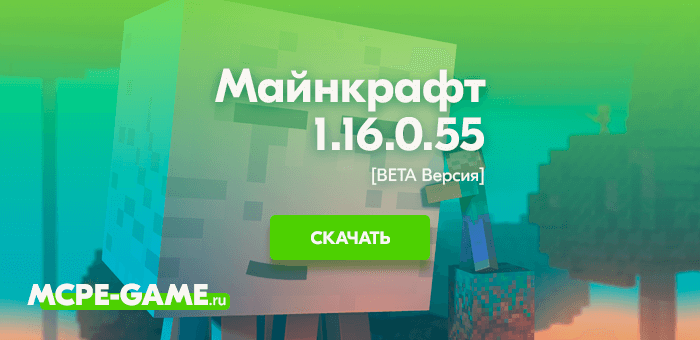 The developers have posted a new test version, which means it's time to download Minecraft 1.16.0.55 and see what's new in the game!
What's new in MCPE 1.16.0.55
Minecraft 1.16.0.55 is another bugofix that fixes the bugs of the newest Nether Update. Of course, you should not wait for any innovations in the near future, because the players have not had time to study the latest global update 100%.
The most notable change is the updated scripts that are required to create mods and maps. So, the add-on developers should be satisfied.
Fixed errors
If we believe the official list of changes, in Minecraft Bedrock 1.16.0.55 version 41 bugs, big and small, have been fixed.
In-game optimization
Fixed a bug displaying players in the game world
Fixed a bug that occurred when creating a new world on iOS
Player hitting water will no longer cause the game to crash
Optimized generation and loading of new chunks on large maps
Fixed issues with incorrect lighting calculations after destroying blocks
When a player dies, screen will not flicker anymore
Gameplay Changes
Added the ability to apply bone dust to speed up the growth of berry bushes
Glass and water textures updated
Adjusted the strength of shovels and shields
Mobs
Fixed long legs for the Iron Golem
Creepers will chase the player longer if they are caught in their line of sight
Fixed Gast's hitbox bug
Warning! Before you install Minecraft PE 1.16.0.55 please make sure to back up your worlds!
| | |
| --- | --- |
| Game version | 1.16.0.55 |
| OS | Android |
| Publisher | Microsoft |
| Developer | Mojang |
| The license | Free |
| Date of issue | 02.04.2019 |
| Xbox Live | Supported by |
Leave comment