Minecraft RPG Mods
Welcome to the RPG Mods and Addons category of MCPE-GAME. Here you will find a great list of the most popular and recent Minecraft RPG Add-ons update daily by ours.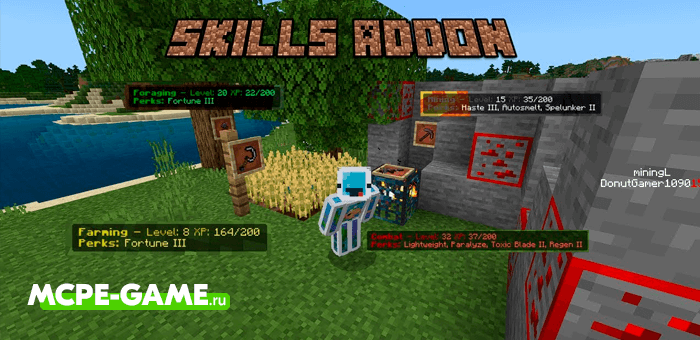 Skills Addon adds character progression and skills to Minecraft, which you can improve by doing many things. Whether it's combat, resource mining or farming, you can now pump up your skills and get different bonuses, just like in RPG games!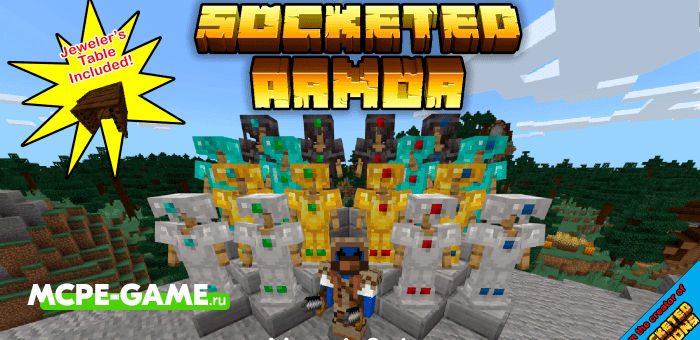 With the Socketed Armor Add-on you will add to Minecraft a mechanic popular in various RPG games – the ability to improve the properties of items by installing runes and gems in them. Create new armor sets with unique abilities for warriors, mages and brigands!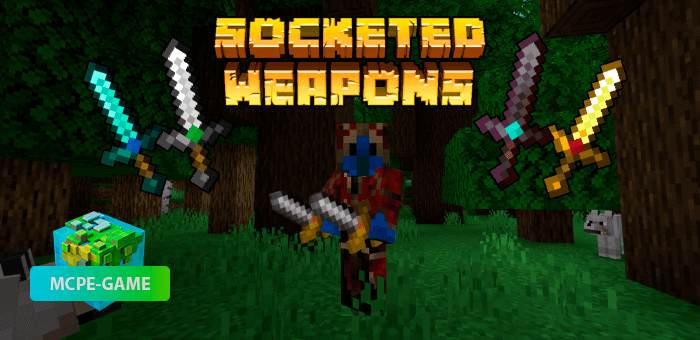 With the Socketed Weapon Add-on you can add to Minecraft Bedrock Edition one of the popular features of a large number of RPG games – the ability to install crystals into weapons, to improve their characteristics! Now you'll be able to affect the strength, regeneration, resilience, and durability of your battle sword!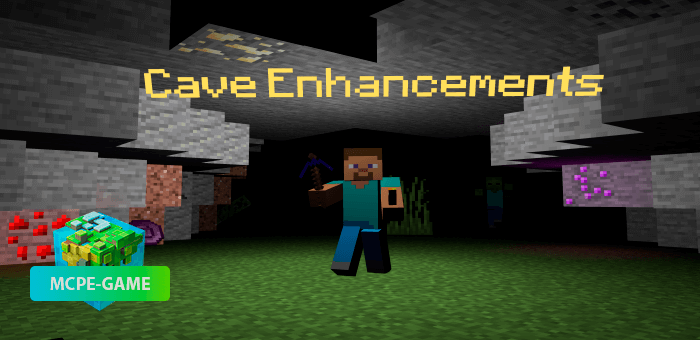 Cave Enhancements is one of the best and most extensive dungeon and cave addons for Minecraft Pocket Edition! The mod will completely change the underground world generation procedure in the game, adds biomes for caves, new locations to explore and dungees. In addition, the addition will add to the MCPE at once 50 types of new ore, more than 300 items, including weapons, armor, and tools, as well as allowing you to use the flashlight and illuminate the area without installing it!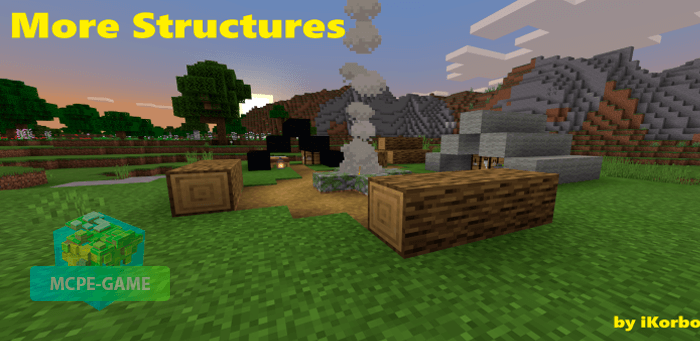 The More Simple Structures Add-on adds unique structures to the world of Minecraft PE, which can be encountered as you travel through the game world. Each building will appear in a suitable biome for it. A great mod for players who travel and explore the game world a lot!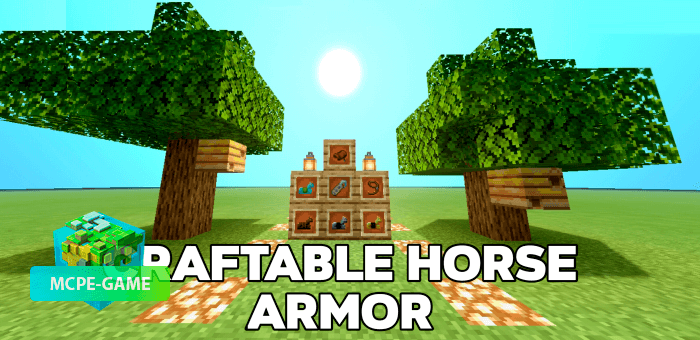 With the Craftable Horse Armor Add-on, you can fix one of the problems in Minecraft PE related to horses. Now you'll have recipes for crafting horse armor, saddle, lasso, and name tag, which means no more searching for dungeons in the underworld!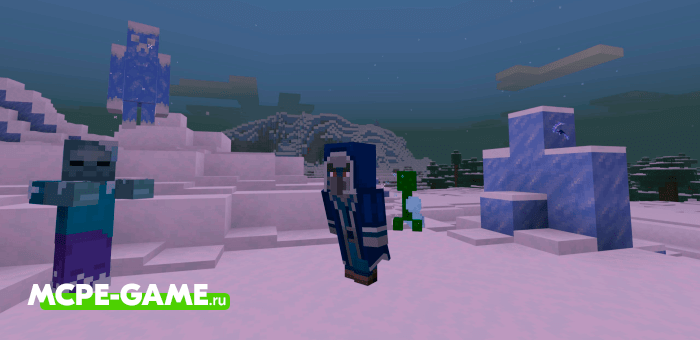 The Frosted Expansion Pack – A great add-on for Minecraft Bedrock Edition containing new cold biomes, where frost even makes the fog appear, and there will be unique mobs waiting for you, adapted to the harsh conditions! Fight the boss, find new weapons, and collect a full set of frost armor!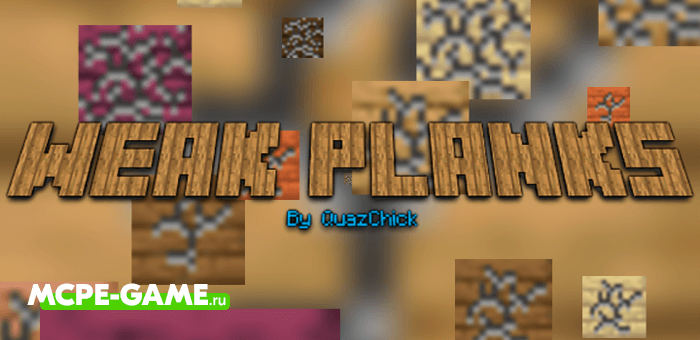 With the Weak Planks Add-on you will add new wooden blocks to the game, which will collapse under the player's feet. You've probably seen such passages in many games, and now they will appear in Minecraft! Create your own traps over chasms, or use new blocks to limit backtracking on maps.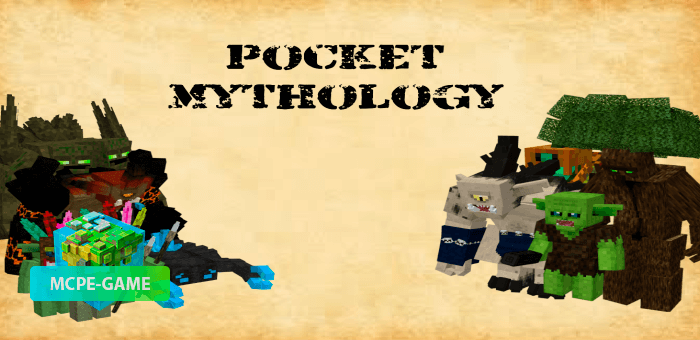 With the Pocket Mythology Add-on you can add to Minecraft PE fictional creatures from the mythology of different countries, as well as a large number of new weapons and armor! Ogres, cyclops, trolls, and many other creatures will now appear in the world of the game, inhabiting various biomes. And with new weapons and armor your battles will become even more intense and dynamic.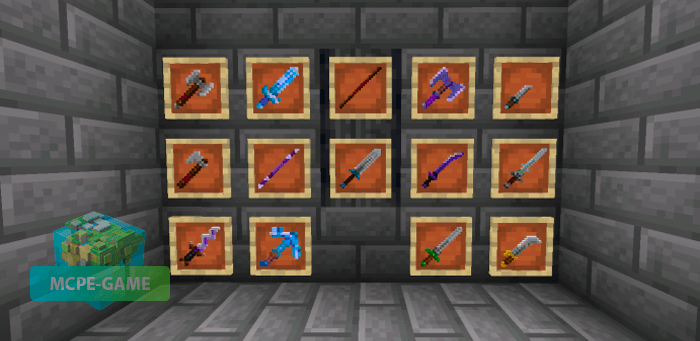 The Minecraft Dungeons Weapons mod adds a large number of new melee weapons from the recently released game of the same name to the mobile version of MCPE. Now you can cut enemies not only in corridor dungeons, but also in the open world, right from your smartphone! New weapons have high damage and infinite strength, as well as, can sometimes give various bonuses for the character.