Download Minecraft 1.16.200.51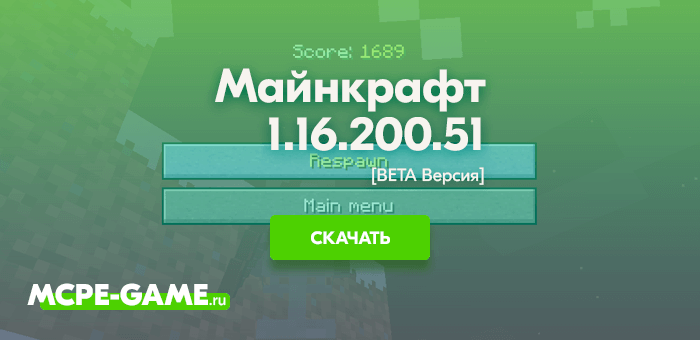 Download Minecraft 1.16.200.51 with new game character death messages and bug fixes!
What's new in MCPE 1.16.200.51
The developers decided to cheer up a little for players who often die in the world of the game. In the update Minecraft 1.16.200.51 added 5 new messages for the character death screen:
Stabbed to Death – Death by Trident
Shot by a Skeleton – Death by a Skeleton, which makes sense
Burned by Ifrit or Gast – this message appears on the netherworld
Snatched by Salker – oddly enough, it appears after being killed by Salker
Spat upon by Llama – perhaps the most annoying message you can imagine
Corrected errors
Minecraft Bedrock version 1.16.200.51 has fixed 10 bugs that the player community managed to discover. The most important ones are below:
In-game optimization
Fixed issues with the display of text color on the screen
Gameplay changes
Returned the ability to craft blocks of bricks from the Lower World
Increased the radius of appearance of mobs during raids
Fixed errors related to armor components
Warning! Before you install Minecraft PE 1.16.200.51 please make sure to back up your worlds!
| | |
| --- | --- |
| Game version | 1.16.200.51 |
| OPERATING SYSTEM | Android |
| Publisher | Microsoft |
| Developer | Mojang |
| The license | Free |
| Launch Date | 22.10.2020 |
| Xbox Live | Supported by |
Leave comment