Download Minecraft 1.16.100.58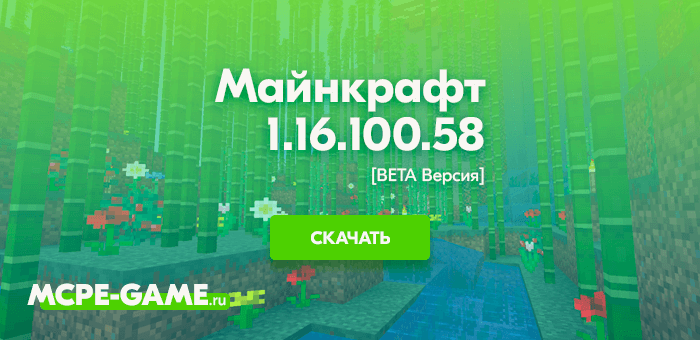 While you read what's new in the latest Bedrock beta, don't forget to download Minecraft 1.16.100.58 to your device!
What's new in MCPE 1.16.100.58
Work on Minecraft 1.16 continues and update Minecraft 1.16.100.58 is another confirmation of this. In this version, the developers have made important fixes and added a raft of technical innovations for mod creators. In addition, players will have to notice the updated sky and fog rendering system.
Fixed errors
The list of fixed bugs in Minecraft Bedrock version 1.16.100.58 consists of 12 items. We have studied each of them and highlighted the most important ones for players.
In-game optimization
Fixed an issue occurring when a character falls from a great height
Fixed an issue with the coordinates of items remaining after the death of the game character
Optimized ticks functioning
Fixed the inverted animation of achievements on the new screen
Tooltips that appear when loading the world now work without errors
Gameplay changes
Lava buckets can again be used as fuel for the stoves
Cacti, bamboo and reed will no longer break at the touch
Warning! Before you install Minecraft PE 1.16.100.58, be sure to back up your worlds!
| | |
| --- | --- |
| Game version | 1.16.100.58 |
| OS | Android |
| Publisher | Microsoft |
| Developer | Mojang |
| The license | Free |
| Launch Date | 30.09.2020 |
| Xbox Live | Supported by |
Leave comment