Download Minecraft 1.16.100.57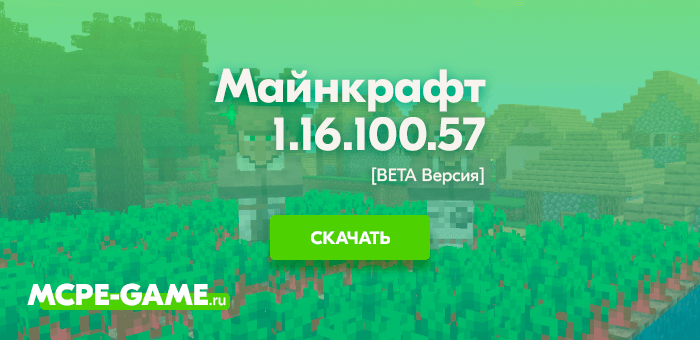 Work on the Inferno update continues, and everyone can download Minecraft 1.16.100.57 – this week's new beta!
What's changed in MCPE 1.16.100.57
Minecraft 1.16.100.57 update is entirely dedicated to in-game optimization and bug fixes. At the same time, the developers continue to work on the updated achievements screen, fixing various bugs and errors at the same time.
Fixed errors
At once 71 bug fixes are fixed in the changelog of the Minecraft Bedrock version 1.16.100.57. In our memory, it is the largest bug fix in the game. Let's see if players can now find new bugs.
In-game optimization
Fixed bugs that caused the game to crash
New Achievement Screen no longer crashes the game
Optimized chunk loading during biome generation
Gameplay Changes
Portals to the Underworld work correctly again
Spawn mobs now depends on the rendering range settings
Fixed a bug where tame pets disappeared after visiting the Upper World
Updated beehive textures
Non-magma armor no longer loses strength if the player is on a block of Magma
Added the /event command to trigger in-game events
Creature Calling Eggs can now be used underwater
Fixed the boat exit button on smartphones and tablets
Trunks located at the Edge were updated
Warning! Before you install Minecraft PE 1.16.100.57 update, make sure you back up your worlds!
| | |
| --- | --- |
| Game version | 1.16.100.57 |
| OS | Android |
| Publisher | Microsoft |
| Developer | Mojang |
| The license | Free |
| Launch Date | 24.09.2020 |
| Xbox Live | Supported by |
Leave comment