Download Minecraft 1.16.100.54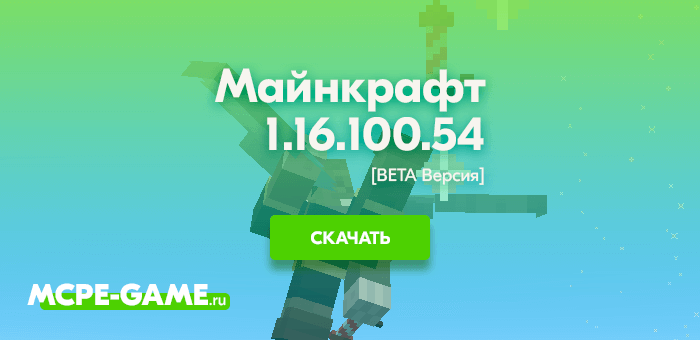 The first beta version of this fall has finally seen the light of day, which means that it's time to download Minecraft 1.16.100.54 and find out what's new in the game!
What's new in MCPE 1.16.100.54
Watching the changelog update Minecraft 1.16.100.54 you can conclude that Mojang decided to finish work on Java Parity – the union of Java and Bedrock versions as soon as possible. There are too many changes associated with this event.
In Minecraft Bedrock version 1.16.100.54, the list of innovations and bug fixes includes 61 items. Such large-scale changelogs we have not seen for quite a long time. Let's get into the details!
In-game optimization
Worked to improve performance on iOS and Android devices
Fixed a bug that caused the game to crash after killing guards
Fixed a critical bug related to flying on Elitra and using fireworks
Compasses will no longer lose their binding to Magnetite when renamed
Gameplay changes
Added the ability to set chains horizontally
Distorted mushrooms can be found in the Crimson Forests
Added the ability to place lanterns underwater
Damage from soul fire does 2x more damage
Soulfire no longer melts blocks of snow and ice
Damage from passing through wild berries bush has been corrected
Fixed ladder texture
Added ability to grow Crimson and Warped Mushrooms on Mycelium
Mobs
Striders with riders are now tame
Fixed Zombie Piglin's model riding a Strider
Skeleton Drainers automatically attack all Piglins
Piglins can use Shields, Mob Heads, and Elitra
Slyms can climb Vertical Ladders
Warning Before installing the Minecraft PE 1.16.100.54 update, be sure to back up your worlds!
| | |
| --- | --- |
| Game version | 1.16.100.54 |
| OS | Android |
| Publisher | Microsoft |
| Developer | Mojang |
| The license | Free |
| Launch Date | 03.09.2020 |
| Xbox Live | Supported by |
Leave comment