Download Minecraft 1.16.100.52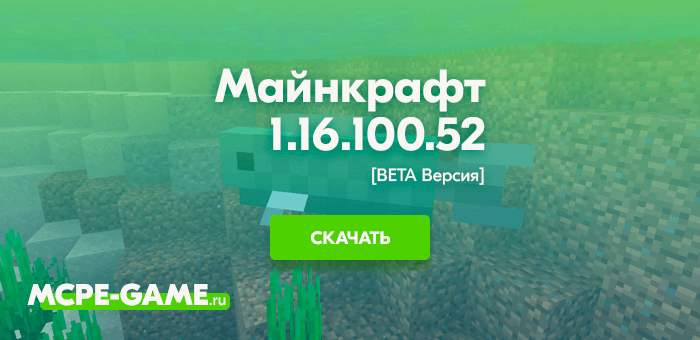 Work on combining versions of Java and Bedrock continues, as you can see by downloading Minecraft 1.16.100.52
What's new in MCPE 1.16.100.52
Minecraft 1.16.100.52 update is another step in the work on version equality, referred to by the developers as Java Parity. This time 3 new commands have been added to the game:
/playanimation – starts the execution of the selected animation from the list
/ride – assigns one character to the role of a rider, and the other to the role of a riding animal
/structure – allows you to work with schemes, without the command block interface
Corrected errors
In the update under Minecraft Bedrock 1.16.100.52 were fixed 28 bugs and bugs, with a list of the most interesting patches you can see below.
In-game optimization
Critical bug, which caused the game to crash when using custom texture sets, has been fixed
Fixed a bug that caused the game to crash when renaming the Dragon of the Edge
Fixed an issue with lighting from experience spheres
Updated the behavior of mobs if they are trapped in lava
Gameplay changes
If you kill a fish with fire, you will immediately get a roast
Added the ability to use blackstone to the recipe for cooking rack crafting
Target blocks now work without errors
Blackstone fences and gates size was adjusted
Drop by mobs will no longer sink in
Warning! Make sure to back up your worlds before you install Minecraft PE 1.16.100.52!
| | |
| --- | --- |
| Game version | 1.16.100.52 |
| OS | Android |
| Publisher | Microsoft |
| Developer | Mojang |
| The license | Free |
| Launch Date | 19.08.2020 |
| Xbox Live | Supported by |
Leave comment