Download Minecraft 1.16.0.64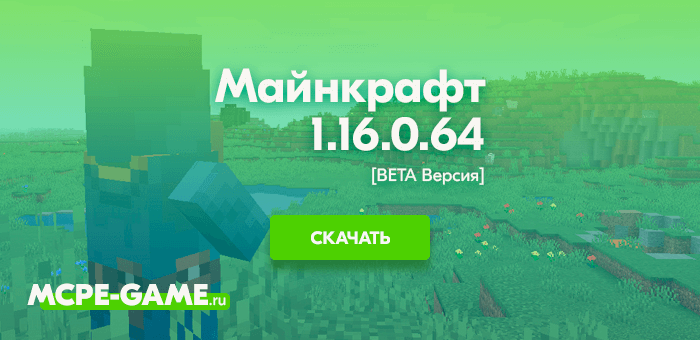 Minecraft test update 1.16.0.64 is now available for download! Let's take a look at what's changed in the game over the week.
What's changed in MCPE 1.16.0.64
The Minecraft 1.16.0.64 update fixes a number of bugs found by the player community since the previous version of the game was released. The update is purely technical and dedicated to fixing bugs.
Fixed errors
Starting with Minecraft Bedrock 1.16.0.64 version, cured from the zombie virus Peaceful inhabitants will be able to properly multiply, increasing the population of the settlement
In-game optimization
Fixed flickering of textures when falling from great heights
Fixed a bug that caused objects to blink on long distances
World generator will no longer create new biomes Lower World on older versions
Gameplay changes
Pathfinding and mob movement algorithm has been updated
Changed the passage of sunlight through glass blocks
Fixed a bug with the poppy crafting recipe
Fixed bug of repulsion when receiving damage
Warning! Before you install Minecraft PE 1.16.0.64 update don't forget to make a backup copy of your worlds!
| | |
| --- | --- |
| Game version | 1.16.0.64 |
| OS | Android |
| Publisher | Microsoft |
| Developer | Mojang |
| The license | Free |
| Launch Date | 28.05.2020 |
| Xbox Live | Supported by |
Leave comment