Download Minecraft 1.15.0.56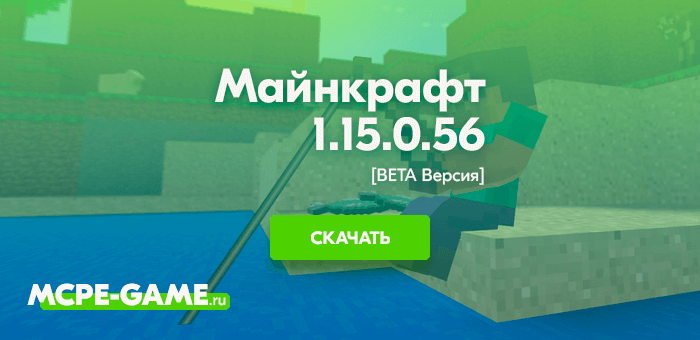 Another week has passed, which means that it's time to download Minecraft 1.15.0.56 and see what new stuff has been added to the game!
What's new in MCPE 1.15.0.56
Minecraft 1.15.0.56 update is once again entirely devoted to bugofixes and fixing bugs, crashes and bugs.
Fixed errors
Minecraft Bedrock 1.15.0.56 differs in that it includes 25 bug fixes related to both optimization and performance, as well as in-game objects.
In-game optimization
Fixed issues that lead to game crashing, improved overall performance of the application
Fixed and fixed bug that appeared at certain game settings
Fixed the command block interface for devices with 4:3 aspect ratio
Gameplay Changes
Corrected some animated particles
Seedlings can grow under trees, leaves are no longer an obstacle to growth
Fixed an issue with invisible armor
Fixed a bug that occurred when saving the game if the player was in lava, under the effect of "Fireproofing"
Fixed a character's hand animation when shooting and fishing that occurs for some players
Mobs
Fixed an error with textures that occurs after shearing a sheep
Other
New blocks added by third-party mods will no longer cause an error
Warning! Make sure to back up your worlds before you upgrade Minecraft PE 1.15.0.56!
| | |
| --- | --- |
| Game version | 1.15.0.56 |
| OS | Android |
| Publisher | Microsoft |
| Developer | Mojang |
| The license | Free |
| Launch Date | 12.03.2020 |
| Xbox Live | Supported by |
Leave comment