Download Minecraft 1.14.30.51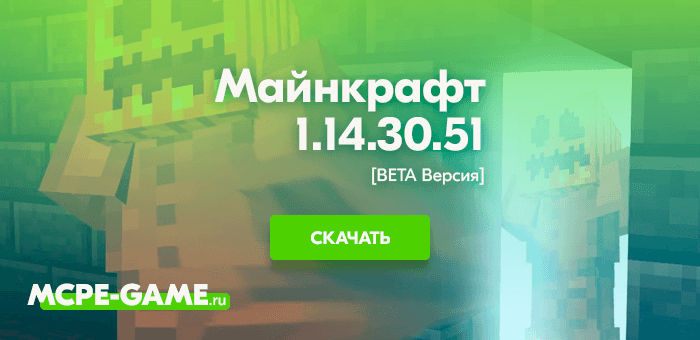 Download Minecraft 1.14.30.51 to be one of the first to try out the new beta version of the update!
What's changed in MCPE 1.14.30.51
Minecraft 1.14.30.51 update is primarily aimed at overall performance improvement on all devices running the Android mobile operating system. If you have a weak smartphone or tablet, we advise you to try this update.
Fixed errors
Minecraft Bedrock version 1.14.30.51 has been fixed 6 bugs found by the community of players during the testing.
In-game optimization
Overall performance improvement and optimization of the game's resources
Fixed bugs that caused the game to crash
Found and fixed a bug that caused maps from the store to work incorrectly
Xbox One gamers will no longer be able to set textures to 256×256 px resolution, as it caused the game to crash
Gameplay changes
Gameplay character will no longer jump when going through doors
Fixed bug with wrong number of empty flasks after honey block crafting
Warning! Before you install Minecraft PE 1.14.30.51 please make sure to back up your worlds!
| | |
| --- | --- |
| Game version | 1.14.30.51 |
| OS | Android |
| Publisher | Microsoft |
| Developer | Mojang |
| The license | Free |
| Launch Date | 29.01.2020 |
| Xbox Live | Supported by |
Leave comment