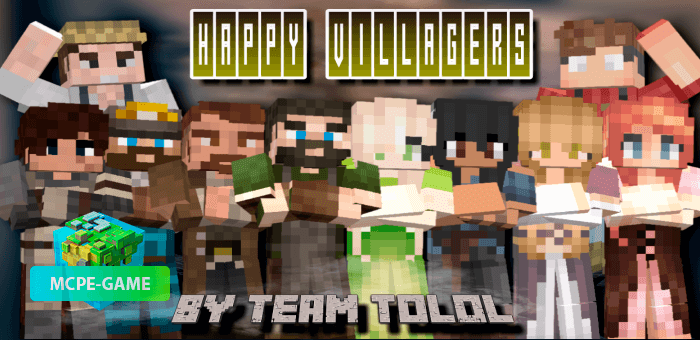 The Happy Villagers Minecraft mod allows you to add new inhabitants to your settlements, with professions and distinctive skins!
Standard inhabitants in Minecraft PE are not characterized by activity and tend to just wander aimlessly around their village, making strange noises. With Happy Villagers mod you'll be able to get full-fledged NPCs, who will be engaged in activities related to their occupation, will communicate with each other and even have offspring.
By the way, you will also be able to choose your mate, to do this you will need to offer a diamond to your favorite NPC.
Thus, downloading the mod for intelligent inhabitants for Minecraft Pocket Edition you will be able to transform the game, making it more realistic. And further, you will be able to build a city or download maps with a village from our archive and create there a full-fledged settlement!
Among the new residents you can find a blacksmith, farmer, fisherman, shepherd, librarian, gunsmith, cartographer, warriors and many other professions. Besides that, all new residents from Happy Villagers mod can be both male and female.
In addition to new NPCs, the modification adds several different objects with which residents will be able to interact in the game. For example, by installing a shopping cart, they will be able to purchase various items. With the help of medieval signs you will be able to denote the belonging of buildings or to name the streets, and on the butcher's table you will be able to make food.
Happy Villagers is one of the best inhabitants mods for MCPE, which we recommend to install to all players who dream to revive their cities or villages!
Video demonstration
Updated at
13.09.2021
Game versions
1.16
Genre
Mods, NPC, Villagers, Villages
Platform
Android, iOS, Windows
Files
HappyVillagers[Behavior]
321.23KB
HappyVillagers[Resource]
7.00MB
Leave comment