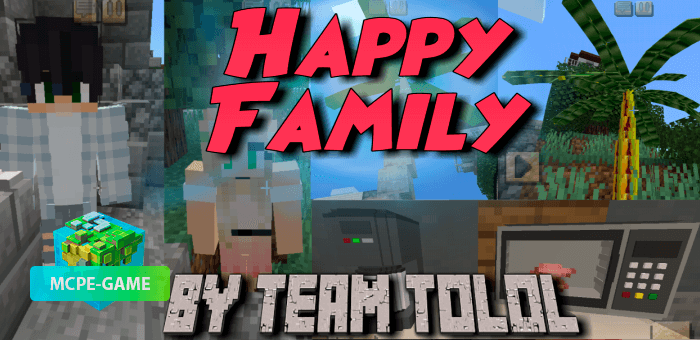 Happy Family – Family Add-on for Minecraft PE, with which you will be able to have relationships with new inhabitants, have children and give tasks to your wife or husband!
Forget about loneliness with Happy Family mod, because now there will always be a loved one near you, who will help in the exploration of the game world and resource extraction. And you can have your own child in Minecraft PE, which you will have to take care of.
Build your own house or even a whole town, put new residents in it and create your own family!
The Happy Family mod offers 3 new male and 4 female residents. Depending on your game character, you will be able to have a relationship with the opposite sex. Of course, first you will be just acquaintances, then friends, and after that you can play a wedding and move on to the most important status of the relationship.
How do I start a family in Minecraft PE?
To create your own cell of society, you must first get acquainted with the character you like. To do this, pick up the phone and get the number of the resident. After that, the status of your relationship will change to "Friend" and in the right corner you will be able to see the resident's HP number.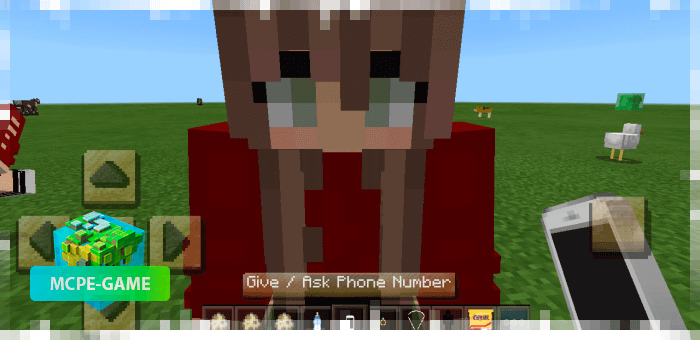 To develop further relationships, check out the Happy Family mod review video, which shows the necessary steps to get married and start a family.
What can family members do?
Once you create your own family in Minecraft PE, your significant other will be able to help you in every way possible – cooking and mining various resources.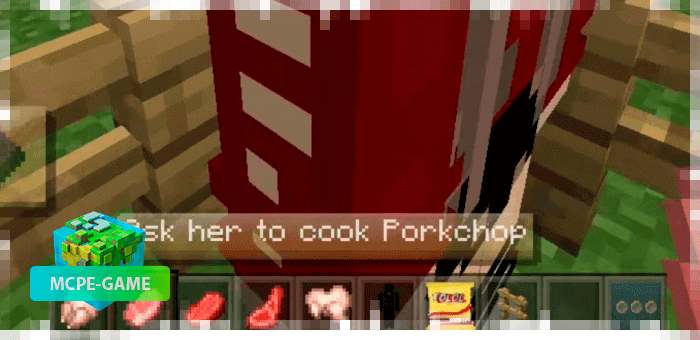 Cooking – pass raw meat to your wife to make a delicious lunch or dinner, while you can take care of child rearing or more important things.
Hunting – use a bow and interact with your family member to send him to hunt, during which he can harvest raw meat, leather, wool and other resources.
Farming – Use the diamond plow to send your husband or wife to farm, which will produce seeds, plants, or food.
Ore mining – if you're tired of exploring mines for resources, assign this task to your significant other using a diamond pickaxe.
Fishing – With a fishing rod, you can give a task for your family member in Minecraft PE to go fishing. Fresh and tasty fish will always be at your family dinner.
Wood mining – using the diamond axe you can ask your husband or wife to mine wood.
The birth of a child
Once you play a wedding in MCPE, you will automatically create a family in the game. After 1 hour of game time, you will have a child to feed and raise.
Just like in real life, in Happy Family mod for Minecraft Bedrock Edition, children are fed with milk. You, as a responsible parent, are supposed to make sure that your baby is nourished, otherwise he might get sick. You can get milk to feed your baby by using the command /function hf
If you miss feedings, the baby may get sick, then it will need to be treated with plenty of milk.
New pets and decor items
To make your Minecraft PE family even happier, you can get a puppy – new pet from Happy Family mod. You can choose from four breeds: Beagle, Dalmatian, Pug and Poodle.
You will also get access to new decorations – microwave oven and coffee machine. If you want to play Minecraft PE with the family mod and build a beautiful house, we recommend downloading additional mods for furniture or different decorations.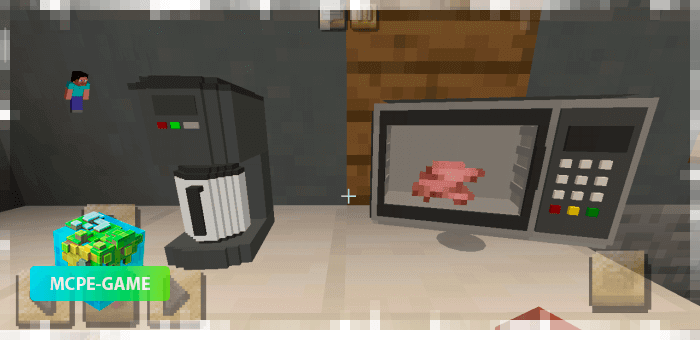 Updated at
13.09.2021
Game versions
1.16
Genre
Family, Mods, NPC, Villagers
Platform
Android, iOS, Windows
Files
Happy Family [Behavior]
291.76KB
Happy Family [Resource]
1.97MB
Leave comment