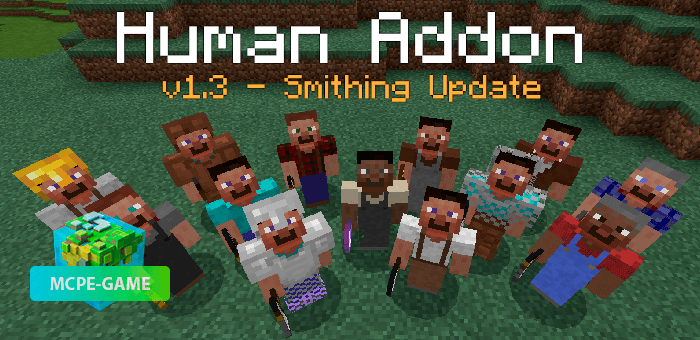 Human Addon – Mod for people in Minecraft PE, which allows you to add new NPCs with different professions to the game!
Now you will be able to populate your city, castle or village with different inhabitants that will diversify the world of the game, making it more atmospheric and interesting. But most importantly, with the mod for the inhabitants of MCPE you will be able to assign people to professions that will become their main activity.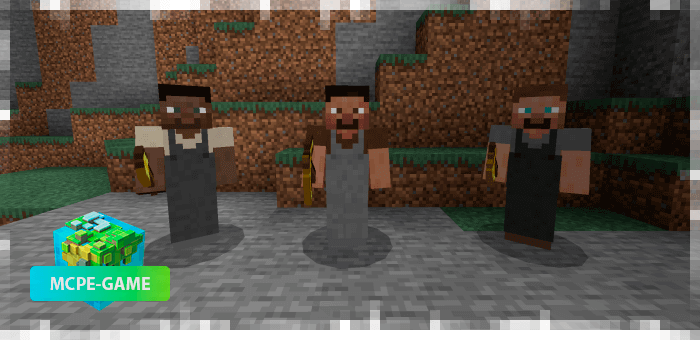 For example, having built a house near the river, you will be able to settle there fisherman, who will catch fresh fish for the whole settlement. You can place guards – archers and soldiers – in the main building and along the perimeter of the castle. The flight of fancy is limitless, because the mod for people for Minecraft Pocket Edition includes many professions!
Military professions
Archer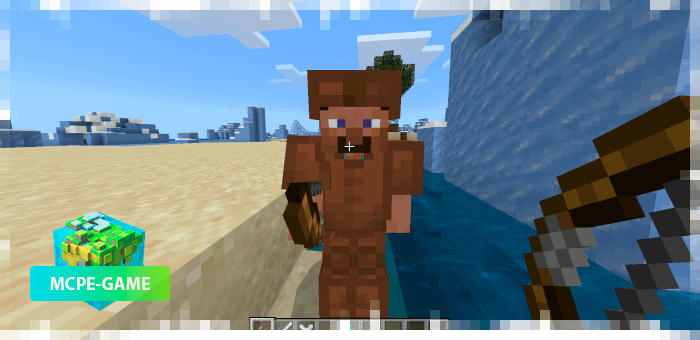 To assign this military profession, it is enough to pass the resident a bow. Archers wear leather armor and can fire at a distance of up to 30 blocks.
Sentinel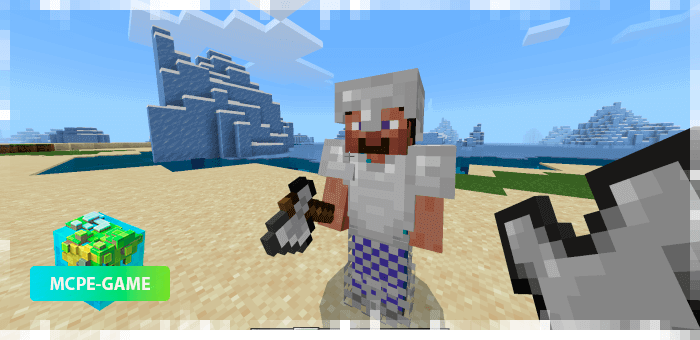 To give a resident in Minecraft PE as a guardian profession, you can transfer a metal bib. Thanks to the heavy armor, the guardian can not be thrown back on impact, but there is a disadvantage – they are extremely slow.
Knight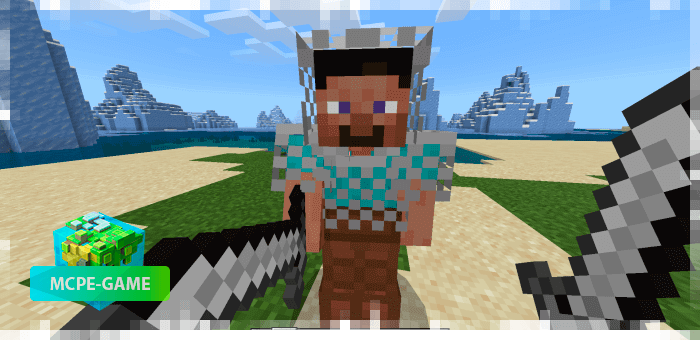 Knights are fast and strong warriors. To form your own army, give people from the Human Addon mod a metal sword.
Peaceful professions
Lumberjack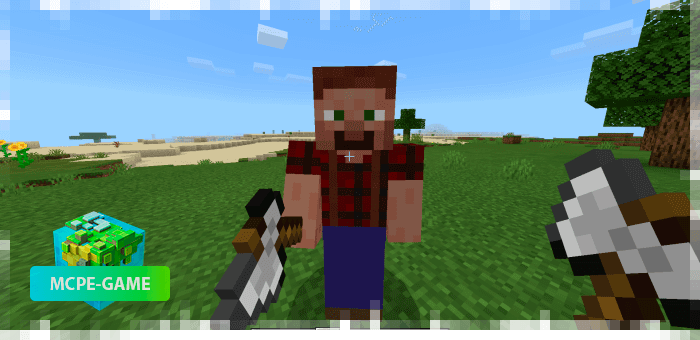 Assigning a Tin Man to be a Woodcutter is very simple, just use a metal axe. The woodcutter can also deal damage to enemies, and sell wood, plants and axes.
The digger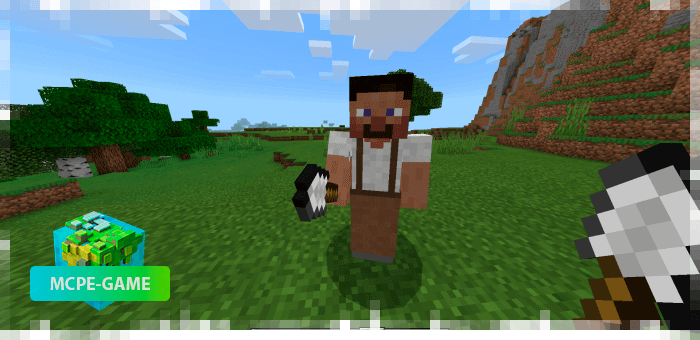 When you give a resident a spade, you'll assign them the role of digger, so they can buy various materials from them.
Miner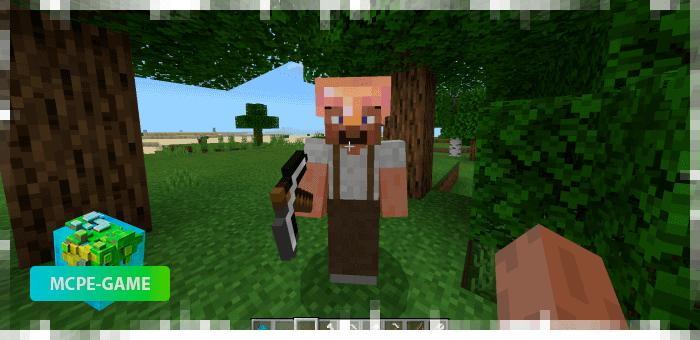 By passing the metal pickaxe to the people in the Human Addon in Minecraft Bedrock Edition you will get a miner, who will also be wearing a gold helmet. You can buy a variety of ores and the inventory needed to dive into the mine from the miners.
Farmer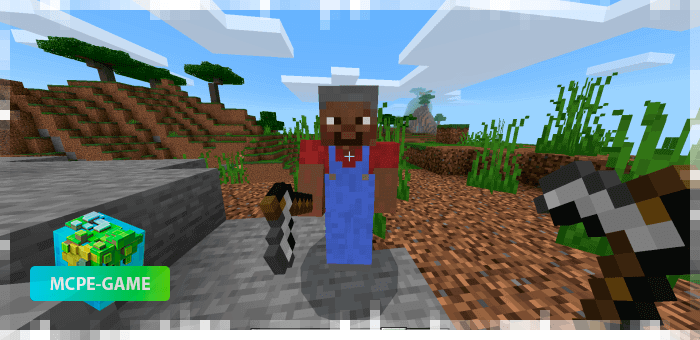 Farmers sell plant seeds and various food items. To designate a resident as a farmer, hand him a metal plough.
Fisherman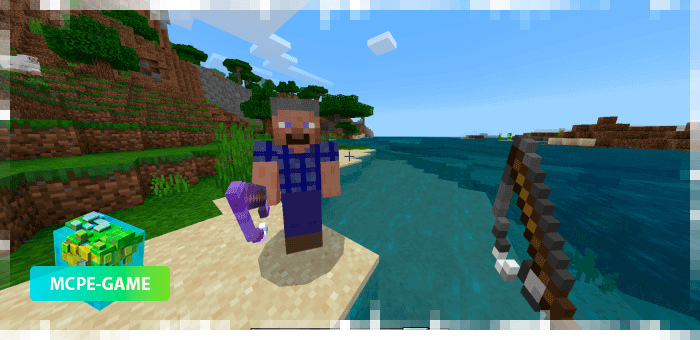 Fishermen are able to catch fish and pass them to the main character, and are also ready to sell you a fishing rod. However, you'll have to give the rod to a villager without a profession first.
Shepherd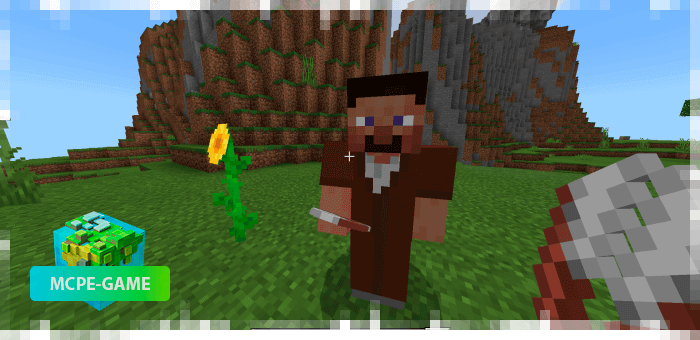 If you pass the person from the Human Addon mod scissors, he will become a shepherd. In the future you will be able to buy from him blocks of wool of all colours, various beds and banners.
Gunsmith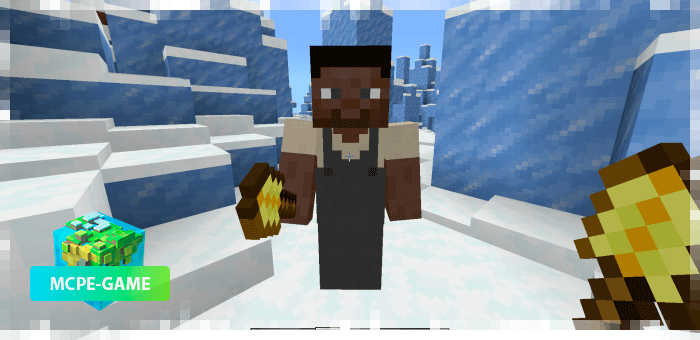 If you give a resident of your village a golden shovel, you will appoint him as an armourer, from whom you will be able to buy various armour, shields and saddles for your horses.
Tools wizard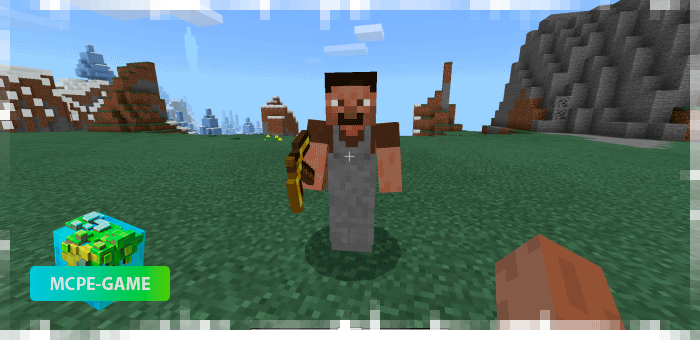 The toolmaker, as you can guess, sells various tools that will be useful in the household. Appointed by handing over a golden pickaxe.
Smith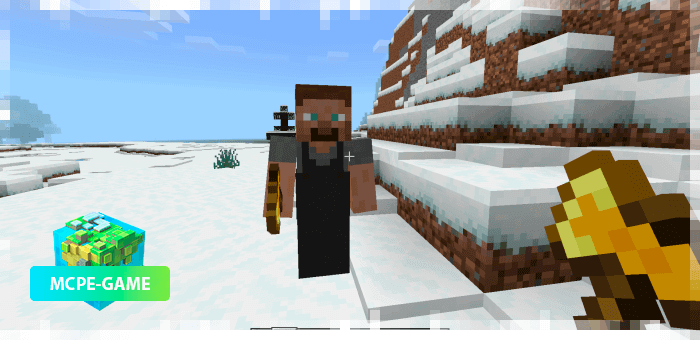 By endowing a resident with a golden axe, you assign him to the role of blacksmith, who will make and sell a variety of melee and ranged weapons.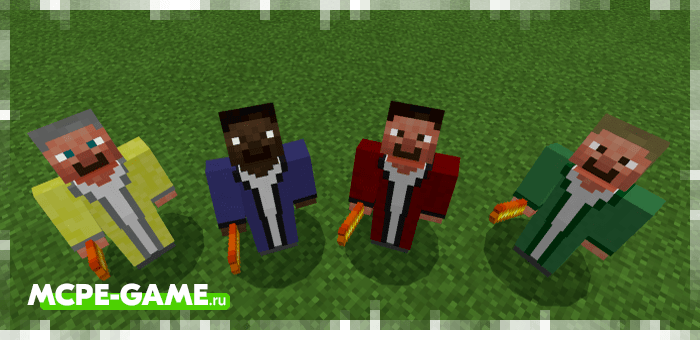 By passing the enchantment table, the NPC from the Human Addon mod will be able to enchant any of your armour and weapons.
Librarian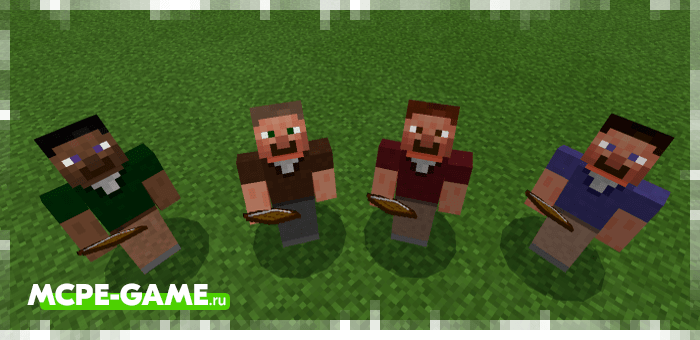 To create a librarian that sells paper and enchanted books, simply pass a plain book to a free NPC.
Priest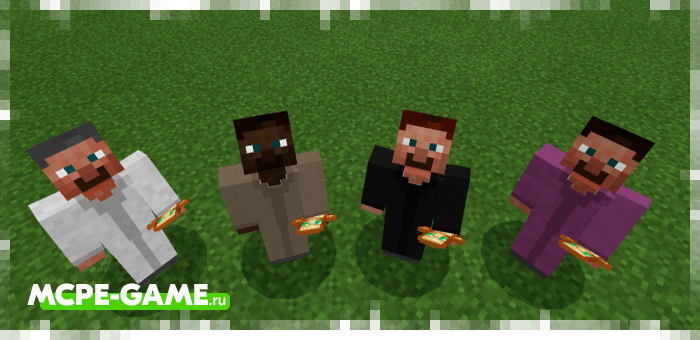 If you have a Totem of Immortality, pass it to an NPC, thus creating a priest to sell zombie bones and meat to.
Artist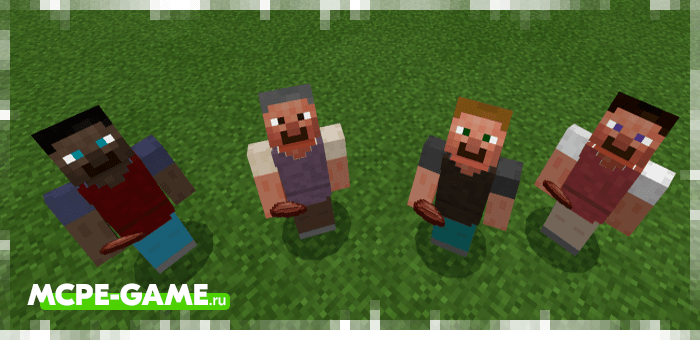 Artists is another profession from the Minecraft Human Addon mod. The profession is assigned by passing a flower pot, and the artists themselves sell various decorations and items to decorate houses.
Electrician
To assign an electrician, use the red dust lantern. New NPCs will sell various redstone-related items, as well as rails.
Bricklayer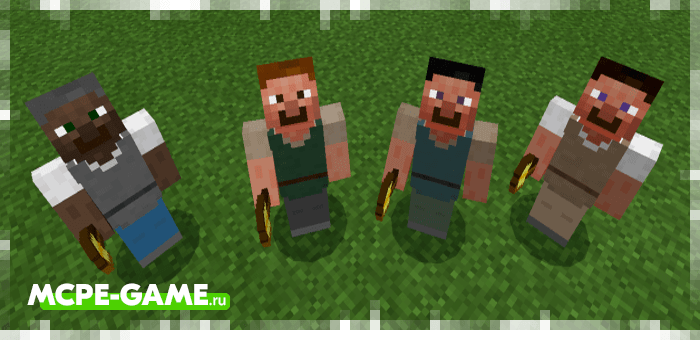 Want to sell rocks and other not-so-useful blocks? Simply assign one of the people from the Human Addon mod to the role of mason, handing them a brick.
Cartographer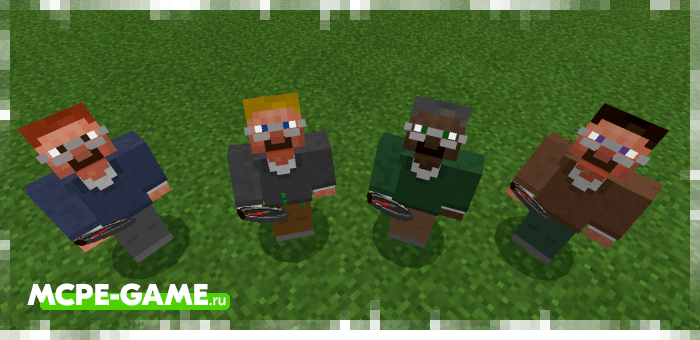 Mapmakers can sell maps with fully explored terrain and other, useful items for explorers. A compass is used to assign to the role of cartographer.
Collector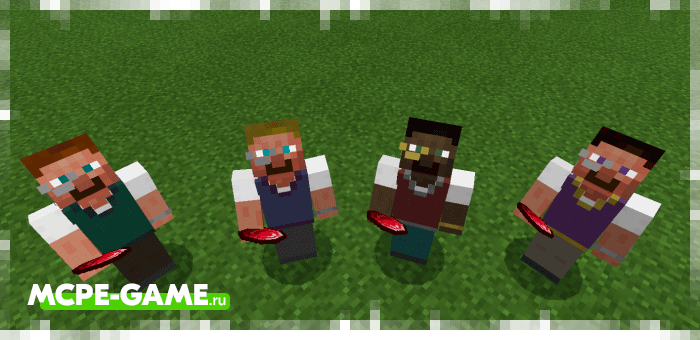 Collectors are willing to purchase various rare items for good value. You can sell them music CDs, horse armor, mob heads, and other rare items. To assign a profession, pass the ruby.
Oceanologist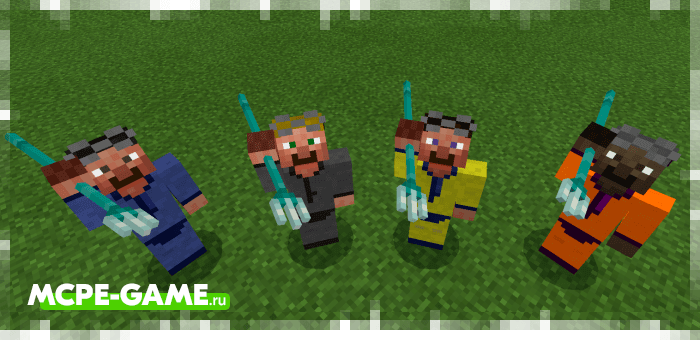 If you apply the trident to a free NPC, he will become an oceanologist and will be able to sell almost all items that can be found underwater.
Features of Human Addon
If you accidentally or intentionally hit a civilian, he will automatically attack you back. Also, humans in the Human Addon mod have an increased running speed and will easily catch up with their abuser.
If you kill a dweller, you may fall out of it the loot specific to the assigned profession.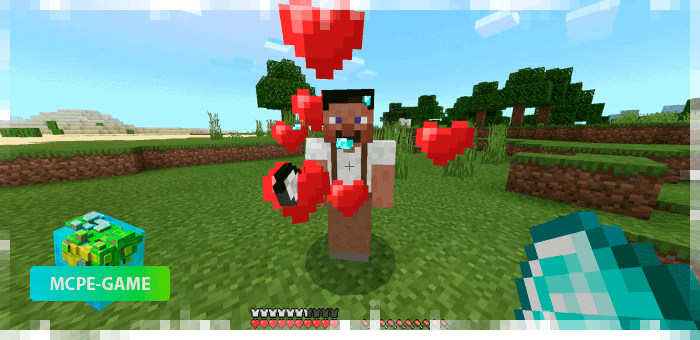 To protect yourself from accidental attacks from civilians, give them a diamond. This way you will become friends, and even after accidentally hitting the inhabitant, he will not attack you back.
People management
In the human mod for Minecraft Human Addon, you need to create a special staff to control the NPC. With it, you will be able to assign different commands to the inhabitants and control their behavior.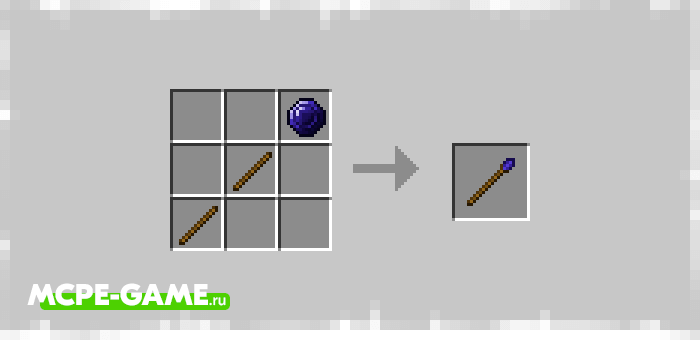 The staff has 4 modes to control the mobs:
Attack (red) – The settler will follow you and attack all mobs and enemies that pose a threat.
Defend (blue) – NPC will also follow you. but now it will only attack creatures that you hit.
Waiting (yellow) – the resident stays put and waits for further commands. The only reason it can start moving is because of enemy attacks.
Free Mode (green) – The settler will go about his business, walking around the town and communicating with other residents. In case of an attack, he will defend you.
Color change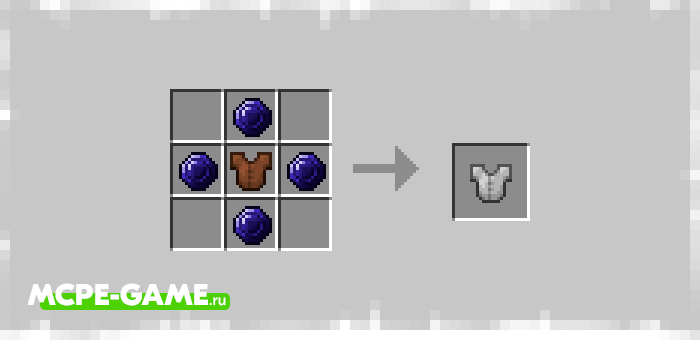 By creating a special chain mail, you will be able to change the skin color of your settlers, for more variety. At the moment, there are 10 skin colors available in Human Addon.
Buildings and buildings
In the updated version of the Human Addon mod for Minecraft Bedrock Edition, different types of buildings and constructions have been added, which you will be able to meet during your travels.
For example, you can find an observatory, a blacksmith shop, a watchtower, dwellings, a farm, and other buildings. Depending on the type of building, it will be inhabited by people with certain profession.
Sapphire ore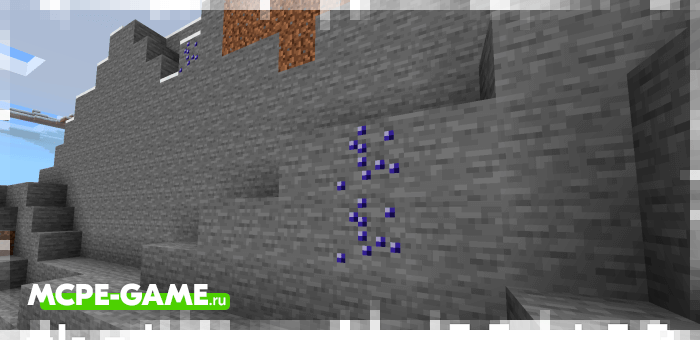 Another innovation that has appeared in the latest mod updates is sapphire ore, which can be found at an altitude of 90-100 blocks.
The blocks of sapphire ore have a distinctive purple color, and by mining the resources you will be able to create new weapons, tools and armor.
Updated at
13.09.2021
Game versions
1.16
Functionality tested on Minecraft
1.16.210 1.16.201 1.16.200 1.16.101 1.16.100
Genre
Mods, NPC, Villagers
Platform
Android, iOS, Windows
Files
Human Addon [Behavior]
207.95KB
Human Addon [Resource]
825.57KB
Leave comment