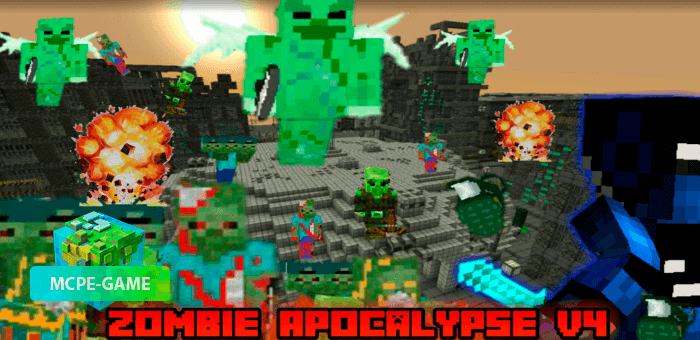 By installing the Zombie Apocalypse Addon in Minecraft PE, you will find yourself in a dangerous world that has undergone mutation due to the spread of a secret virus!
Rumor has it that the scientists of one of the secret laboratories conducted their experiments on living human beings, but the test subjects were able to leave the walls of this terrible place, and unknowingly they began to spread the mutagen around the world, infecting more and more people.
As a result, only a small part of the population managed to survive, and the rest mutated into very dangerous zombies of different shapes and types, leading to global zombie apocalypse in Minecraft Pocket Edition.
New Mobs from Zombie Apocalypse Addon
Minecraft zombie mod called Zombie Apocalypse will add to your game a huge number of new creatures that will try to get to you at any cost. And to fight back, you can use new weapons or additionally download other mods for firearms!
Infected subject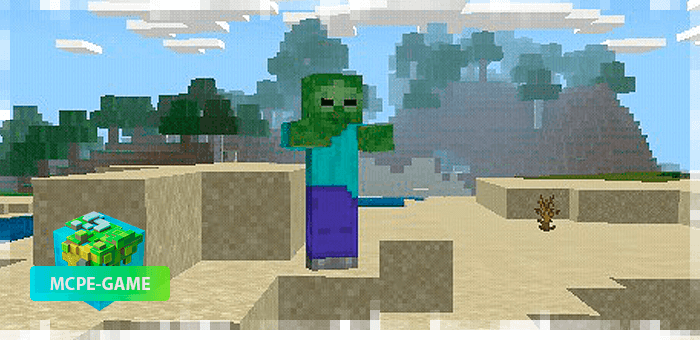 These are the same infected that were experimented on, before they were mutated. They can appear on the surface even during the daytime and are not afraid of sunlight, unlike normal zombies. If an infestation hits you, a starvation effect will be applied.
Infected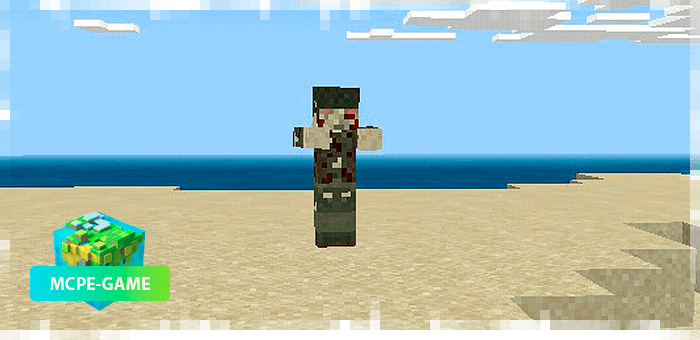 Infected humans who later turn into these monsters are much more dangerous and stronger than the infected subjects, but have less health due to a mutated body.
Faded zombie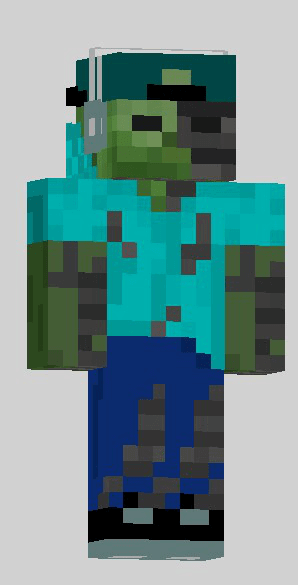 The remnants of the shriveled zombie's skin have dried out so much from the sunlight that they've turned into near impenetrable matter, making them stronger and tougher. And when hit by a player, they can impose a fade effect.
Health: 50 HP
Strength: 10
Zombie Skeleton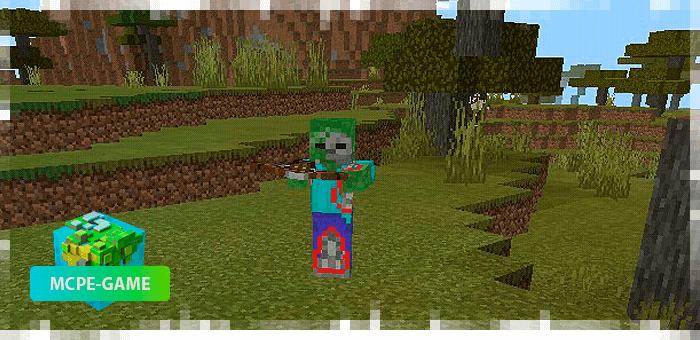 Zombie skeletons are armed with a crossbow and can fire 2 arrows at their opponent at once.
Ender zombie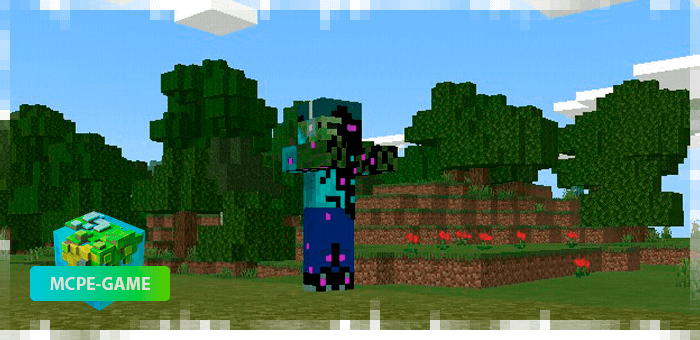 In the zombie apocalypse world of Minecraft, it's not only humans that are in trouble, but also Endermen, as the virus has gotten to them. As a result, the world was filled with ender zombies, who inherited the ability to teleport from their victims.
Zombie Golem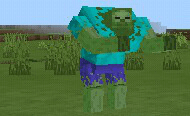 This is one of the most dangerous monsters you can encounter during the zombie apocalypse in Minecraft PE. The zombie golem is incredibly large and has a tough skin that is resistant to most attacks!
Health: 500 HP
Power: 25 units
Zombie King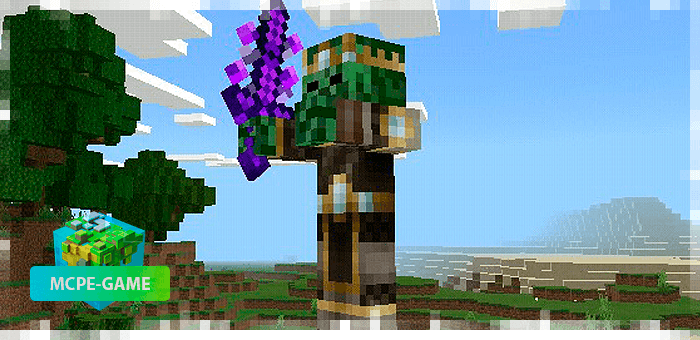 The leader of all zombies, who incomprehensibly managed to rally all the infected behind him. Should you decide to fight him, the Zombie King is armed with an incredibly strong sword that can kill you in a couple of blows, even with the strongest armor. Therefore, don't even try to attack him in close combat.
Infected military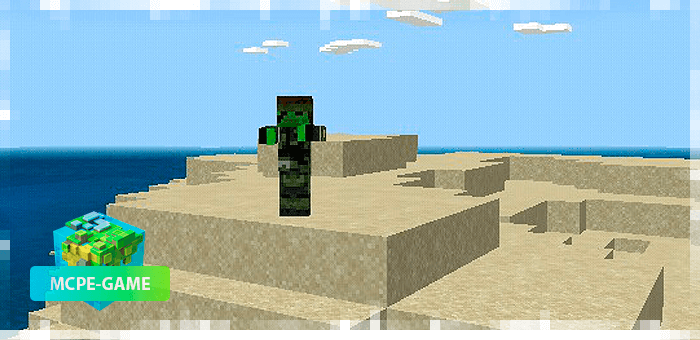 In the first wave of the zombie apocalypse in Minecraft Bedrock Edition, it was the military forces that tried to suppress the infestation, and as a result, most of the soldiers themselves mutated and became zombies. Thus, many of the infected were able to gain access to firearms and are now firing on anyone who still has a brain left!
Health: 30 HP
Power: 10 units
Decomposing zombie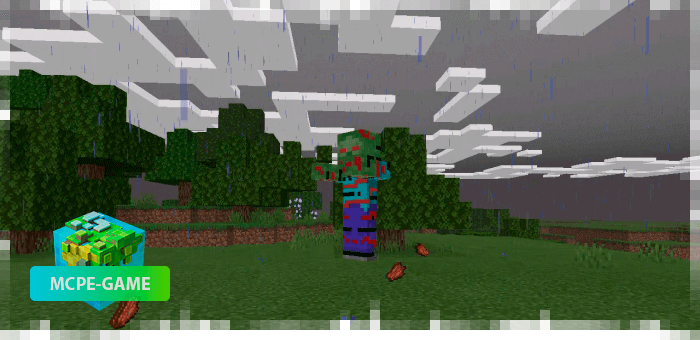 Due to the secondary infestation that has spread across the already dead skin, this zombie species can move quickly to their enemy while attacking.
Zombie Trader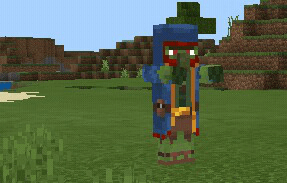 As you've realized, the zombie apocalypse in the Minecraft world has spread so much that even wandering traders have become carriers of the virus during their wanderings. And now, their main target isn't trading but killing!
Halloween zombie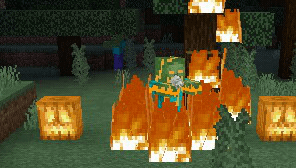 No one knows how these zombies, with their distinctive Halloween pumpkins, came to be, but one thing is certain, they still remember All the Dead Day!
Zombie Archer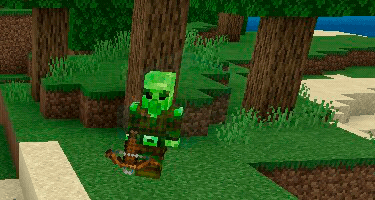 The former archers from peaceful villages armed with crossbows may have lost their minds, but they have certainly not lost their marksmanship
Hunter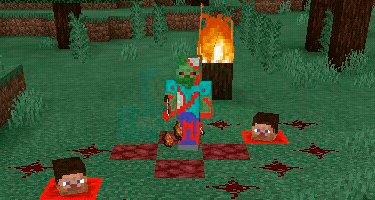 One of the most dangerous Infestors in the Zombie Apocalypse mod, who deals swift attacks to his victims.
Three-headed zombie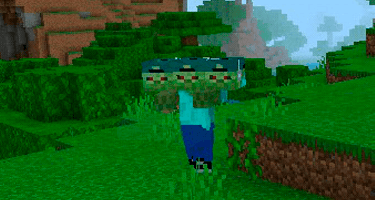 The Zombie with 3 heads is the clearest example of how mutations affect living organisms. Most interestingly, compared to a normal zombie, its stats are also increased by 3 times.
Reaper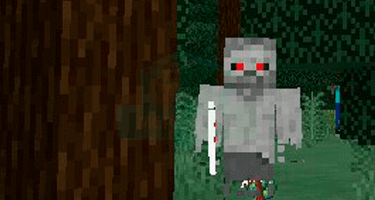 The Reaper is a zombie, or maybe even a ghost, with a huge scythe that will avoid the sunlight in every possible way while stalking its victims.
New weapon
To survive in the world of zombie apocalypse, this mod also adds some weapons, among which there is a fragmentation grenade, and a sniper rifle. From the crafting recipes you will find below.
Video overview of the zombie apocalypse
Updated at
13.09.2021
Game versions
1.16
Genre
Mods, Zombie
Platform
Android, iOS, Windows
Files
Zombie-Apocalypse.mcaddon
3.56MB
Leave comment