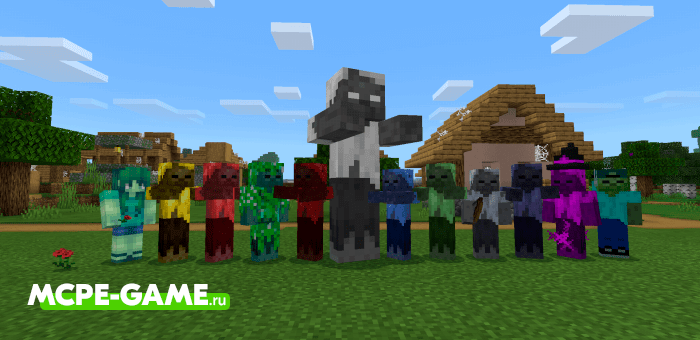 If you think there should be more different kinds of zombies in Minecraft, this addon is made just for you!
The More Zombies Addon adds many new types of zombies to Minecraft Bedrock Edition, which will have both a unique appearance and different abilities. For example, you'll be able to meet a reanimated dead person that can teleport, or attack their victims with fire, for example.
Almost all of the new zombies in the More Zombies mod will attack the player as soon as they spot them. But there are also 2 walking dead that are in love with each other even after death and do not attack other creatures.
Zombie Archer: Armed with a bow and can attack from a distance.
Teleporting Zombie: Throws poison flasks at his enemies and can teleport a short distance.
Zombie Summoner: His attacks cause blindness, he can also tame wolves to his side and summon other zombies to protect him.
Invisible Zombie: This unit is invisible once combat begins, making it a very dangerous enemy. It comes out of invisibility if defeated or in a very long battle.
Explosive Zombie: Can attack enemies in close combat by either striking or blowing themselves up at any time. Able to blast creepers from a distance.
Transforming Zombie: Can transform as it gets closer to its target, increasing in size.
Colorful Zombie: Can put a unique attack effect on other zombies and change it to a new one.
Fire Zombie: Leaves a trail of fire behind him, and his attacks poison the victim.
Zombie Wizard: Throws dangerous potions at his enemies.
Zombie Boss: Has 300 HP and can throw huge boulders at the player. Also able to summon small zombies armed with bows and zombies with the effect of blindness from attacks. Boss Zombie appears when any zombie in the mod is struck by lightning.
Updated at
13.09.2021
Game versions
1.16
Genre
Mobs, Mods, Zombie
Platform
Android, iOS, Windows
Files
More Zombies [Behavior]
61.07KB
More Zombies [Resource]
99.40KB
Leave comment