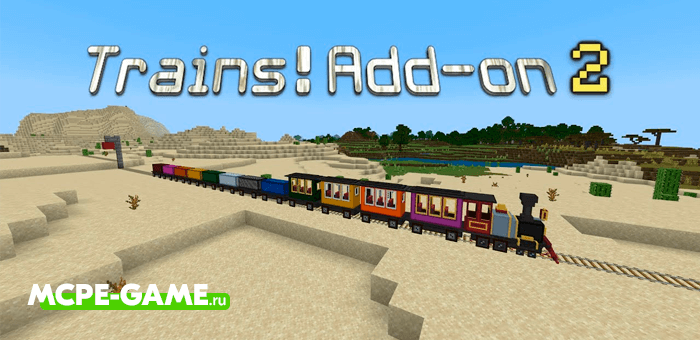 Trains! – Train Addon for Minecraft, with which you can create your own train sets by adding industrial or passenger cars!
Create your own railroad in the world of the game, laying tracks through your city or between different settlements, and do not forget to build stations and depots. With the train mod you won't have to move in the standard trolleys, because now you can become a driver and control a huge train!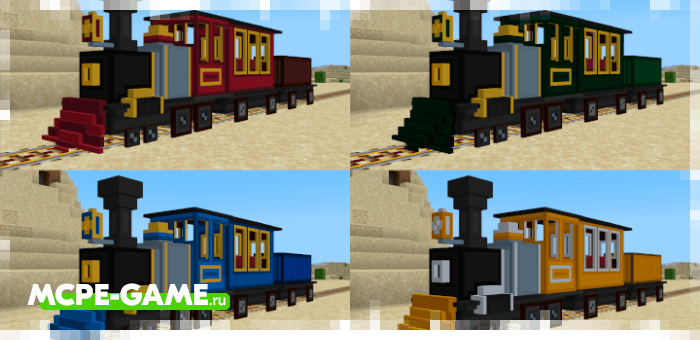 Thus, you will be able to change the color of the train, using dyes, as well as attach any type of cars. Recipes for making all new objects from Trains! mod, including couplers for cars, are shown below.
Also, you can obtain locomotives, wagons and couplers by using commands:
/give @s edge:engine_spawn_egg
/give @s edge:carriage_spawn_egg
/give @s edge:cargo_spawn_egg
/give @s edge:carriage_coupler
/give @s edge:cargo_coupler
How to make your own train set
Create a locomotive and place it on the tracks;
Sit in the locomotive and start the movement to determine the direction of the train;
Make connectors for the cars;
Craft the required number of passenger or freight wagons;
Attach the wagons by tying them together using connectors;
Get behind the wheel of the locomotive and drive a complete train with all wagons.
Video review
Updated at
13.09.2021
Game versions
1.16
Functionality tested on Minecraft
1.16.201 1.16.200
Genre
Mods, Vehicle
Platform
Android, iOS, Windows
Files
Trains2.mcaddon
192.02KB
Leave comment