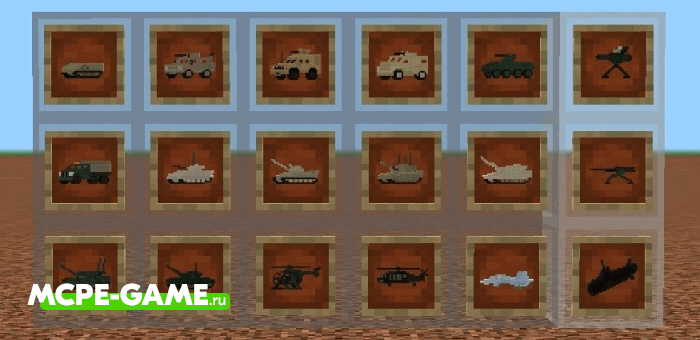 WarVehicles Add-on is one of the biggest military mods for Minecraft, adding tanks, armored personnel carriers, planes, helicopters and even a submarine to the game!
If you've been looking for a quality military mod for a long time, this is one of the best. Now you will definitely be able to arrange a full-scale battle with your friends, using not only firearms, but also tanks or military fighters.
Each type of vehicle has its own weaponry, for which a unique type of ammo is created. To access all available ammo, type the command /function allammo
By installing the WarVehicles Add-on you will add vehicles used by the armies of the US, Russia, UK, Germany and others to Minecraft Bedrock Edition. There are tanks, trucks and APCs, fighter jets and helicopters, and a nuclear submarine!
If you play in survival mode, use /function allammo and /function allvehicles to access all of the features in the addon!
Updated at
05.11.2022
Game versions
1.17 1.16
Functionality tested on Minecraft
1.17.0.50 1.16.221
Genre
Military, Mods, Vehicle
Platform
Android, iOS, Windows
Files
WarVehicles [McAddon]
8.57MB
Leave comment