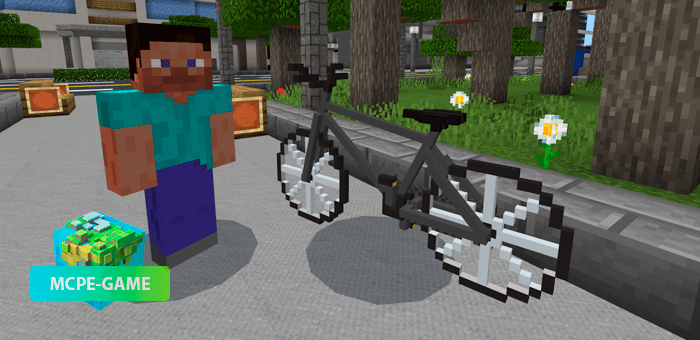 By downloading the bikes mod for Minecraft PE you will add to the game one of the most popular and eco-friendly modes of transport.
Now you will be able to travel around the game world on your own bicycle, quickly overcoming even the greatest distances. And you don't even have to avoid the obstacles, because by controlling your bike you will be able to jump over obstacles on your way!
In addition, no one prevents you from building your own extreme park and perform there different tricks together with your friends, or lay the city map with bike lanes and enjoy a quiet ride.
And if you are playing with your friends in multiplayer mode and want to add even more advanced vehicles to your game, we recommend you to look at the car mods, where you can find a variety of vehicles.
How to get a bike in the game
Download and install the mod for bikes on your smartphone using the links below.
Turn on the experimental game mode in the settings and activate the add-on.
Find the bike summon egg in creative game mode or use the following commands in survival mode:
/summon add:bike_blue
/summon add:bike_red
/summon add:bike_green
/summon add:bike_purple
/summon add:bike_yellow
/summon add:bike_gray
Video overview
Updated at
13.09.2021
Game versions
1.16
Genre
Mods, Vehicle
Platform
Android, iOS, Windows
Files
Bike-v3.mcaddon
839.98KB
Leave comment