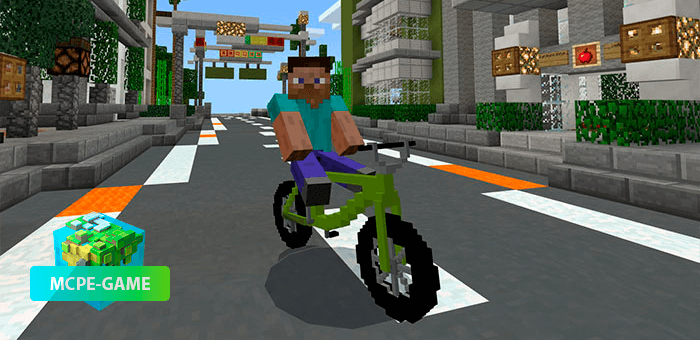 What transport can be found in any modern city besides cars? Of course a bicycle! And with this mod you will be able to add it to Minecraft PE.
Bicycle Addon for Minecraft Pocket Edition will add to the game as a vehicle itself, as well as various parts for its creation, such as wheels and frame. Thanks to this, you will be able to craft the bike yourself even in survival mode.
Plus, unlike other bicycle mods, there are 16 different frame colors available, which means you'll be able to pick the right one for you 100%!
To assemble your bike in the world of the game, you'll need to find a traveling salesman and buy from him the rubber needed to craft a bicycle wheel. After that, it's necessary to melt the ingots into new material and use it to assemble a ready-made bike. All recipes for crafting are listed below.
Also, you can get the bike in the game with the command /function bicycle. To get the paint use /function spray_paint
Updated at
13.09.2021
Game versions
1.16
Genre
Mods, Vehicle
Platform
Android, iOS, Windows
Files
Bicycle [Behavior]
227.73KB
Bicycle [Resource]
354.17KB
Leave comment