Plus Swords Pro Edition Add-on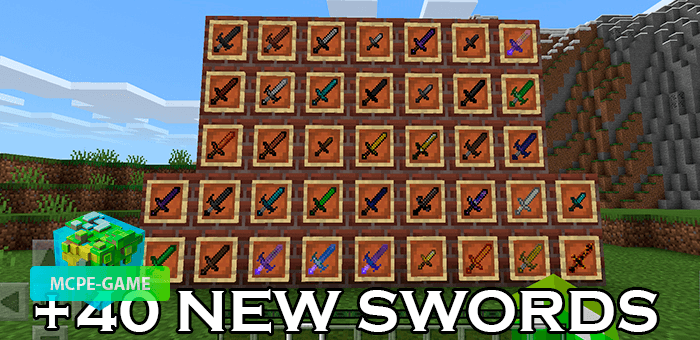 Plus Swords Add-on adds more than 40 new swords to Minecraft Pocket Edition, among which there are both brand new and improved versions of already available weapons in the game.
Of course, to come up with new recipes for swords crafting is quite difficult, so partially presented options will overlap with other mods, for example, here are also swords from resources.
But apart from that, in Plus Swords you will find a large number of brand new melee weapon options, as well as improved versions of already familiar swords from the standard set. For example, the new diamond and gold versions have received increases in strength and damage, and they are also used to make unique weapons.
Emerald Sword

Damage: 7
Durability: 1800
Obsidian Sword

Damage: 8
Strength: 2400
Lapis Lazuli Sword

Damage: 6.5
Strength: 1500
Quartz Sword

Damage: 6.5
Strength: 1700
Redstone Sword

Damage: 6
Strength: 1400
Ender's Sword

Damage: 8.5
Strength: 900
Leather Sword

Damage: 4.5
Strength: 800
Diamond Sword Level II

Damage: 12
Strength: 2700
Metal Level II Sword

Damage: 8.5
Strength: 1600
Level II Gold Sword

Damage: 8.5
Strength: 1200
Level II nerite sword

Damage: 14
Strength: 2900
Level II Stone Sword

Damage: 6
Strength: 1000
Level II Wooden Sword

Damage: 5
Strength: 1000
Prismarine Sword

Damage: 7
Strength: 1200
Flaming Powder Sword

Damage: 4
Strength: 1200
Bonus: Resistance to Fire
Brick Sword

Damage: 5.5
Strength: 600
Sword of the Underworld Star

Damage: 14
Strength: 2100
Coal Sword

Damage: 5
Strength: 600
Hellbrick Sword

Damage: 6
Strength: 800
Slime Sword

Damage: 5
Strength: 700
Honey Sword

Damage: 6
Strength: 750
Magma Sword

Damage: 7
Strength: 1200
Bonus: Resistance to Fire
Powder Sword

Damage: 5.5
Strength: 600
Bone Sword

Damage: 6
Strength: 1400
Neserite Scrap Sword

Damage: 6.5
Strength: 1100
New Gold Sword

Damage: 7
Strength: 1300
Level II Lapis Lazuli Sword

Damage: 7.5
Strength: 1900
Level II Emerald Sword

Damage: 9
Strength: 2200
Level II Redstone Sword

Damage: 8
Strength: 1800
Sword of Nezmonds

Damage: 13
Strength: 2300
Sword of Irgold

Damage: 9
Strength: 2000
Sword of Woodstone

Damage: 7
Strength: 1300
Sword of Lapismerald

Damage: 10
Strength: 2000
Short Woodblade

Damage: 3
Strength: 50
Short Golden Blade

Damage: 4
Strength: 23
The short metal blade

Damage: 5
Strength: 167
Short Diamond Blade

Damage: 6
Strength: 1040
Short non-green blade

Damage: 7
Strength: 1354
Short Stone Blade

Damage: 4
Strength: 88
Updated at
13.09.2021
Game versions
1.16
Genre
Mods, Swords, Weapon
Platform
Android, iOS, Windows
Files
Plus-Swords.mcaddon
133.67KB
Leave comment