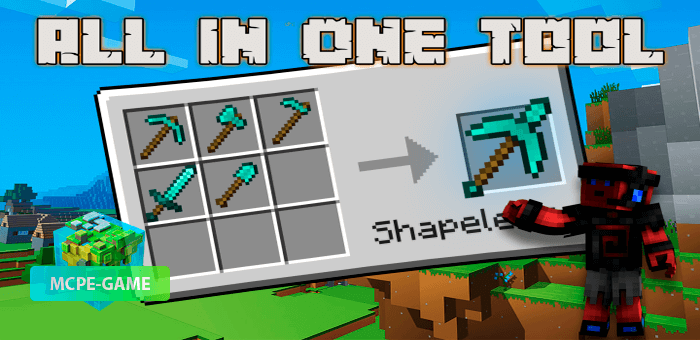 All In One Tool is a mod for a universal tool that combines a shovel, pickaxe, axe, sword, and plow at the same time!
With the universal pickaxe mod in Minecraft PE, you can free up multiple slots in your inventory, and you no longer have to switch between tools to perform the actions they are designed for.
Crafting recipes and item features
The mod includes 6 versions of the universal pickaxe, which are based on the material used to create the basic tools – wood, stone, metal, gold, diamonds and neserite. Below you can see the crafting recipes and characteristics of the new items.
Wooden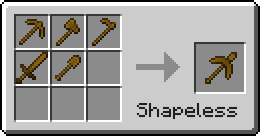 Damage: 5
Strength: 223
Resource Extraction Speed: 2
Stone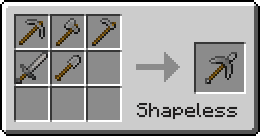 Damage: 7
Strength: 303
Resource Extraction Rate: 4
Metal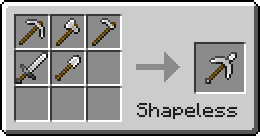 Damage: 10
Strength: 1100
Resource Extraction Rate: 6
Golden
Damage: 6
Strength: 150
Resource Extra ction Speed: 12
Diamond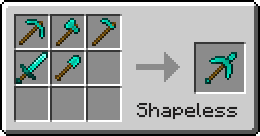 Damage: 11
Strength: 2601
Resource Extra ction Speed: 8
Non-zero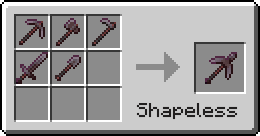 Damage: 14
Strength: 3306
Resource Extra ction Speed: 10
Video demo mode
Updated at
13.09.2021
Game versions
1.16
Functionality tested on Minecraft
1.16.210 1.16.201 1.16.200 1.16.101 1.16.100
Genre
Mods, Pickaxe, Tools
Platform
Android, iOS, Windows
Files
All-In-One-Tool.mcaddon
20.14KB
Leave comment