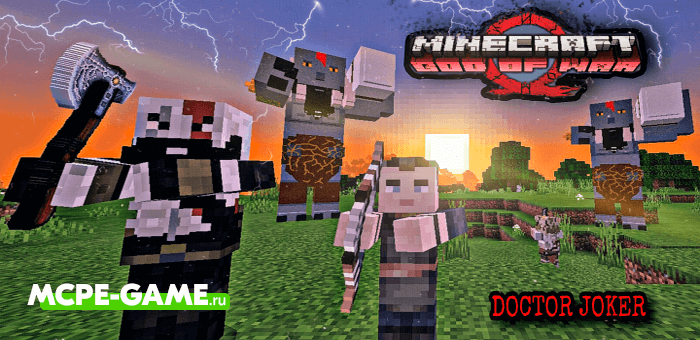 The Minecraft mod God Of War allows you to fight alongside Kratos and his son Atreus. Go on an adventure with the heroes of the game of the same name through the world of Greek mythology!
This Addon is based on the original God Of War game and adds new creatures, weapons, heroes, sounds and textures to Minecraft. Now, during your adventures in the game world, you will be able to meet giant trolls, draugs and other creatures from mythology. And you will be able to join the journey of Kratos and Atreus, fighting together with them with new weapons.
Before the start of new game, you will be asked to choose the role. You can play as your own character, or as Kratos, with increased strength and health.
New weapons and armor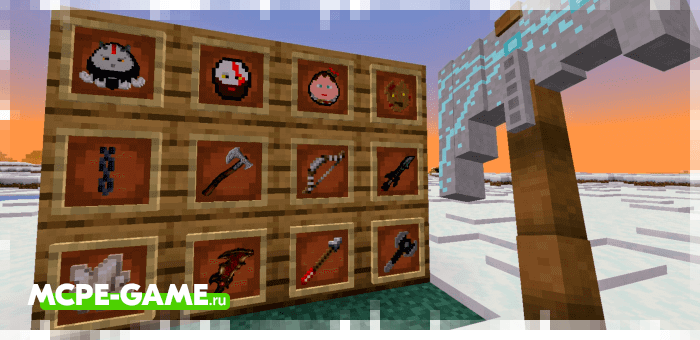 God Of War Addon for Minecraft adds various weapons to the game, which can be found in the original game. For example, Leviathan's Axe or Chaos Sword, as well as the legendary "Claw" – Atreus' bow.
Kratos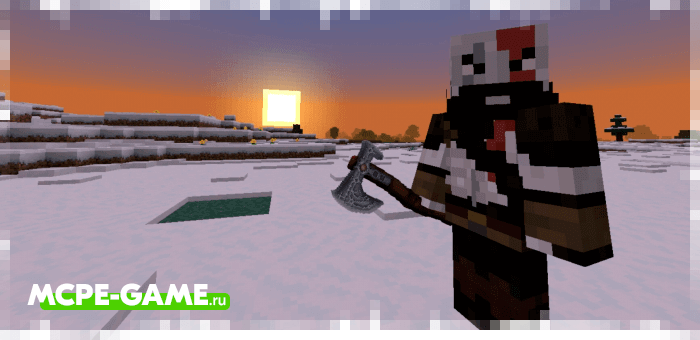 Kratos is the main character of God Of War game, who is a god. In this mod, you will be able to meet him in the world of the game, armed with a battle axe or heavy sword.
To become a team with Kratos, tame him using raw fish. In the same way you can tame his son Atreus.
Atrey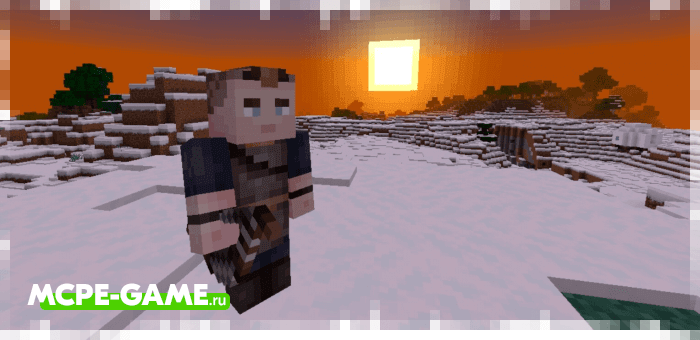 Atreus is a young Spartan, the son of Kratos and the mortal woman Fairy. Despite the fact that he is still a child, Atreus is able to fight and shoot his bow perfectly.
Like in the original version of God Of War, in Minecraft rn will always follow his father and stay close to him.
New enemies
Trolls
God Of War Minecraft mod will add not only main characters, but also new enemies from mythology. For example, giant trolls with 300 HP and armed with hammers. Fighting trolls without the help of Kratos and Atreus is quite dangerous and risky.
Draugi
Draugs are zombie skeletons that have come to life and entered the human world. They are armed with axes or swords, and are always ready to fight any enemy, and their attacks impose various negative effects.
Dark Elves
These flying creatures tend to move in small groups and can be very dangerous. Despite their small health pool, their attacks are very damaging. Given that Dark Elves attack in groups, they are a formidable foe.
Spartans
Spartans are trained in combat since childhood. They are armed with razor-sharp pikes and damage-blocking shields. They move in small squads and attack the player, draugs, gods and other creatures.
Minotaurs
Some of the most common creatures from mythology, minotaurs, were also added to the game in the recent God Of War Addon update. They are mini-bosses armed with a massive axe and have 180 health. Minotaurs attack absolutely all creatures that have the courage to approach them.
Hades
Hades is the god of the underworld and a powerful opponent who seeks to get any soul that enters the Netherworld. He has 600 HP and his attacks deal 12 points of damage.
Zeus
Zeus is the god of lightning and father of many gods in Greek mythology. In Minecraft God Of War, he is a very powerful boss that can attack his enemies with lightning strikes. During the battle he can teleport a short distance.
Hercules
Another new boss that is twice the size of the player, armed with heavy projectiles. His attacks deal 10 damage and put a slowdown on enemies. Hercules is always ready to fight the player, Kratos, Atreus and other characters.
Video demonstration
Updated at
13.09.2021
Game versions
1.16
Functionality tested on Minecraft
1.16.201
Genre
Global, Mods, NPC, RPG
Platform
Android, iOS, Windows
Files
God-Of-War-Addon.mcaddon
61.75MB
Leave comment