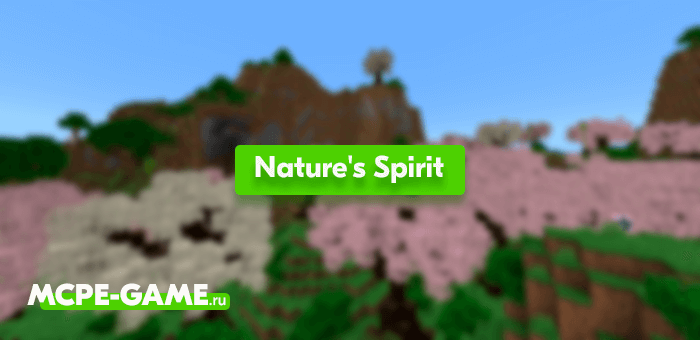 Nature's Spirit is a very worthy mod adding new biomes for Minecraft Bedrock Edition.
Nature's Spirit Add-on will appeal to all players who travel a lot around the game world, explore every corner and are tired of monotonous locations. Here you will find completely unique biomes, as well as improved versions of existing ones in the game. And for that, the mod uses new blocks, adding even more variety.
Swamp Biome
Already familiar to all Minecraft players, the biome consisting of small lakes with distinctive vegetation. Nature's Spirit Add-on expands it with willow and mangrove trees, as well as the use of a new mud block. This block will slow down and gradually suck the player, complicating the journey. But even more atmospheric adds dense green fog, which has also appeared in the marshes.
Cherry blossom forest
A brand new biome for Minecraft, brought about by cherry blossoms presented in delicate pastel tones. You should definitely find it, because this is where pandas have taken up residence, surrounded by sakura trees and bamboo. Find the new biome of the blooming forest near the jungle.
Savannah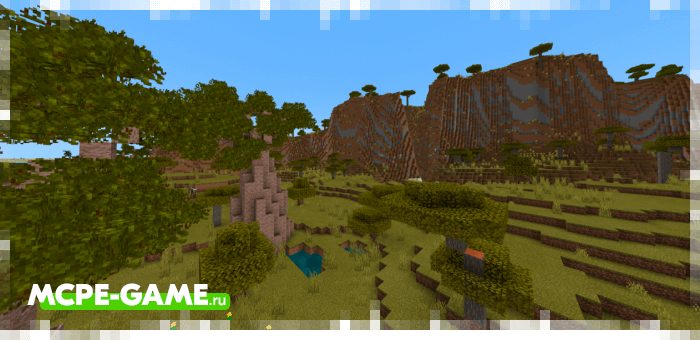 If the usual savannah in Minecraft is a simple platform with small acacia trees, then with Nature's Spirit mod it really breathes the Spirit of Nature! After all, it now generates a more interesting and varied terrain landscape, as well as the appearance of giant baobabs.
Desert
What was once just an area of sand and cacti will transform the desert biome beyond recognition. It is now divided into two micro biomes. The first is a kind of dune, with new trees, dirt and small bushes. The second is the Oasis, a place known to any desert traveler. Here you'll be able to take a break, regain energy and rest from your journey through the new biomes of Minecraft Bedrock Edition.
Pine cliffs
A new cold biome that is, oddly enough, high cliffs with pine trees. The height of the mountains is ideal for building mountain bases and shelters.
Updated at
13.09.2021
Game versions
1.16
Functionality tested on Minecraft
1.16.201
Genre
Biomes, Mods, World Generation
Platform
Android, iOS, Windows
Files
Natures-Spirit.mcaddon
969.65KB
Leave comment