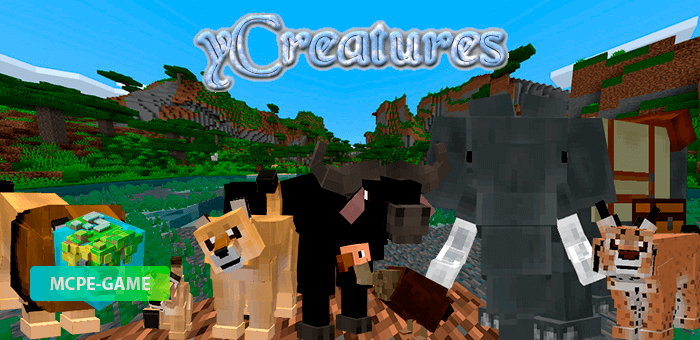 yCreatures is a global animal add-on for Minecraft PE, adding over 100 new creatures to the game, ranging from cute insects to dangerous predators!
This is one of the largest mods adding new animals to the game world, making it change dramatically! Now your game world will really come to life, thanks to a large number of the most diverse representatives of wildlife.
For instance, bees and hummingbirds will be flying around in the meadows, picking up pollen and sap from the flowers. Nearby trees might contain an owl and a chimpanzee, while on the horizon you'll notice elephants wandering about.
The underwater world will also put on an exciting display of colors as you'll see seals, piranhas, dolphins, octopuses and other sea creatures!
As expected, all new animals in Minecraft will be divided by the location of their habitat, in wetlands you can meet alligators, in the forests – Grizzly bears, in the jungle – monkeys, and in the desert – camels and elephants.
Many new animals from the mod can interact with each other, that adds to the game even more atmosphere. And unique and elaborated animation can make you spend a lot of time observing the animals' life.
To sum it up, it is safe to say that yCreatures is one of the best new animal mods for Minecraft Bedrock Edition, which we recommend for all players to install!
Updated at
13.09.2021
Game versions
1.16
Functionality tested on Minecraft
1.16.210 1.16.200 1.16.101 1.16.100
Genre
Animals, Mods
Platform
Android, iOS, Windows
Files
yCreatures.mcaddon
4.42MB
Leave comment