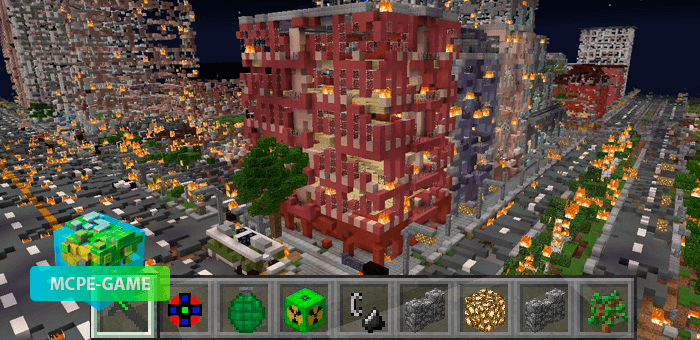 Nuclear Weapons is a full-fledged nuclear mod for Minecraft PE, adding to the game powerful weapons capable of destroying anything!
New nuclear weapons for MCPE are distinguished by a huge explosion force and can turn even entire maps with cities and megacities into ruins. If you have long wanted an atmosphere of apocalypse and post-nuclear world in your game, grab your new weapon and start destroying everything in your way!
Please note, the mod for bombs Nuclear Weapons consumes a large amount of resources of your device at the time of the explosions, which can cause the game to freeze on weak smartphones. In such a case, it is recommended to restart the game.
How to use nuclear weapons?
The following items in Minecraft PE have been replaced with explosives and weapons that are much more powerful than before, in terms of destruction:
| | |
| --- | --- |
| Was | Became |
| Bow | Rocket launcher |
| Snowball | Thrown explosive |
| Egg | Grenade |
| TNT | Atomic Bomb |
How does the bomb mod work?
The principle of the new atomic weapon has remained the same, except that it will now cause enormous damage and destruction.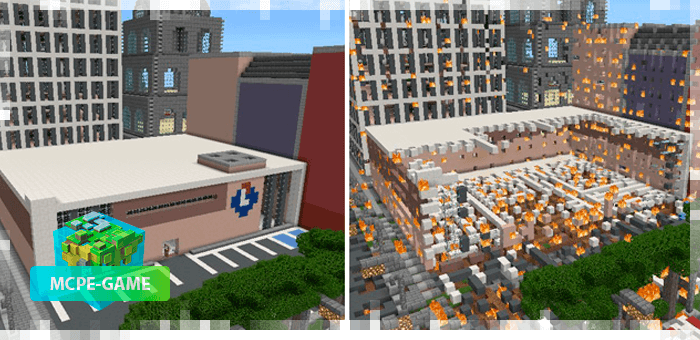 The screenshot above shows an example of 2 shots from the rocket launcher, replacing the bow and completely destroying the building.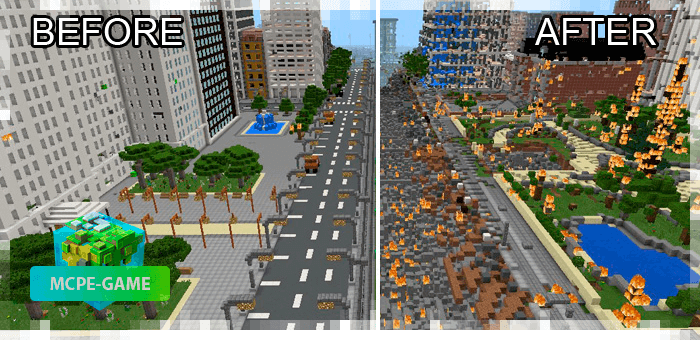 In this screenshot, you can see how the Atomic Bomb from the Minecraft PE nuke mod destroyed an entire city, leaving only ruins in its wake.
If you like explosions, we recommend checking out the other TNT mods for Minecraft Pocket Edition, where you can find new and improved versions of TNT and dynamite for the game.
Updated at
13.09.2021
Game versions
1.16
Genre
Mods, TNT
Platform
Android, iOS, Windows
Files
Nuclear Weapons [Resource]
909.59KB
Nuclear Weapons [Behavior]
8.43KB
Leave comment