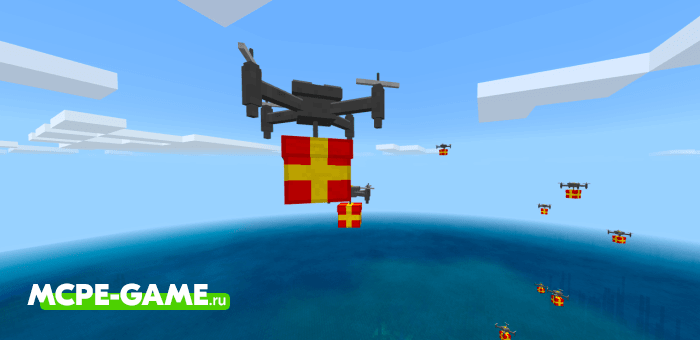 If you've watched The Hunger Games, you probably remember the drones that deliver useful resources to the heroes. With the Supply Drone Add-on, you can add such drones to Minecraft PE!
These flying robots will occasionally appear above your head, delivering valuable cargo to their recipients. But, if you're a good archer, your deliveries may not make it to their destination, but instead end up right in your hands!
And believe me, sometimes you are waiting for a very valuable cargo, which will definitely come in handy for survival or building a base! For example, you can get weapons, armor, golden apples, resources, and even Elitra's wings from the downed drone! And sometimes all at once!
Also, this drone mod for Minecraft PE will come in handy if you want to make an analogue of Hunger Games or PUBG with your friends. By the way, then don't forget to add the airdrop mod to the set.
Drones in the ordinary world
| | |
| --- | --- |
| Drop | Quantity |
| Enchanted Leather Armor | 1 |
| Enchanted Metal Sword | 1 |
| Leather | 5-12 |
| Cake | 1-2 |
| Bread | 1-16 |
| Tree | 1-32 |
| Brick | 1-32 |
| Metal block | 1-12 |
Drones in the underworld
| | |
| --- | --- |
| Drop | Quantity |
| Enchanted Gold Items | 1 |
| Blackstone | 16-32 |
| Mushroom Light | 1-15 |
| Golden apple | 1-5 |
| Wood | 32-64 |
| Vizer Rose | 1-6 |
| Fire powder | 5-12 |
Drones in the ender world
| | |
| --- | --- |
| Drop | Quantity |
| Ender Brick | 16-32 |
| Obsidian | 2-15 |
| Enchanted Apple | 1-3 |
| Ender's Eye | 1-16 |
| Experience Bottle | 32-64 |
| Shalker's Shell | 5-12 |
| Enchanted Diamond Items | 1 |
| Corus fruit | 12-24 |
Updated at
13.09.2021
Game versions
1.16
Functionality tested on Minecraft
1.16.201 1.16.200 1.16.101 1.16.100
Genre
Mods, Robots, Vehicle
Platform
Android, iOS, Windows
Files
Supply Drone [Behavior]
1.70MB
Supply Drone [Resource]
1.71MB
Leave comment