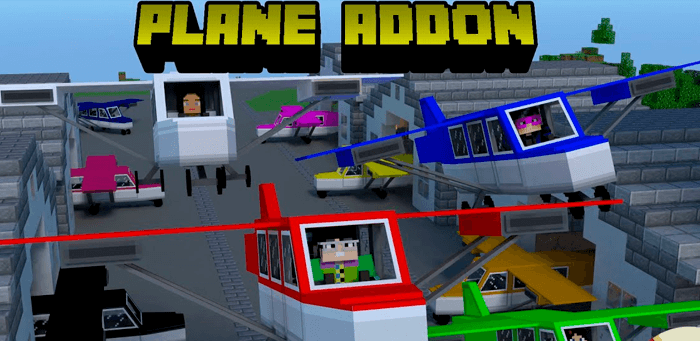 Tired of flying solo on Elitra maps? Add planes and helicopters to MCPE and conquer the airspace alone, or with friends!
The Plane mod for Minecraft PE adds a real airplane to the game that can hold 4 players, and the pilot will set the course of the flight.
Planes and helicopters mod will appeal to all flight enthusiasts, and will also fit perfectly on maps with megacities and cities, where you can build your own airport!
And you can also prepare the map with air obstacles in advance and arrange an air race with other players, where everyone will control his plane!
In this update the helicopters were added and the new type of aircraft, which can also have different colors.
Thus, you will now be able to build a real airport in Minecraft, with a runway and pads for helicopters!
How to fly an airplane?
To control the new types of aircraft in Minecraft, the standard controls are used. The only thing to remember is that once the pilot sits at the helm, the plane or helicopter will take to the air and be ready to fly.
Video overview of mod
Updated at
13.09.2021
Game versions
1.16
Functionality tested on Minecraft
1.16.200 1.16.101 1.16.100
Genre
Airplanes, Helicopter, Mods
Platform
Android, iOS, Windows
Files
Plane Addon [Behavior]
1.14MB
Plane Addon [Resource]
1.33MB
Leave comment