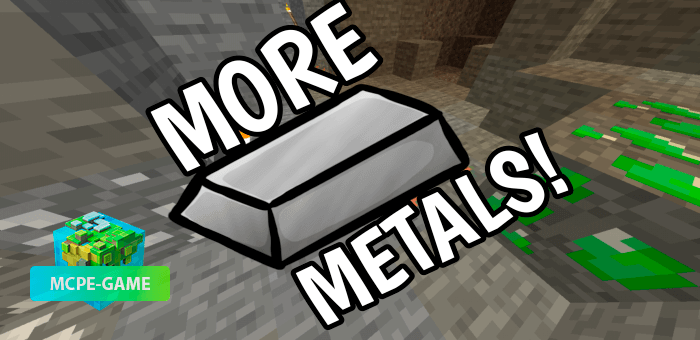 More Metals – Mod that adds new ores to Minecraft Bedrock Edition, which you will be able to mine in dungeons and make new items from them!
The addon will add four new ores to the game at once – tin, copper, steel and uranium. All new materials, except for steel, you will be able to find by exploring the caves. Steel can be crafted on the workbench, combining five materials together. Tin and copper can be found at a depth of 0 to 58 blocks.
New Craft Recipes
All ore is involved in the new recipes for crafting, allowing you to make different items – pickaxes, axes and swords. Steel swords can be melted in a furnace to produce a flaming sword. And if you combine the flaming sword with the steel, you'll get a very powerful weapon that deals 15 damage.
Note that you will need to craft a metal wand to make items from the new ore!
Below you can see a full list of all recipes for crafting new items from such ores as tin, steel, copper and uranium.
Smelting of ore into ingots
Craft a new tool
Crafting and remelting weapons from new ore
Updated at
13.09.2021
Game versions
1.16
Functionality tested on Minecraft
1.16.201 1.16.200 1.16.101 1.16.100
Genre
Mods, Ore, Tools
Platform
Android, iOS, Windows
Files
More-Metals.mcaddon
2.73MB
Leave comment