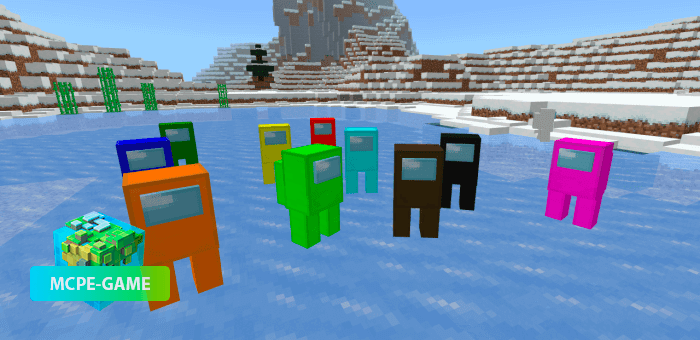 With the mod Among Us you can add to the game characters from the popular computer game with the same name, where you need to look for traitors among the crew members of the ship.
This mod Among Us for Minecraft PE adds 12 characters of different colors, including aggressive traitors that will attack the player and other NPS.
Any crew member can be tamed with a dice and given commands to follow you, defend you, or wait in place.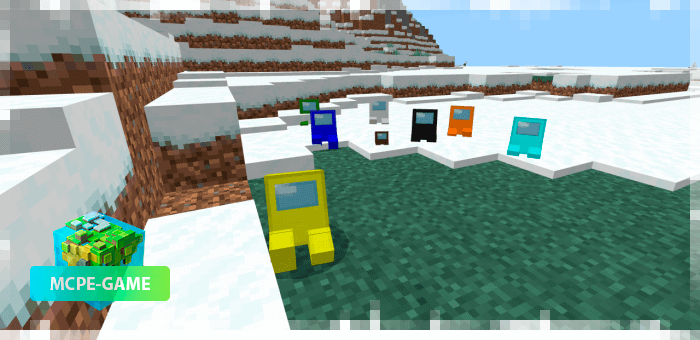 The impostors are initially aggressive towards all other crew members and the protagonist.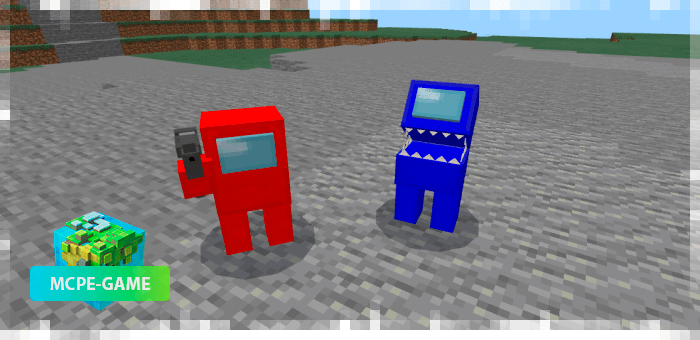 In addition, the Among Us mod for MCPE adds 5 pets from the original game version to the game as well.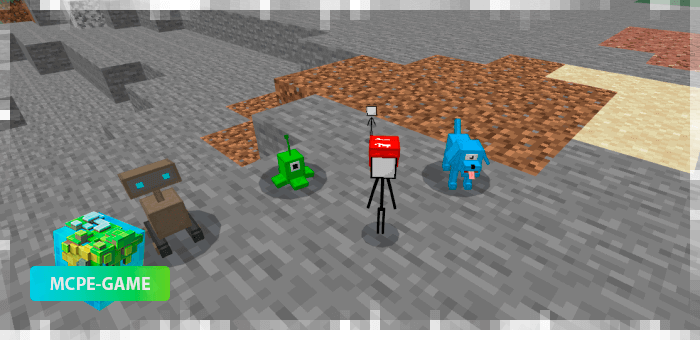 You can also transform yourself into one of the Among Us heroes using the /replaceitem entity @p slot.armor.head 1 (Skin)where (Skin) is one of the names from the list below.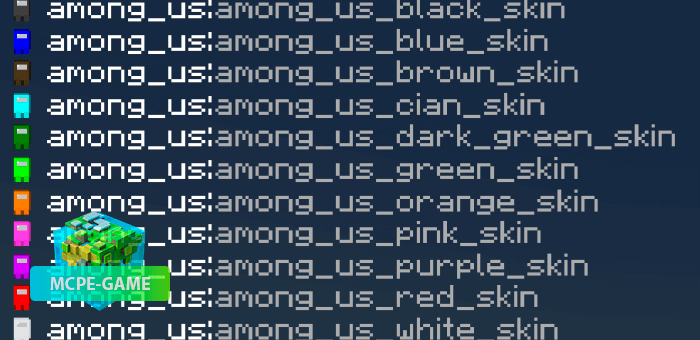 Thanks to this feature, you can turn into Among Us heroes on the server, download or build a map, and play on it with your friends!
Among Us Mod Update
In the new Among Us mod update for Minecraft Bedrock Edition there are a lot of new features, including 4D skins, new pets, as well as a texture pack similar to the original game.
4D skins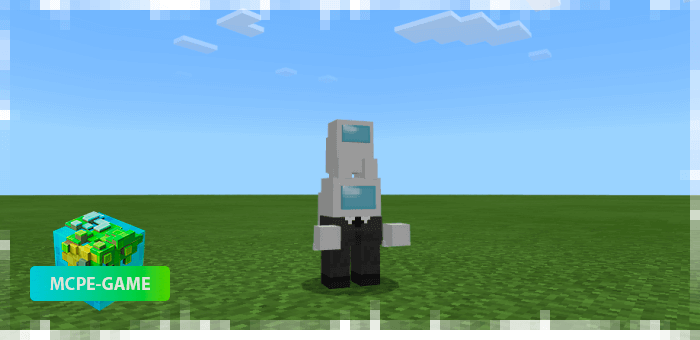 With the new skins, you will be able to create your own character's appearance build, changing different body parts:
Skins fit in the helmet slot;
Assistants are placed in the armor slot;
Costumes are placed in the pants slot.
Crewmember Costume Crafting Recipe: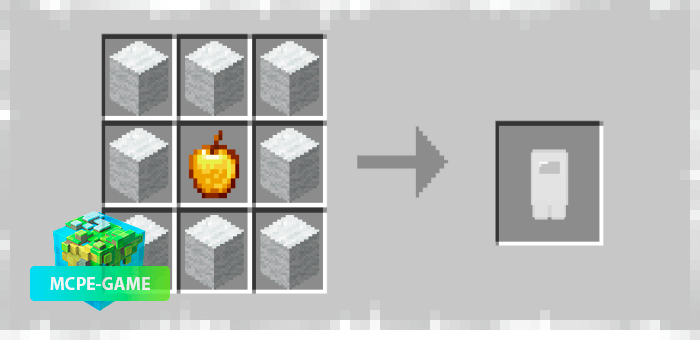 To change the color of a costume, place it on a stonecutter and select a new color.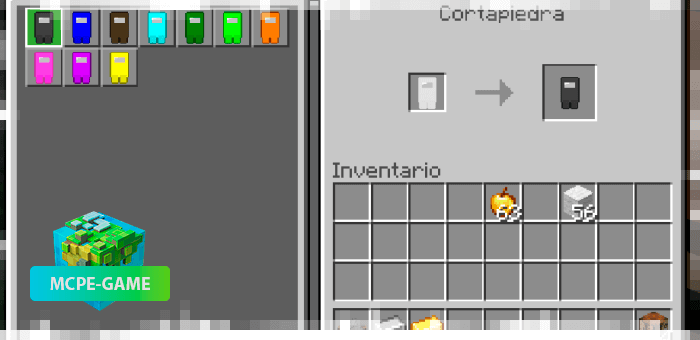 To craft new Among Us style hats in MCPE, use the stonecutter and place metal ingots into it, pants are crafted with metal ingots. After that, you will be able to select the appropriate item.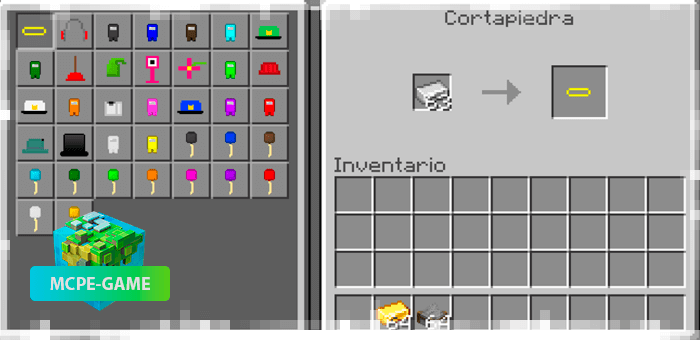 Updated texture pack
Now you can choose an alternate set of textures that will be as close to the original version of the game as possible.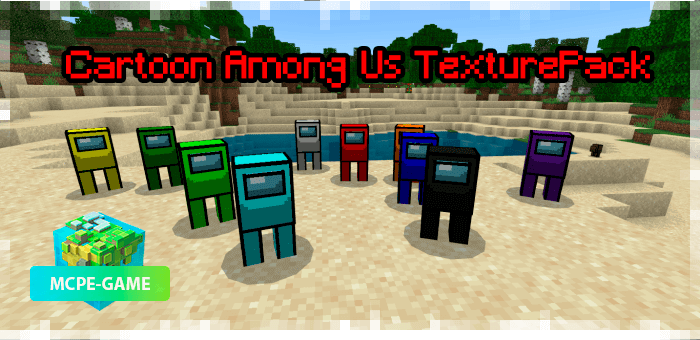 New pets
In addition to the original pets from Among Us, the new version of the mod has also added new moppet-style helpers from Minecraft – zombie, creeper, enderman, villager and others.
Update 1.1.5
The updated version of the Among Us mod has added 2 new crew members, Steve and Alex, as well as two additional headgear: a chef's cap and a brain slug hat.
Video overview of mod
Updated at
13.09.2021
Game versions
1.16
Functionality tested on Minecraft
1.16.200 1.16.100
Genre
Mods, Morph, NPC
Platform
Android, iOS, Windows
Files
Among Us [Resource]
1.33MB
Among Us [Behavior]
1.78MB
Among Us [Cartoon Texture]
1.04MB
Leave comment