Rocket Launchers, Landmines and Miniguns! Add-on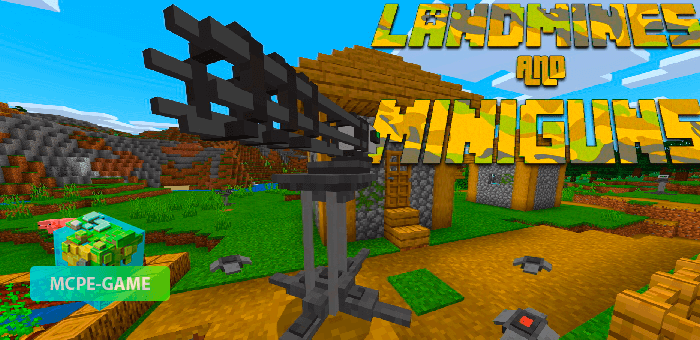 This military mod for Minecraft Pocket Edition adds heavy artillery to the game, which you can place in your military base.
The new heavy weapons are so powerful that you'll have no problem destroying crowds of zombies using the minigun, or blowing up tanks with mines or rocket launchers!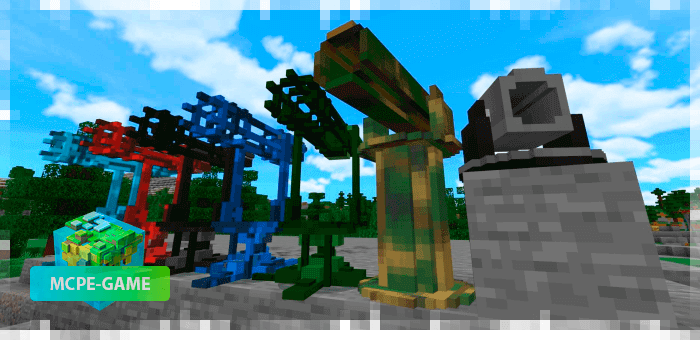 And if you additionally install zombie apocalypse mods, you can build your own fortified base with military equipment and hold the defense together with your friends for a long time.
Armor-piercing Rocket Launchers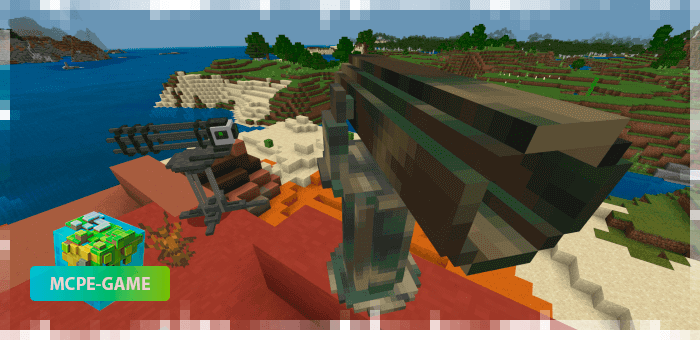 This is one of the most powerful weapons from this military mod, capable of destroying a crowd of monsters with just one shot. But keep in mind, projectiles from the rocket launcher won't break blocks, and if the gun is destroyed, it will be impossible to repair and will be lost.
Rocket Launchers
Place rocket launchers in observation towers around the perimeter of your military base and watch as approaching enemies are only left with craters after explosions.
Yes, your missile launchers can destroy the landscape, but if they get destroyed you can pick them up again and place them on the ground.
Anti-tank mine (red)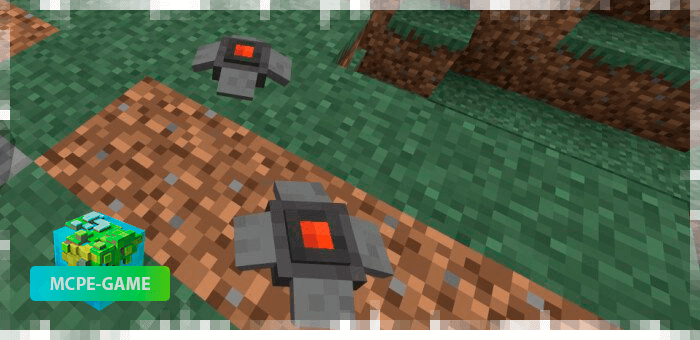 Once you place the mines on the ground, you will have only 5 seconds to leave the blast zone. All you have to do is wait for the enemy to approach, after which the mine will go off.
Be careful, anti-tank mines can destroy the blocks, and the explosion power is comparable to the one that will blow up the creeper.
Anti-personnel mine (yellow)
This type of mines is also good for defending against the uninvited guests, but it will not destroy the blocks. That means they can be placed directly at the base or used in a trap.
Minigan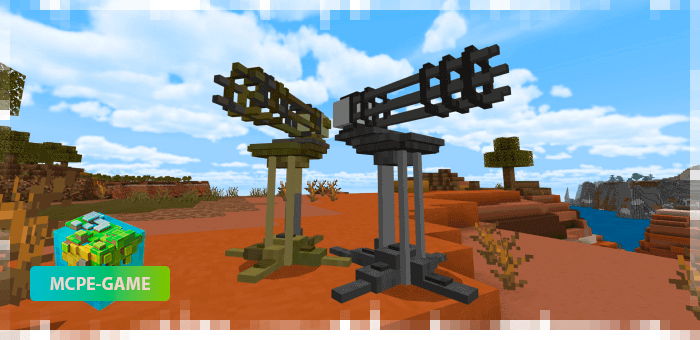 Heavy 6-barreled machine guns, capable of firing with great speed. So fast that the enemy will not even know what hit them. Miniguns from this Minecraft military mod are available in several combat coloring options, and will become not only a great defense option, but also an interesting decoration item.
Don't forget to replenish miniguns using metal ingots.
How to get new weapons?
You can buy miniguns, miniguns and rocket launchers from your arms dealer. Exchange your emeralds for heavy weapons, fortify your buildings and fire on any enemies that dare to come near you.
Updated at
13.09.2021
Game versions
1.16
Genre
Military, Mods, Weapon
Platform
Android, iOS, Windows
Files
Landmines.mcaddon
840.81KB
Download Rocket Launchers, Landmines and Miniguns! Add-on for Minecraft PE 1.17 / 1.16+
Landmines.mcaddon
Leave comment