Medieval Furniture Add-on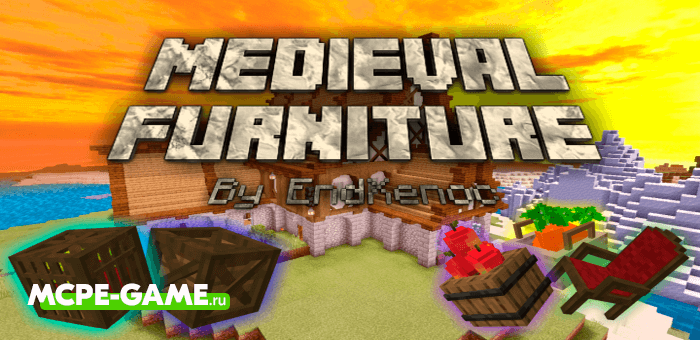 The Medieval Furniture Add-on adds over 150 pieces of furniture and decorations to Minecraft, perfect for building and decorating medieval style buildings.
Among the objects added to the game, you will also find new blocks that can be used to build buildings, settlements and even castles. And with new furniture and decorations you will be able to decorate not only the rooms, but also the territory or any space outside the buildings.
For example, using the barrels and baskets of food, you can build a marketplace or a medieval market. New books and bookcases would fit perfectly in a library or a magician's tower. There are so many new blocks and items in this furniture and decoration mod for Minecraft that ideas for their use will come up one after another!
Of course, like in other furniture mods, in Medieval Furniture you will find a huge number of cabinets, tables, chairs and other furniture, but all of them will be made in medieval style.
Video demo mode
Map with objects from Medieval Furniture Add-on
As an added bonus, the authors of the Medieval Furniture mod created their own map with a small medieval house in which they placed all the new furniture and decor items. You can use it for inspiration, survival or any other purpose.
Please note! The map will not work without the Medieval Furniture mod pre-installed in Minecraft Bedrock Edition!
Updated at
13.09.2021
Game versions
1.16
Functionality tested on Minecraft
1.16.210 1.16.201 1.16.200
Genre
Decorative, Furniture, Mods
Platform
Android, iOS, Windows
Files
Medieval Furniture [Мод]
3.73MB
Medieval Furniture [Карта]
4.80MB
Leave comment