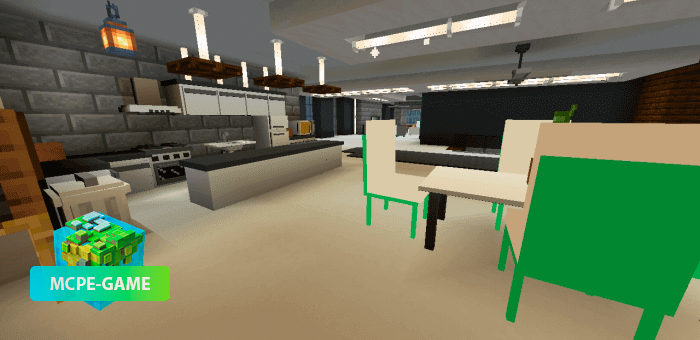 Loled Furniture – Add-on for furniture in Minecraft PE, adding more than 80 new items to decorate any room in your buildings, from the bathroom to the kitchen and living room.
At the moment, the author of the mod Loled Furniture has implemented in the game the most popular and versatile decor and furniture items, among which you can find a stove, a refrigerator, an armchair, a gamer computer chair, a computer with 3 monitors and a number of other objects.
The modification contains a lot of useful pieces of furniture that will fit perfectly into the interior of modern buildings.
For example, to decorate the kitchen you can use new kitchen units, install a stove and a microwave oven, place a hood and a refrigerator. In the living room, install a modern table with new chairs, and for lighting your home use new ceiling and wall lamps.
In his personal room perfectly fit a computer desk on which you can place a system unit with 3 monitors at once. And to sunlight does not interfere with your work, close the windows with new curtains.
Some of the new items in Loled Furniture for MCPE are interactive. For example, you can turn on and off the lights at the lamps, you can cook food on the stove, the TV can also display different channels.
Loled Furniture v1.0.5 update
In the updated version of the Minecraft furniture mod Loled Furniture, bugs have been fixed and new items have been added.
The main innovation is the ability to create any furniture and decor items in Minecraft Bedrock Edition, even in survival mode. To do this, you will need to craft a special material that is obtained by combining gold and metal ingot.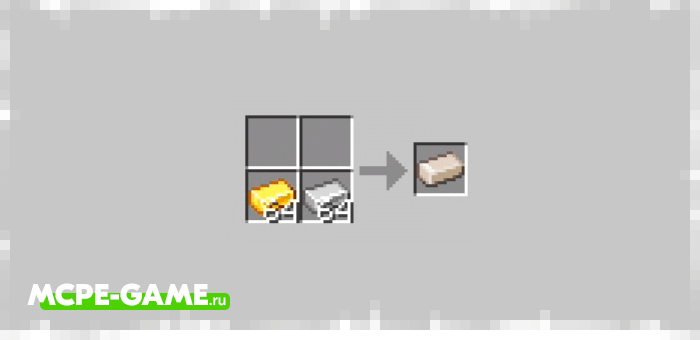 After that, you'll be presented with a full list of all the items available for crafting.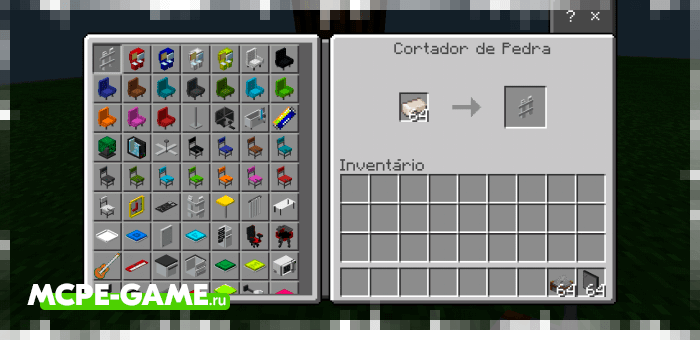 To get new furniture items in Minecraft PE using the commands type:
/give @p loled:
/function @p loled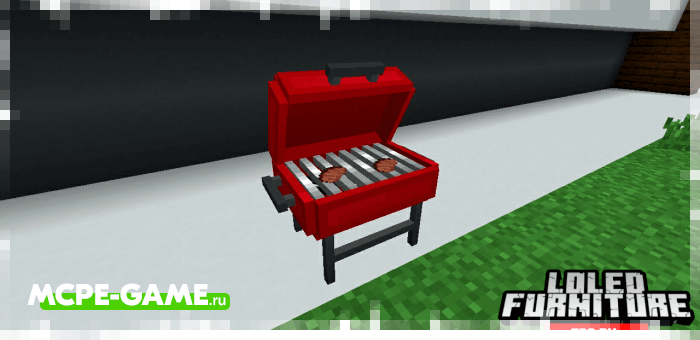 The BBQ grill is a new item that you can place in the backyard of your house and have a BBQ party! Just place the charcoal and a couple of pieces of meat to get great steaks.
Other new decorations and furniture items from the Minecraft mod Loled Furniture that appeared in the latest update also include stands with player figures, new wardrobes, air conditioning, a coffee machine, a ping pong table, and security cameras.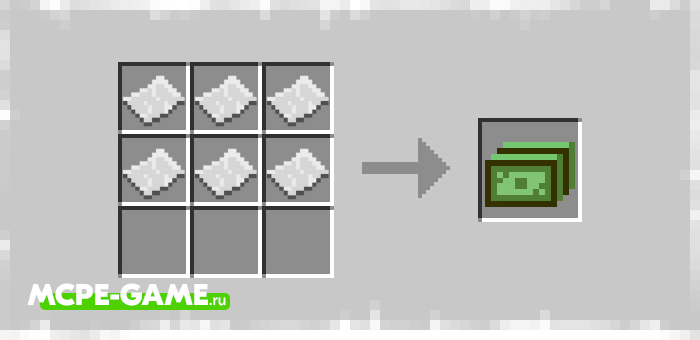 In the latest Loled Furniture Addon update, it is now possible to craft dollars and exchange them for various useful items from merchants. There are currently 5 vendors available, offering hats, drinks, food, and various interactive items.
Video demonstration of mod
Updated at
13.09.2021
Game versions
1.17 1.16
Functionality tested on Minecraft
1.17.0.50 1.16.230 1.16.221
Genre
Decorative, Furniture, Mods
Platform
Android, iOS, Windows
Files
Loled Furniture v1.1
39.92MB
Leave comment