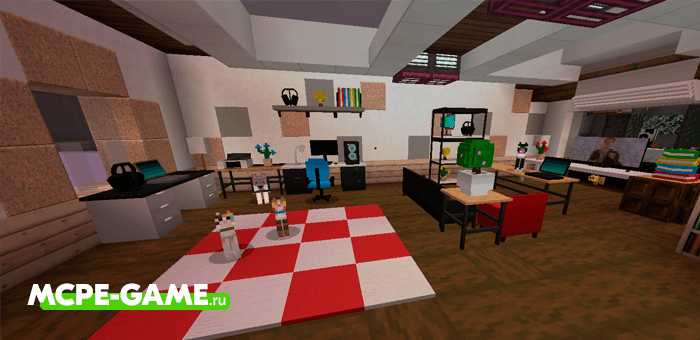 As you can understand from the name, this addon will add new furniture to Minecraft so that you can decorate any room in your home.
In total, Hyva Furniture Add-on contains more than 50 pieces of furniture and decor. The author of the mod says that he was inspired by furniture from IKEA when developing it, so it all looks very aesthetic and minimalistic.
Another feature of this mod is the large number of different furniture colors you can use. Want to make a red gaming chair or an all-black sofa? No problem, in this addon you will have that option.
In addition, some items, such as tables, have a modular system. So you will be able to make a very long or corner table, and maybe even combine it with other units. It all depends on your imagination!
How to get furniture in Minecraft?
The stonecutter and gold bars are required to access the new furniture and decorations in the Hyva Furniture Add-on. Activate the stonecutter and exchange gold bars for any items. Or you can use the /give @s hf:name_item.
Updated at
13.09.2021
Game versions
1.17
Functionality tested on Minecraft
1.17.0.50
Genre
Decorative, Furniture, Mods
Platform
Android, iOS, Windows
Files
Hyva Furniture [McAddon]
513.46KB
Leave comment