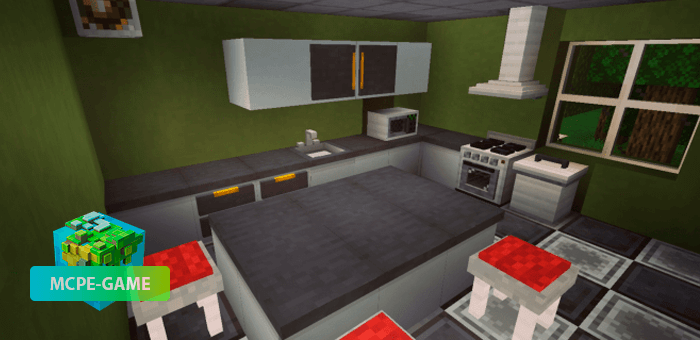 The Flarx Furniture Mod adds lots of furniture and decor items to Minecraft PE, each of which you can interact with!
The main feature of the furniture mod for Minecraft PE Flarx Furniture is that any new item will not only decorate your room, but will also perform some useful function.
For example, you will be able to cook food in the microwave or oven, and you will be able to ring the installed doorbell.
The new furniture includes floor units, wall cabinets, chairs, armchairs and various tables.
The new decorative items will perfectly fit into the interior of any home, including a TV, laptop, doorbell, wastebasket, sink, and even the hood over the stove!
With the new interior blocks, you can find new panoramic windows and an all-glass door to create a modern home.
Update 1.1
The Flarx Furniture mod update to version 1.1 includes new furniture and decor items such as light switches, new ceiling lamps, modern beds, curtains, dog kennels and more!
New light switches are the main feature of update 1.1 for the Flarx Furniture mod. You can now install modern switches that will activate lights up to 7 blocks away. Thus, building a modern house with furniture in Minecraft PE has become even easier, because you no longer have to create complex mechanisms from redstone.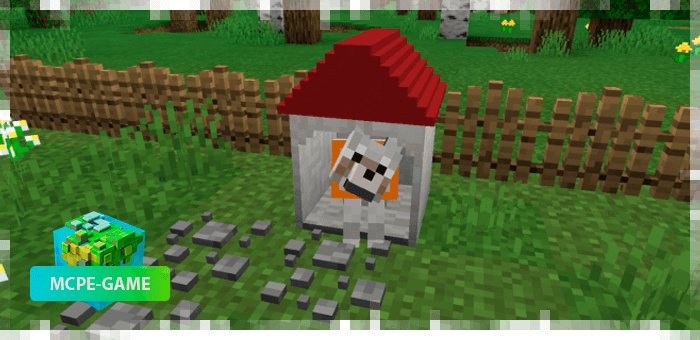 In the update of the furniture mod on MkPE have not forgotten about pets, because now you can put a dog kennel, for your faithful friend. By the way, similar dog kennel has already been in the DomesticPets fashion, on which we did a detailed review.
Another modern furniture item in MCPE, added in the update 1.1 – beds. Now you can forget about standard beds and enjoy sleeping on a modern and comfortable bed that perfectly fits into any interior!
All new furniture and decoration items from the Flarx Furniture mod can be obtained from the inventory in creative game mode, or by using the command /function give_object. The list of available items is shown below: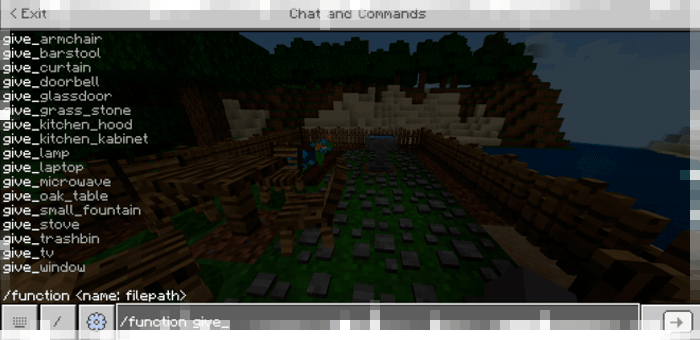 Updated at
13.09.2021
Game versions
1.16
Functionality tested on Minecraft
1.16.100
Genre
Decorative, Furniture, Mods
Platform
Android, iOS, Windows
Files
FLARX Furniture 1.1 [Resource]
2.09MB
FLARX Furniture 1.1 [Behavior]
277.86KB
Leave comment