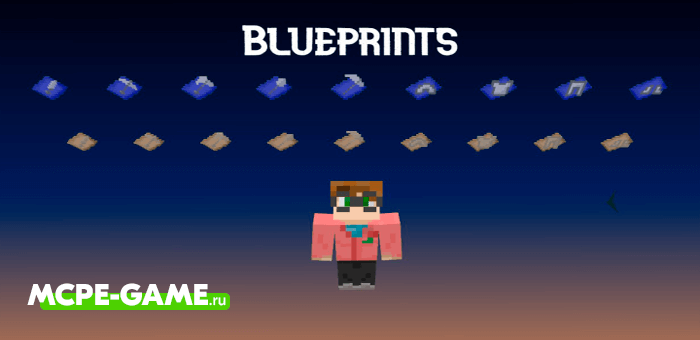 Want to craft tools, weapons, and armor right on the go? Minecraft Blueprints Addon will allow you to use blueprints and instantly create the item you want!
As you can already understand, this addon completely changes the usual system of crafting the most important items, allowing you to create them without using resources. Thus, you will not only save space in your inventory, but you will always be able to quickly craft a new pick, bib or other item.
How the Blueprints Mod works
The first thing you'll need to do is to craft a recipe, using plain paper. There are 9 recipes available in Blueprints mod:
Sword
Kirk
Axe
Shovel
Plow
Helmet
Bib
Pants
Boots
All crafting recipes are similar to the standard, but the main resource is paper. The only difference in crafting has a sword – now it is an inverted recipe for pickaxe crafting.
Once you have created the recipe for the desired item, you need to combine it with the material – stone, iron, gold or diamond. This is how you will designate what material will be used to create tools and armor in the future.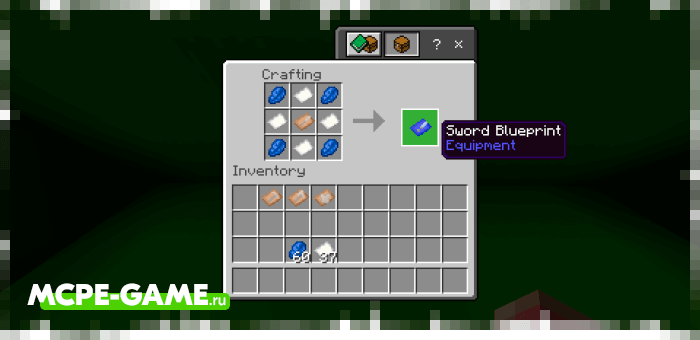 The final stage is the creation of blueprints. To do this, combine the finished recipe, paper and lapis lazuli on a workbench. Done! Now you have a blueprint that allows you to quickly craft the desired item an infinite number of times, without using additional materials.
Updated at
13.09.2021
Game versions
1.16
Functionality tested on Minecraft
1.16.201
Genre
Items, Mods
Platform
Android, iOS, Windows
Files
Blueprints.mcpack
176.51KB
Leave comment