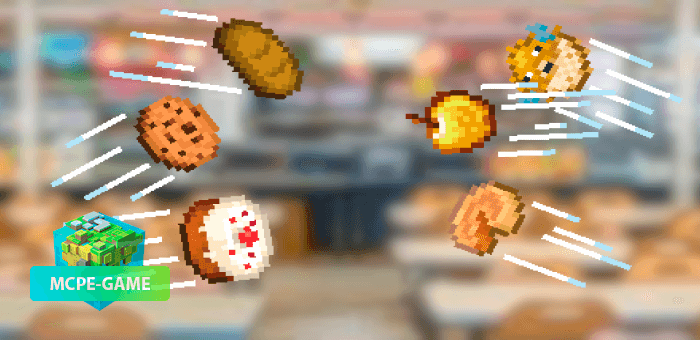 What will you fight with if all swords, bows, axes and firearms disappear? Food, of course!
Food Fight Addon for Minecraft PE adds new mechanics to the game, allowing you to throw any food at your opponent and deal damage!
Now you can have a real war, where cakes will serve as the heavy artillery, apples will replace the grenades, and you will constantly fly by some food!
And to make your battles with friends even more interesting, we recommend downloading PvP maps on Minecraft PE and arrange edible battles on them.
How to quit eating?
To throw food at your enemy, you need to aim, crouch and use the item.
To throw cake, sugar, mushrooms and wheat, you need to crouch down and hit.
Table of food damage
Apple – 4
Baked Potatoes – 5
Beetroot – 1
Beetroot soup – 6
Bread – 5
Cake – 14
Carrots – 3
Fruit – 4
Fried chicken – 6
Fried cod – 5
Fried lamb – 6
Roast pork chop – 8
Cooked rabbit – 5
Cooked salmon – 6
Cookies – 2
Dried seaweed – 1
Enchanted Golden Apple – 4
Golden Apple – 4
Golden Carrot – 6
Bottle of Honey – 6 + Slow 2 for 5 seconds
Melon – 2
Mushroom Stew – 6
Poison Potato – 2 + poison for 5 seconds
Potato – 1
Fugu fish – 1 + poison 4 for 1 minute
Pumpkin pie – 8
Rabbit stew – 10
Raw rabbit – 3
Raw beef – 3
Raw chicken – 2
Raw cod – 2
Raw lamb – 2
Raw pork chop – 3
Raw salmon – 2
Rotten Flesh – 4 + hunger for 30 seconds
Spider Eye – 2 + Poison for 5 seconds
Steak – 8
Sweet Berries – 2
Tropical Fish – 1
Sugar – 2
Brown mushroom – 1
Red mushroom – 1
Wheat – 2
Video overview
Updated at
13.09.2021
Game versions
1.16
Genre
Food, Gameplay, Mods
Platform
Android, iOS, Windows
Files
Food-Fight.mcaddon
178.95KB
Leave comment