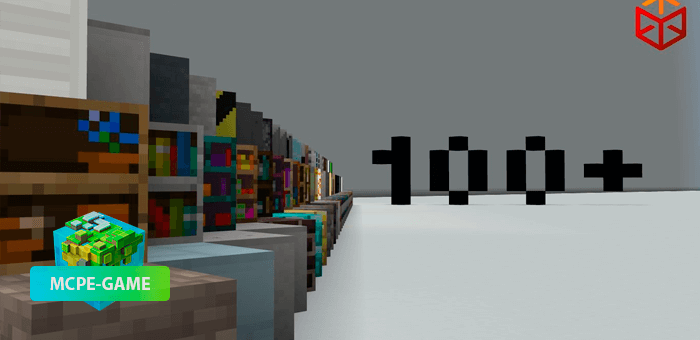 Block Plus is a massive Minecraft Addon that adds more than 100 new objects to the game, with which you will definitely be able to implement a construction of any complexity!
With this mod for new blocks in Minecraft PE will appear a huge number of the most diverse blocks, which are suitable both for the construction of buildings and objects, as well as for interior decorations.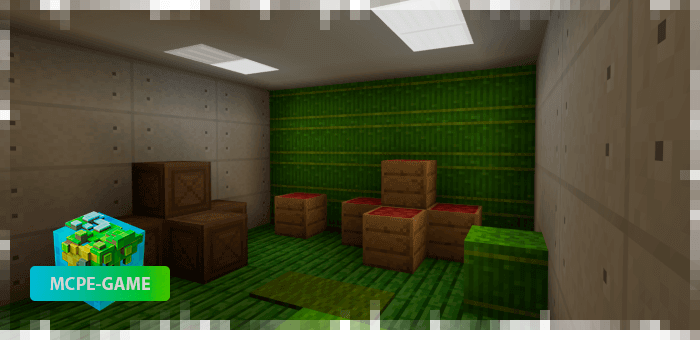 All new blocks are divided into 8 categories, among which:
Bricks
Decor
Industrial
Lighting
Office
Boards
Road
Tile
New blocks from Minecraft PE mod Block Plus are made in a realistic style. For example, you will be able to find slabs to create walls, new shelves with different objects or modern lighting.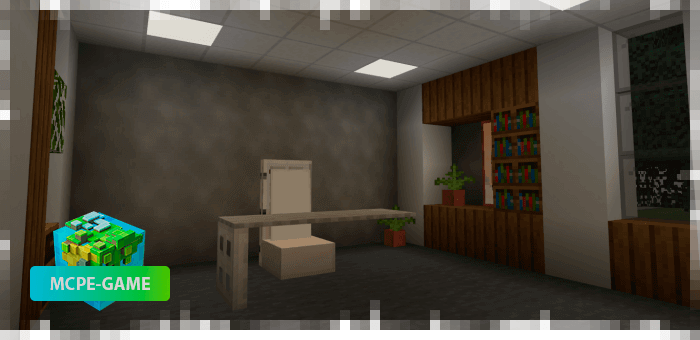 To get new blocks you need to use the command /function and add a category name:
/function all.blocks
/function bricks.page
/function deco.page
/function industrial.page
/function lights.page
/function office.page
/function planks.page
/function road.lines.page
/function tiles.page
To get a specific block, you will need to know its name and enter a command of the form /function section:name. You can see the full list of all new blocks below.
/function bricks.page:
design:ashbrick
design:blue_bricks
design:concrete_brick_left
design:concrete_brick_right
design:crimson_blood_brick
design:diamond_brick
design:gold_brick
design:pale_ashbrick
design:pale_crimson_bricks
design:seared_brick
design:snowy_pale_crimson_bricks
design:white_bricks
design:fresh_brick
design:fresh_brick_black
design:fresh_brick_blue
design:fresh_brick_brown
design:fresh_brick_cyan
design:fresh_brick_gray
design:fresh_brick_green
design:fresh_brick_light_blue
design:fresh_brick_gray
design:fresh_brick_lime
design:fresh_brick_magenta
design:fresh_brick_orange
design:fresh_brick_pink
design:fresh_brick_purple
design:fresh_brick_red
design:fresh_brick_white
design:fresh_brick_yellow
design:silk_brick
design:silk_brick2
design:blue_nether_bricks
/function deco.page:
design:concrete_pale_green
design:bflower_pot
design:magma_cob
design:white_wood_bookshelf
design:warped_bookshelf
design:spruce_bookshelf
design:jungle_bookshelf
design:dark_oak_bookshelf
design:crimson_bookshelf
design:birch_bookshelf
design:acacia_bookshelf
design:cabinet
design:gold_cast_emerald_block
design:flowerwall
design:gold_cast_lapis_block
design:magma_quartz
design:sandstone_pillar
design:sandy_concrete
design:smokey_concrete1
design:smokey_concrete2
design:smooth_glowstone
design:wall_design
design:wallpaper_bottom
design:wallpaper_top
design:black_quartz
design:smooth_black_quartz
design:black_quartz_chiseled1
design:black_quartz_chiseled2
/function industrial.page:
design:industrial_block
design:hardened_concrete
design:nailed_hardened_concrete
design:compressed_cobblestone
design:vent
design:vent1
design:wall_design
design:vent_fan
/function lights.page:
design:neon_lamp
design:celllight
design:celllight_off
design:green_celllight
design:green_celllight_off
design:red_celllight
design:red_celllight_off
/function office.page:
design:office_ceiling
design:office_carpet
design:office_light
design:office_neon
design:office_neon_off
design:office_neon_semioff
design:office_vent
design:office_blue_carpet
design:office_white_carpet
/function planks.page:
design:amber_planks
design:bamboo_wood_planks
design:black_planks
design:blue_planks
design:dead_wood_planks
design:gray_planks
design:green_planks
design:red_planks
design:white_wood_planks
design:smooth_dark_oak
design:smooth_dark_oak_up
design:smooth_spruce
design:smooth_spruce_up
design:yellow_planks
design:crate
design:beetroot_crate
design:planks_spruce_polished
design:sugarcane_block
/function road.lines.page:
design:concrete_road_connector1
design:concrete_road_connector2
design:concrete_road_connector3
design:concrete_road_connector4
design:concrete_road_connector5
design:concrete_road_corner1
design:concrete_road_corner2
design:concrete_road_corner3
design:concrete_road_corner4
design:concrete_road_straight_white_line1
design:concrete_road_straight_white_line2
/function tiles.page:
design:aqua_double_tile
design:aqua_quad_tile
design:chess_tile
design:brick_tile
design:diorite_tile
design:cold_stone_tile
design:marblesand_tile
design:pooltile
design:pooltile_brown
design:white_double_tile
design:stone_tile_granulated
design:spottedstone_tile
design:wood_floor_tile
design:wood_floor_tile2
design:marble_smooth_tile
design:diorite_tile
Updated at
13.09.2021
Game versions
1.16
Functionality tested on Minecraft
1.16.100
Genre
Blocks, Mods
Platform
Android, iOS, Windows
Files
BlockPlus.mcaddon
1.27MB
Leave comment