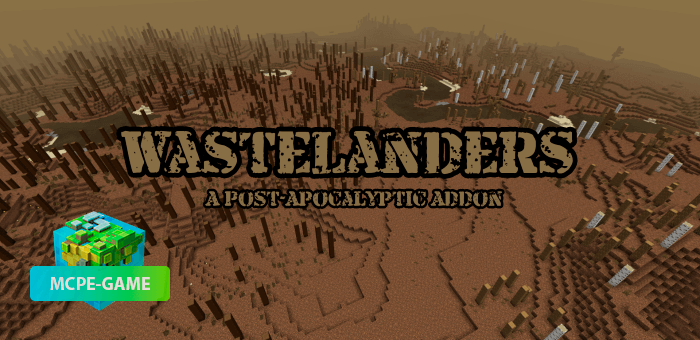 WasteLanders – Great apocalypse mod in Minecraft, where you have to survive in a completely destroyed world!
Forget about the beautiful landscapes of nature, vast forests and riverbeds – from now on the whole game world is a dangerous wasteland, immersed in smog, where there is no clean water, plants and foliage. In addition, the consequences of the apocalypse in Minecraft Pocket Edition led to the emergence of new, extremely dangerous creatures that have adapted to the new conditions.
With WasteLanders mod, you can immerse yourself in the atmosphere of a post-apocalyptic world, destroyed by a virus or atomic weapon. The flight of fancy is endless, because now you can play the role of a stalker, the last survivor or a time traveler!
In addition, this mod for the apocalypse in MCPE supports multiplayer, which means you will be able to explore the destroyed world together with your friends.
The more time you will spend in the dead world, the harder it will be to get food and fight with new monsters. But also the more secrets you'll be able to unlock as you explore the ruined buildings and buildings left over from a past, still living world.
Updated at
13.09.2021
Game versions
1.16
Genre
Apocalypse, Global, Mods
Platform
Android, iOS, Windows
Files
WasteLanders.mcaddon
648.64KB
Leave comment