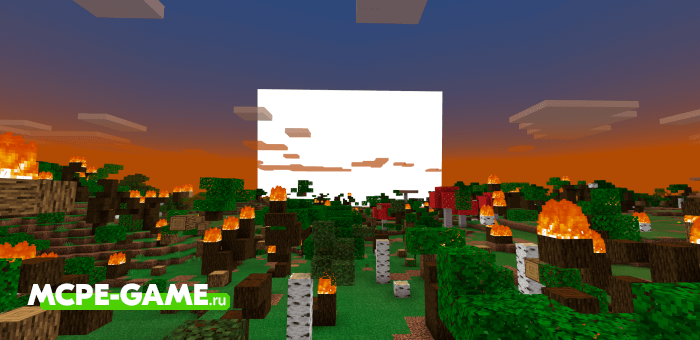 With the Solar Apocalypse Addon in Minecraft PE you will be forced to survive in the high temperatures and completely scorched world of the game!
Every day you notice that the temperature is gradually increasing, the grass near your house has started to burn out, and streams are flowing from the top of the nearest mountain with a glacier. It looks like the solar apocalypse has arrived in Minecraft Bedrock Edition and it will only get worse from now on!
Can you survive the harsh conditions of the scorching sun, which every day begins to shine more and more strongly? With the Minecraft mod Solar Apocalypse you will have to see the world scorched to the ground and adapt to the new conditions to survive in the high temperatures. So much so that even the sand becomes glass, and the water that was around will completely evaporate!
Solar apocalypse mod will increase the power of the sun and the temperature in the game every few minutes, depending on the difficulty chosen in the game:
| | |
| --- | --- |
| Difficulty | Interval |
| Low | 17 min |
| Medium | 10 minutes |
| High | 5 minutes |
To keep your character from burning up in the sun, use the Neserite Helmet, all other armor types won't be able to withstand the high temperatures.
Video demonstration
Controlling the phases of the solar apocalypse
An updated version of the Solar Apocalypse mod has added the ability to turn solar apocalypse mode on and off, as well as a quick phase change.
A list of new commands to control the mod:
/function startApocalypse
/function resetApocalypse
/function removeApocalypse
/function firstPhase
/function secondPhase
/function thirdPhase
/function fourthPhase
/function finalPhase
In addition, multiplayer support has been added, making it possible to survive in a harsh environment of the dying world together with the other players.
Updated at
13.09.2021
Game versions
1.16
Functionality tested on Minecraft
1.16.210 1.16.201 1.16.200 1.16.101 1.16.100
Genre
Apocalypse, Mods
Platform
Android, iOS, Windows
Files
Solar_Apocalypse.mcaddon
2.59MB
Leave comment