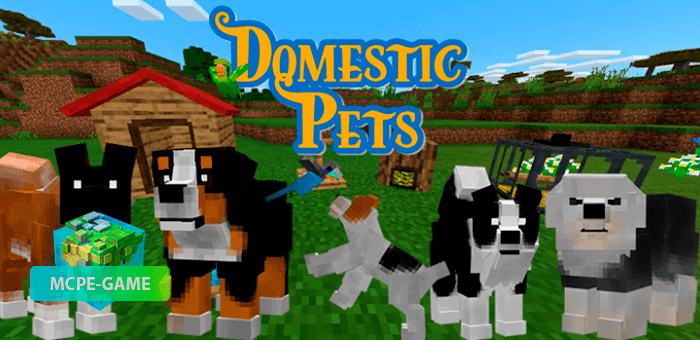 Add more pets to Minecraft PE with the DomesticPets Add-on, among which you will find parrots, rodents, aquarium fish and turtles, as well as many dogs of different breeds!
The DomesticPets pet mod for Minecraft PE adds not only new pets, but also food, as well as various interior items for your new friends – dog kennels, aquariums, perches and cages.
You will be able to meet all new pets while travelling the game world. Thus, you can go on an adventure in order to find all new pets for your collection.
New pets
Goldfish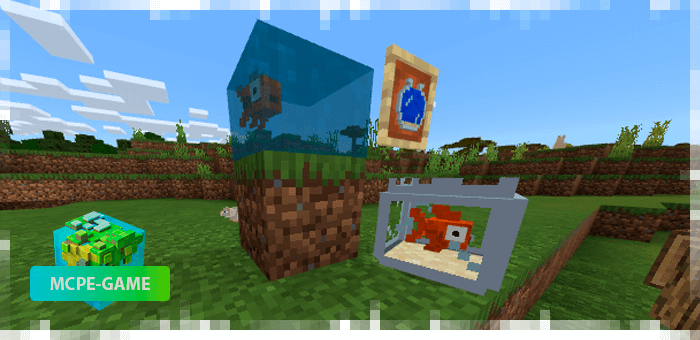 Find a goldfish in any body of water and place it in an aquarium to become your new pet! The goldfish will hop and swirl around in the aquarium to delight you, but don't forget to feed them periodically.
Parrots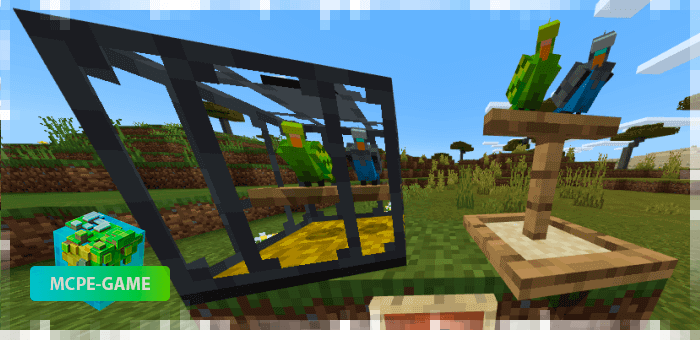 These cute and little creatures will sit on trees in almost all biomes. You will be able to tame them using sunflower seeds, after which they will start following you. In the house, you can place the parrots on a perch or in a cage.
Aquarium turtles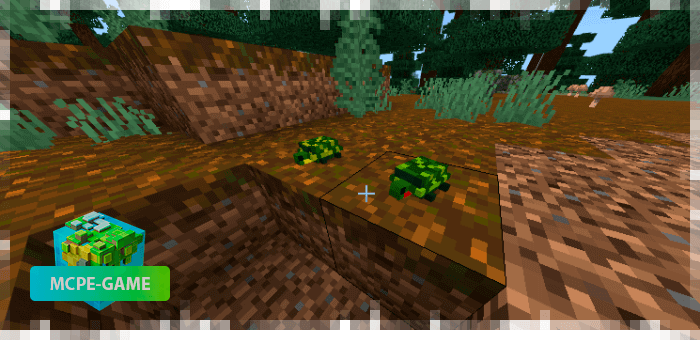 These tiny turtles can become your pet in Minecraft PE – simply head to a lake, forest, or taiga biome where the turtles will live in small flocks.
You can tame the turtles with fish bait, the recipe for which you'll find below. Aquarium Turtles are very shy and in some cases, they may run away to the water when approached by the player.
At home, make sure the turtles have earth and water in their enclosure.
Ferrets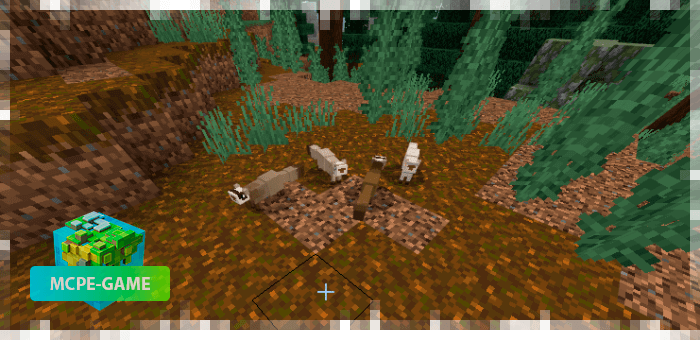 Ferrets are smart and playful pets in MCPE that will always be ready for fun, just tame them using bread!
Ferrets can have 4 color options, and can also follow the player at all times. Except for one but – if they get the opportunity to sleep on a new bed, they will definitely take it! Also, they are nocturnal animals, which means they sleep during the day and awake at night.
Hamsters and hedgehogs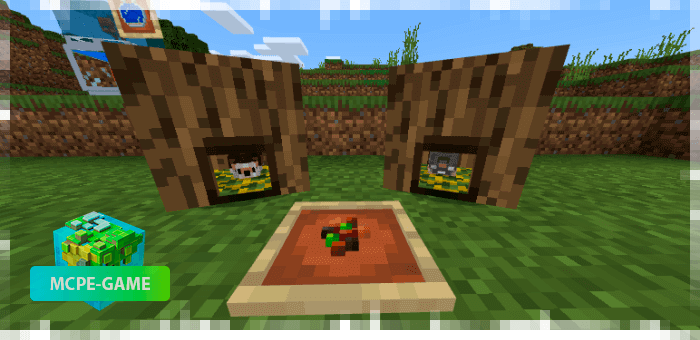 You can find new animals from DomesticPets mod in any biome, as a rule, they will gather in groups of 2-5 animals. To tame them, use food suitable for rodents.
Hedgehogs and hamsters will accompany the player, but if you want to leave them at home, place a special cage and they will surely stay in it.
Bunnies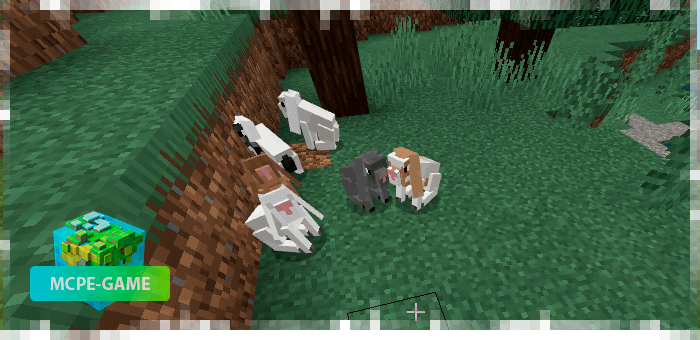 Tame a rabbit by offering it fresh carrots, and add to your collection of pets in Minecraft Pocket Edition!
Rabbits are available in 5 colors – white, brown, gray, black-spotted and mixed.
They will follow the player unless you offer them a comfortable and warm bed so they can rest instead of accompanying you around the game world.
Dogs
The dog is man's main friend and in the world of Minecraft PE this is no exception!
With the DomesticPets mod, you'll be able to meet more than 25 different breeds of dogs, among which you'll definitely find the right one for you. There are Dalmatian, Dachshund, Boxer, Doberman, Labrador, Chow Chow, Husky, Pug, Collie and more!
During your adventures, your dog will accompany and protect you from enemies. Therefore, it is important to periodically monitor its health so that it does not die in battle. You can tame your dog with a special dog food. If the pet dies, a tombstone will pop out of it and you can place it on the ground.
And to make your new faithful dog feel your love and care, be sure to build a dog kennel.
Pet Shopmer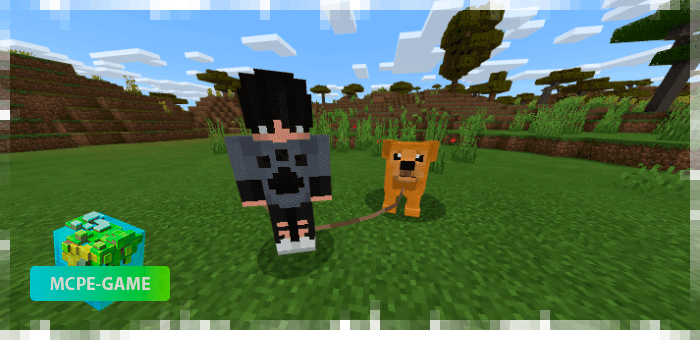 Sometimes, on the expanses of the Minecraft world P you will meet a trader walking along with your watchdog. From him you'll be able to buy various items for your pets that can't be crafted yourself, such as a dog bed, doghouse, collars, and more!
Kraft recipes
Updated at
13.09.2021
Game versions
1.16
Genre
Animals, Mods
Platform
Android, iOS, Windows
Files
DomesticPets.mcaddon
1.45MB
Leave comment