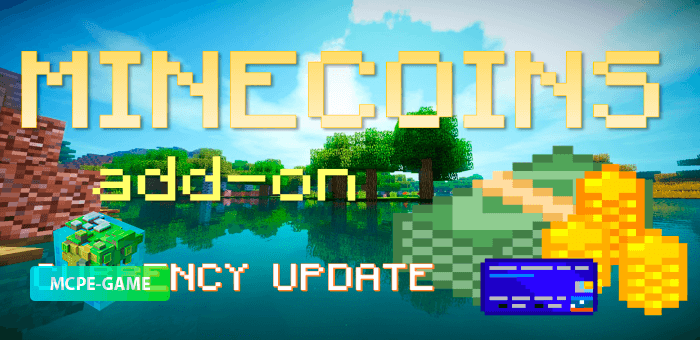 With this money addon, you will add both fictional and real-life currency of various denominations to the game.
The Minecoins Currency add-on is designed for all players who want to add money and coins to Minecraft Bedrock Edition that could be converted and exchanged by denomination.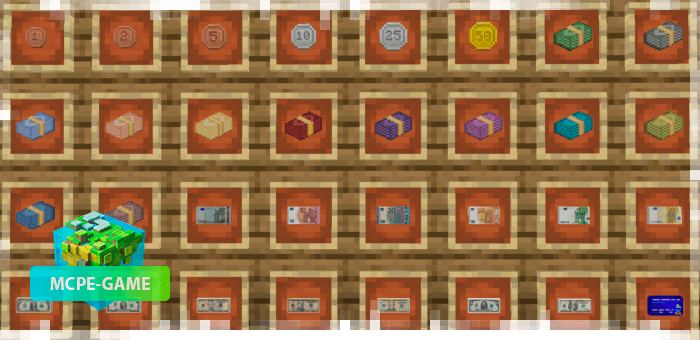 In this mod you will find: Minecoins, Dollars, Euros, Croatian Kuna and Pounds.
But despite all the variety, you will only be able to get money by using commands, and the currency itself cannot be crafted or combined. For example, if you stack 2 $50 bills, they won't be crafted into one $100 bill and vice versa.
To get coins, paper bills and credit cards in MCPE, use the command /give@p minecoins:summa_currency, where:
Amount – number 1, 5, 10, 20, 50, 100, 200, 500, 1000, 2000, 5000 (depending on currency type, some numbers cannot be used)
Currency – minecraftpenny, minecraftcoin, euro, usd, gbp, kn
Example command to get 100 euro – /give@p minecoins:100_euro
To get a credit card, type /give @p minecoins:credit_card
Updated at
13.09.2021
Game versions
1.16
Genre
Mods, Money
Platform
Android, iOS, Windows
Files
Minecoins.mcaddon
4.52MB
Leave comment