Magical Broomstick Add-on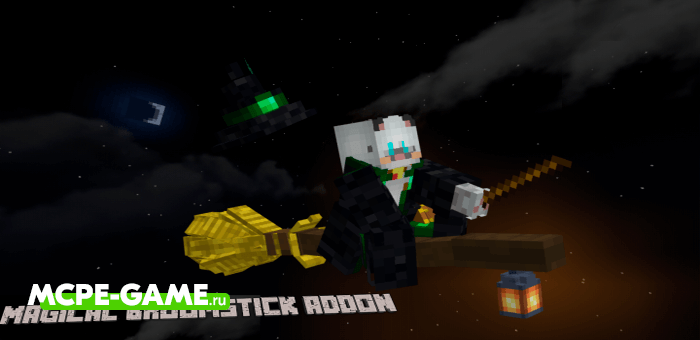 What do real magicians and wizards travel on? Of course on a broomstick! And with Magical Broomstick Addon for Minecraft you can add them to the game.
Just imagine, you are sitting in your wizard's tower and experimenting with spells or potions, but you realize that the right ingredient is missing. You get on your noble wood magic broom and fly right off the tower, flying over the residents' houses, mountains, and other scenery!
But before we tell you about all the available magic brooms in Minecraft, added to the game with the Magical Broomstick mod, it's worth paying attention to the new items. These items will be required to make any magical broomstick.
The Magician's Pedestal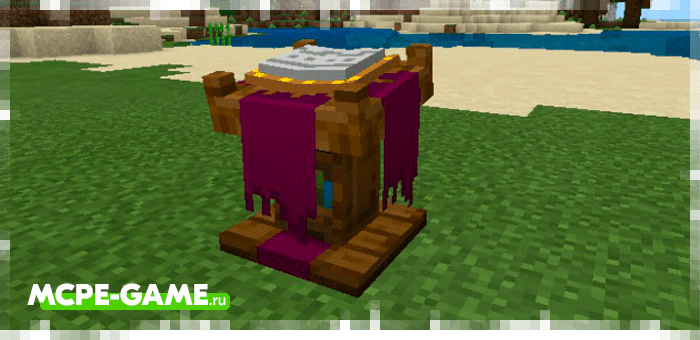 Altar, with a book of spells placed on it should be any self-respecting mage. Now you just need to put it in your room, because that's where you will be able to create brooms.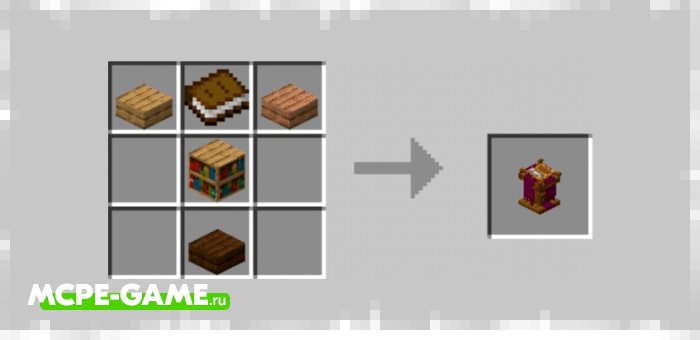 A bag of magic change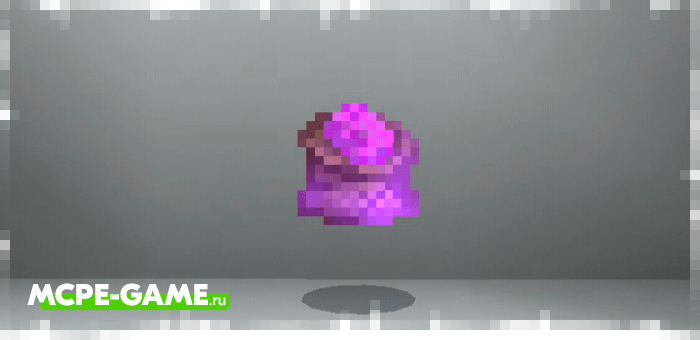 One of the main ingredients associated with magic brooms. You can get the pouch, with a 12% chance, by killing a witch. A more reliable way to acquire it is to buy it from a merchant in the village, for 3 diamonds.
Magic Tip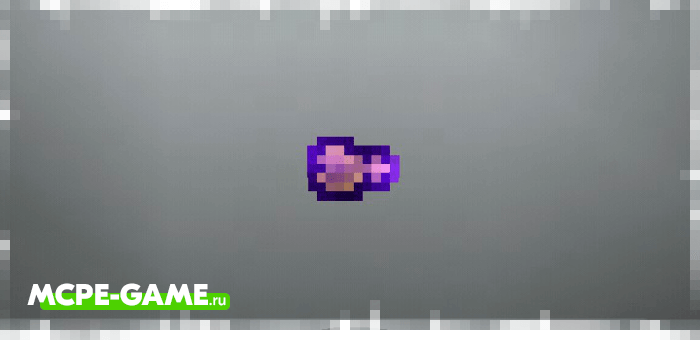 The main ingredient for crafting magic broomstick in Minecraft. It is created from a bag of magic change and 8 units of wheat.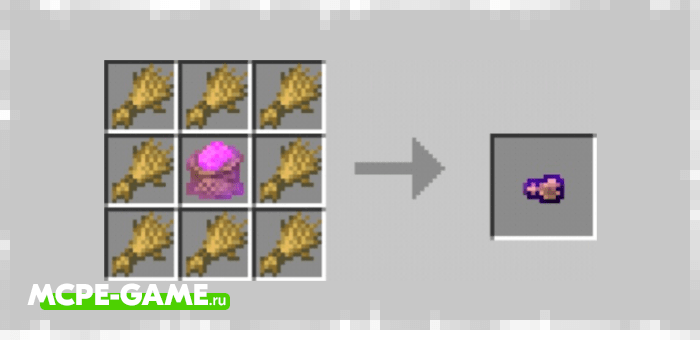 Magic oak broom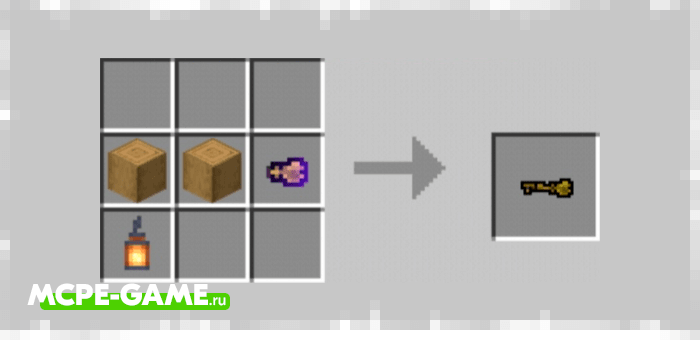 This is a basic magic broom, made from the most popular type of wood in the game. Once created, you can change the appearance of the broom to one of the 8 available.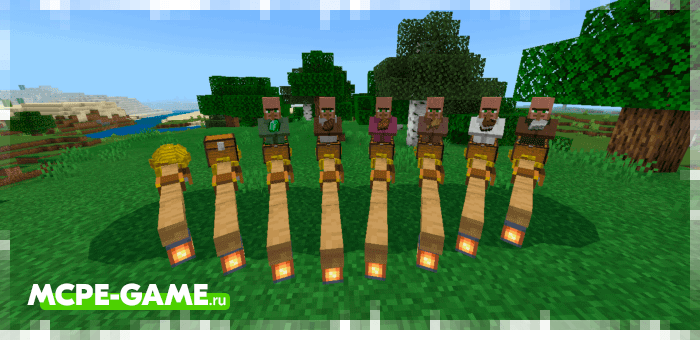 Magic Spruce Broom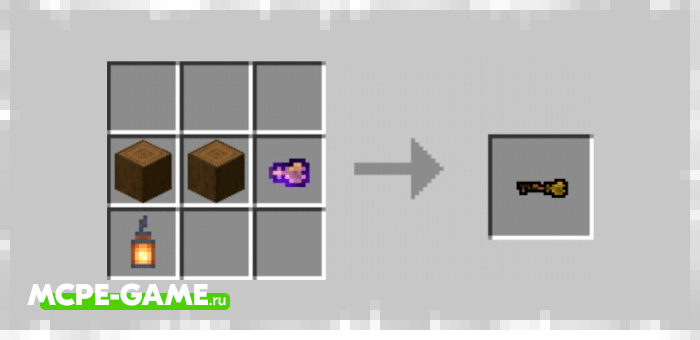 This broom, as you can understand from the name, is made from coniferous wood, which gives the Resistance effect to its owner. Once made, you can choose one of the 4 appearance options.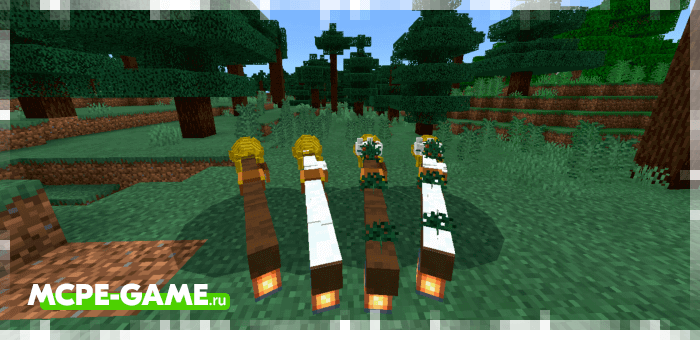 Magic broom made of birch broom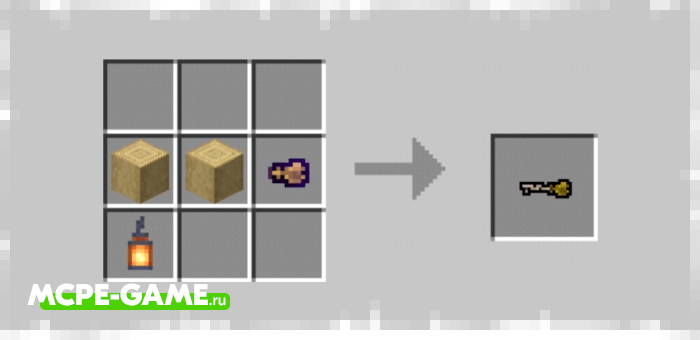 Baba Yaga's favorite broom, because it is made from domestic wood – birch. Available in 5 different appearances. Gives the Regeneration effect to its owner.
Magic acacia broom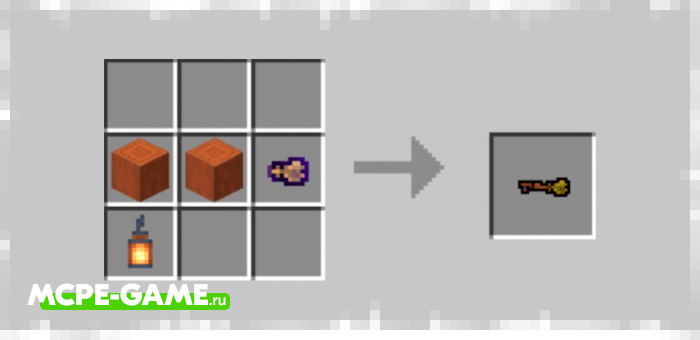 A noble broom created from a beautiful flowering wood. Adds the effect of the Force while flying, and also has 4 variants of appearance.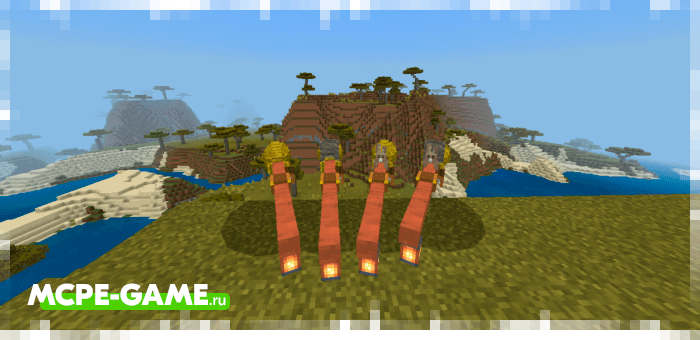 Magic broom made of tropical wood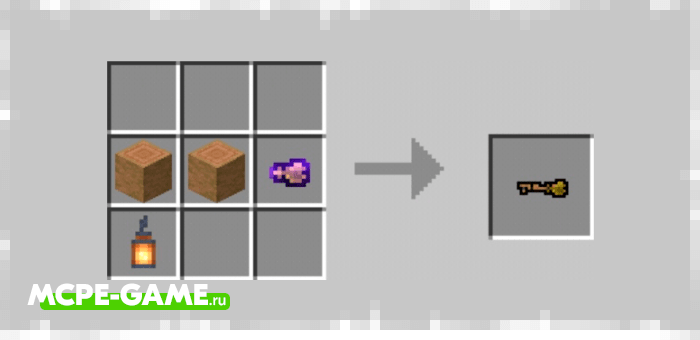 I guess if pirates had mages, they all flew brooms made of tropical trees. After all, your companion will be a cute parrot, and you will be able to choose one of 8 variants of broom appearance. In addition, you'll get the ability to breathe with a pod, as well as increased flight speed by 2 times when diving!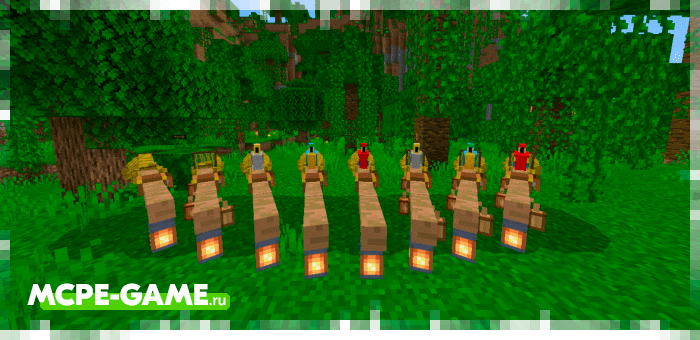 Magic dark oak broom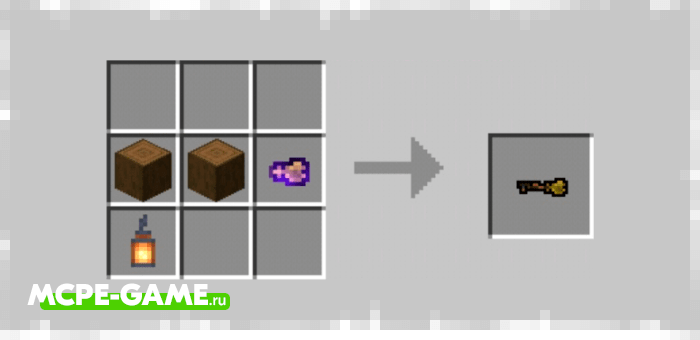 The luxurious magical broom, made of noble dark oak, will endow the wearer with the Night Sight ability. Available in 4 versions.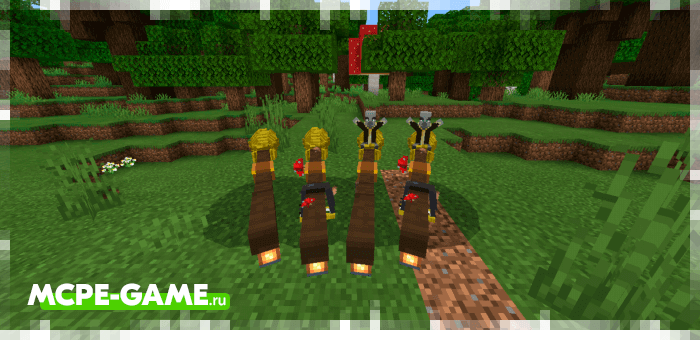 Magic hellwood broom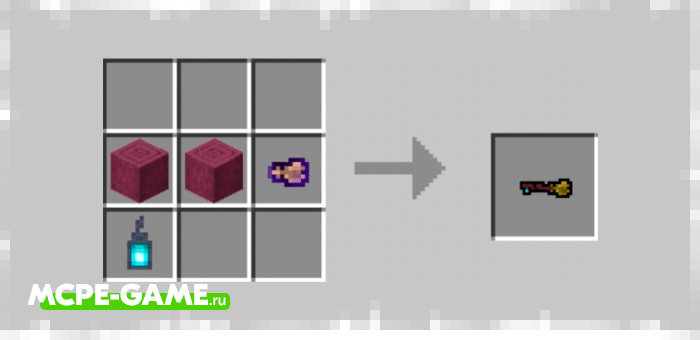 This luxurious magical broom may fly on lava, as it is made of fire-resistant wood, and grant fire resistance and strength to its owner. Choose from any of the 4 options.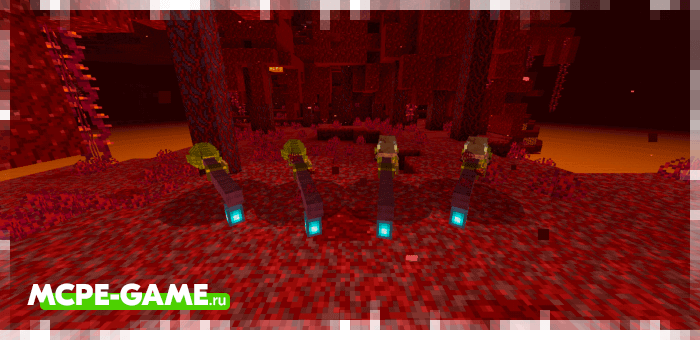 Magic broom from a defeated tree
Another broom made of wood from other worlds. It also has 4 different appearance options.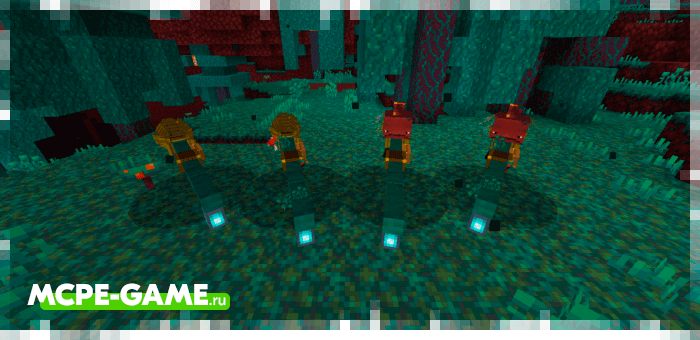 Wizard's Clothes
In addition to all of the above, in Magical Broomstick fashion you will find a complete set of mage clothing, consisting of a hat, gown and boots.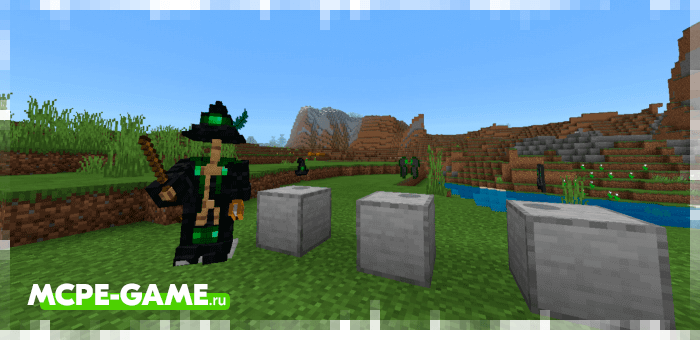 How do I change the appearance of the broom?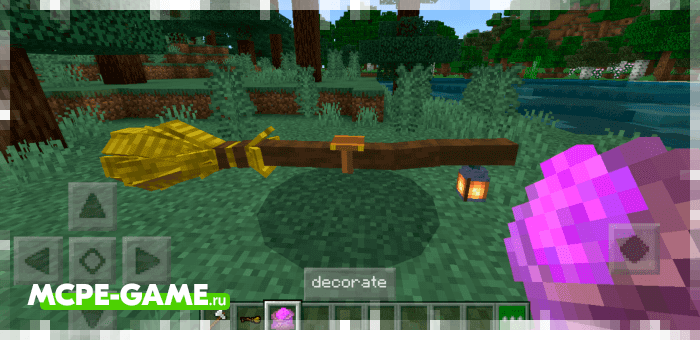 To change the appearance of your broomstick, pick up a bag of magical change, walk up to the side of the broomstick and hold down the strike button.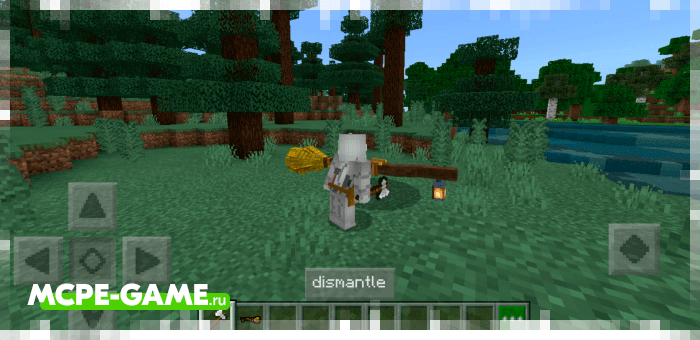 Alternatively, take an axe in your hand, crouch down and also hold down the strike button to apply the changes.
Updated at
13.09.2021
Game versions
1.16
Functionality tested on Minecraft
1.16.101
Genre
Magic, Mods
Platform
Android, iOS, Windows
Files
MagicalBroomstick.mcaddon
207.98KB
Leave comment