Working Terraria Weapons Add-on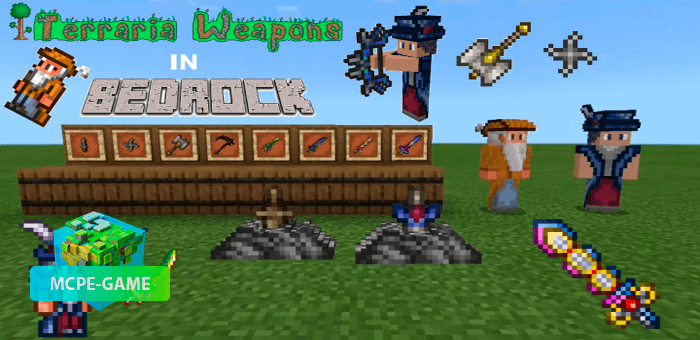 If you've played Terraria, you've probably wished Minecraft PE had added a similarly large amount of weapons and armor. With the Terraria Weapons Add-on, you'll get a little closer to your wishes!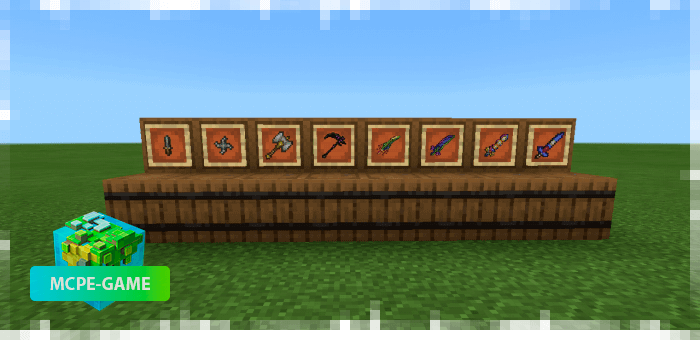 As of now, the Terraria Weapons Mod adds 8 weapons from Terraria to Minecraft PE that have similar combat mechanics. In addition, the mod will add 2 new NPCs to the game that will trade weapons and can protect your base.
Shuriken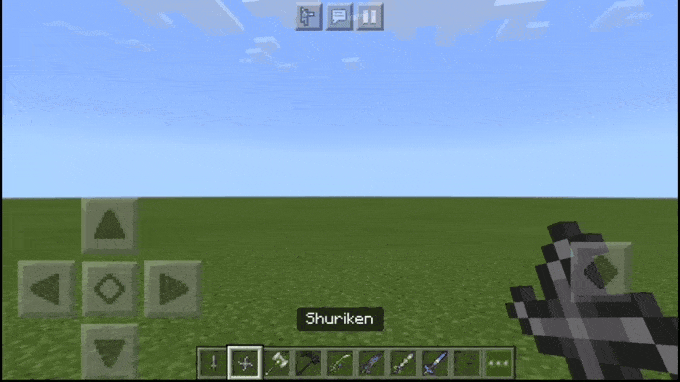 A new throwing edged weapon native to Japan, which will deal 5 units of damage to enemies when hit. If you don't throw a shuriken and just hit it, you will only deal 1 unit of damage to your opponents. At this point, a discarded shuriken cannot be picked back up.
Throwing knives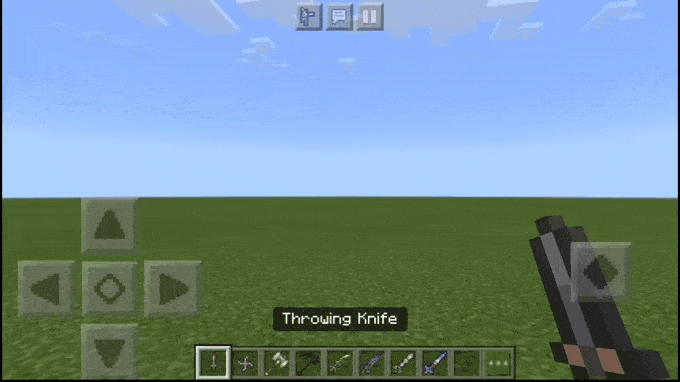 This is another weapon familiar to all Terraria players. Unlike the shuriken, throwing knives can be picked up after use, and the damage dealt to enemies is 7 units.
Paladin's Hammer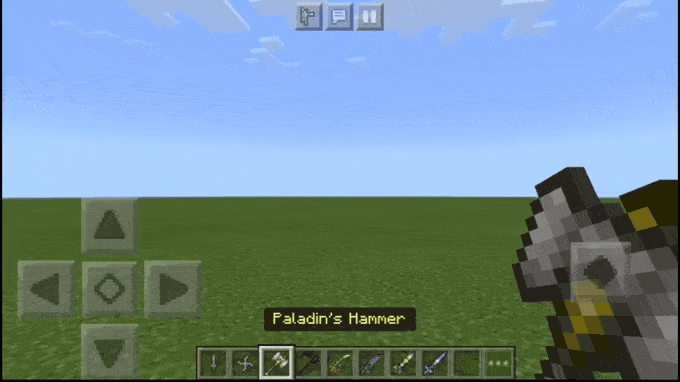 The heavy hammer works like a boomerang, returning to the main character's hand automatically when thrown. Deals 8 damage to all enemies in its path.
Death Scythe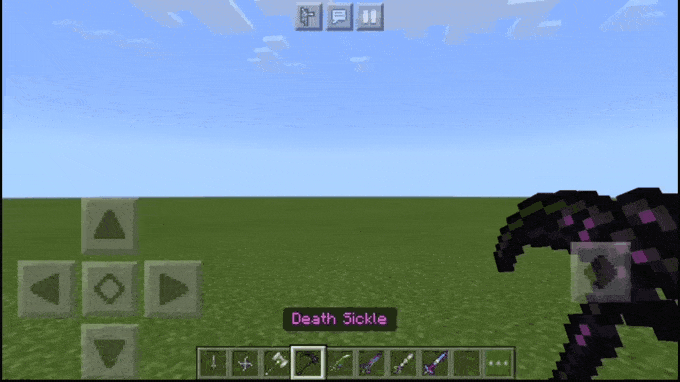 The death hook is a melee and ranged weapon. You can attack with it from the hand or by launching phantom scythes at your enemies, dealing 25 damage at once.
True Excalibur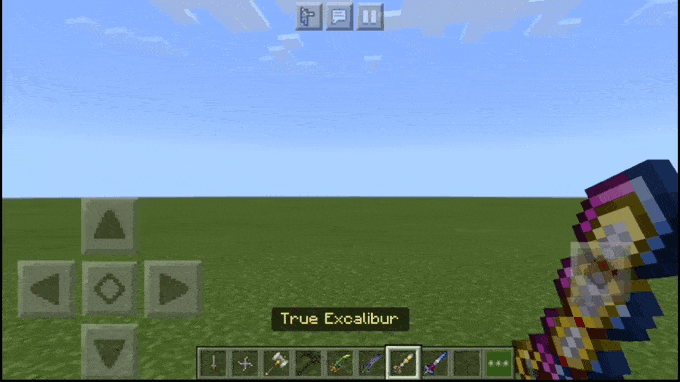 This heavy sword can also be used in combat at both close range and long range. Its main ability – copies of swords flying towards the player's sight, dealing 35 damage.
Edge of the Night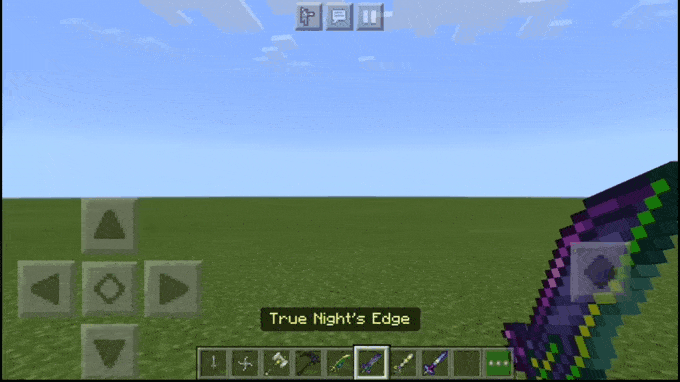 Sword, familiar to all Terraria fans, is now available in MCPE! This is one of the best melee weapons, capable of creating flying copies, destroying everything in its path.
Terra clique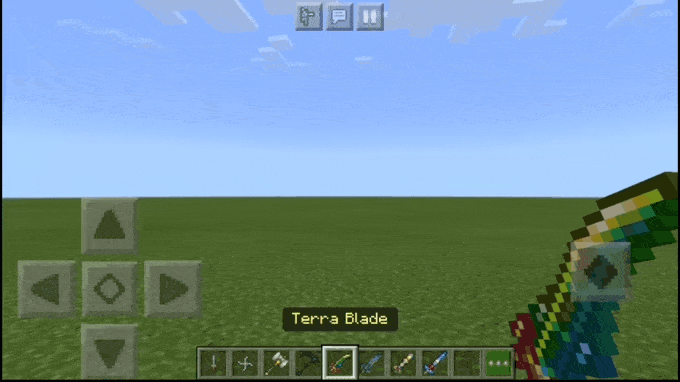 The most powerful sword in the Terraria weapon mod for Minecraft PE, which can be obtained by combining Edge of Night and True Excalibur. The sword deals 50 damage to enemies, and its illusion does 75 damage at once!
Enchanted Sword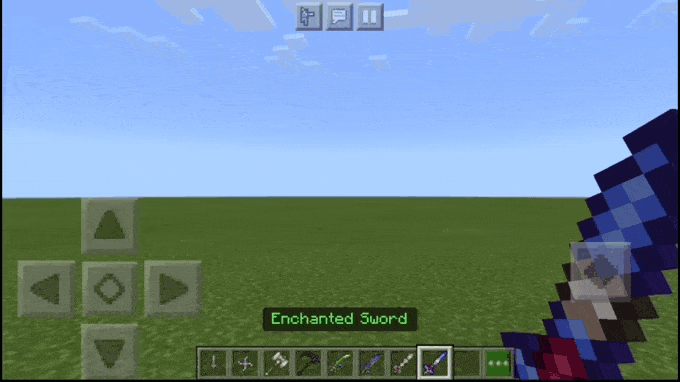 In Terraria Weapons mod, you can only get an enchanted sword by finding a stuck sword in a rock and extracting it. This is one of the best weapons to start the game, which will help you during the first days of survival.
New NPC
The familiar to all players traders from Terraria have moved to the world of Minecraft Bedrock Edition and are ready to offer you their services. From the new merchants you will be able to buy useful items, and of course, the new weapons from the mod. In addition, the merchants can do a good job of defending your settlement from uninvited enemies.
Video overview
Updated at
13.09.2021
Game versions
1.16
Genre
Mods, Weapon
Platform
Android, iOS, Windows
Files
Terraria-Weapons.mcaddon
203.35KB
Leave comment