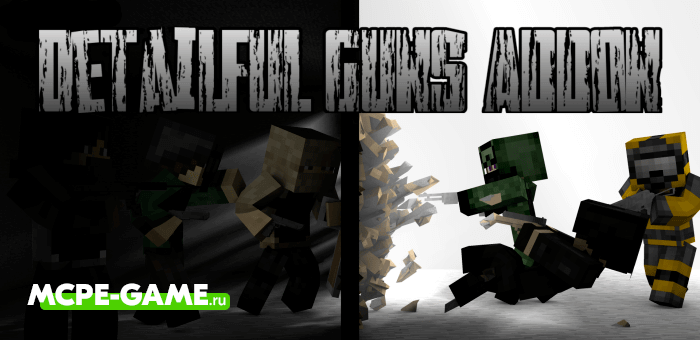 Detailful Guns is probably the biggest weapons mod for Minecraft Bedrock Edition, adding over 400 new items to the game!
Detailful Guns Addon will be the perfect choice if you want to add firearms to the game for survival or PvP battles with friends. Here you will find pistols, machine guns, sniper rifles, heavy machine guns, shotguns, shotguns and grenade launchers. Simply put, any weapon you can recall is added to the Detailful Guns addon.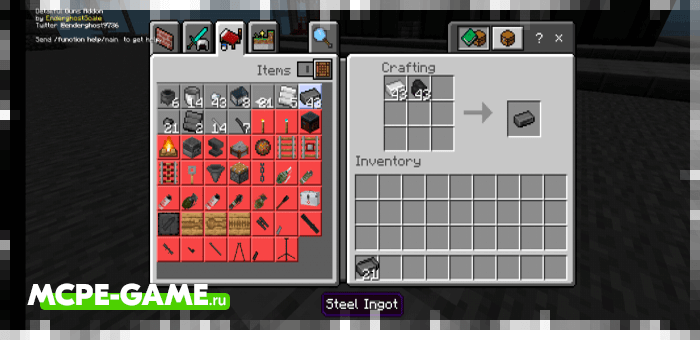 Absolutely all of the weapons in the mod have their own recipes for crafting, which can be found in the crafting menu in survival mode. And of course, you will find all kinds of weapons, playing in creative mode.
Of course, no military action can do without reliable armor and various military gadgets. By downloading the Detailful Guns mod on Minecraft, you will also add to the game military uniforms of different countries, helmets, body armor, camouflage robes, gas masks, night vision goggles and much more!
And at the end of the review mod Detailful Guns wants to add that here you will also find new enemies, against which it will be possible to apply any weapon and arrange a full-fledged battles! New walking dead, bandits, military NPCs and even different bosses.
How do I use Detailful Guns?
Below are the basic mechanics, allowing you to properly use all kinds of firearms and other weapons from the mod:
Long-pressing the screen to fire a shot
Holding the weapon in your hand, crouch down and press the interaction button to see all the appropriate ammo
To reload, place the weapon on the kraft grid, and a suitable magazine of ammunition below it
If a scope is mounted, crouch down to look through it
If weapon or reload does not work, sit down
Updated at
13.09.2021
Game versions
1.16
Functionality tested on Minecraft
1.16.210
Genre
Fireguns, Mods, Weapon
Platform
Android, iOS, Windows
Files
DetailfulGuns.mcaddon
32.94MB
Leave comment