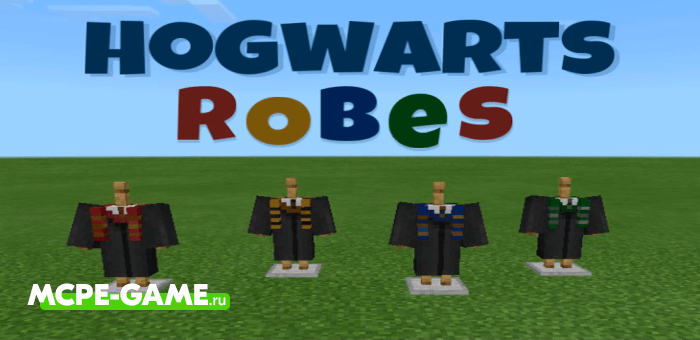 With the Hogwarts Robes Addon, you can feel like a student at Hogwarts Wizarding School and wear the robes of young wizards!
This Minecraft robe mod adds the classic robes, robes and scarves you might have seen in the Harry Potter movies to the game! Put a robe on your playable character. pick up your wands and start casting spells!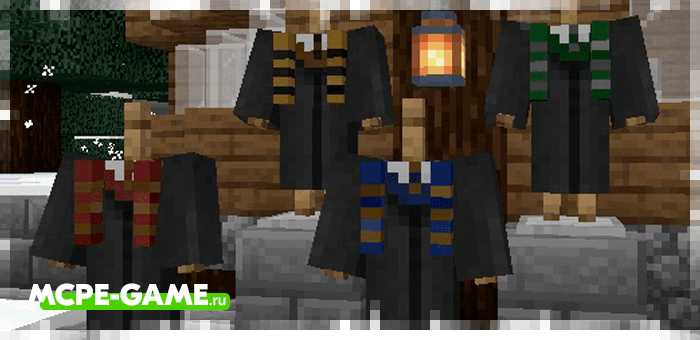 To choose your faculty affiliation, such as Gryffindor or Slytherin, you can use a scarf, with the color characteristic of that class.
In addition to robes, the Hogwarts Robes mod also adds Quidditch capes, the main sporting event for all Hogwarts students! And if you additionally install the mod for magic brooms, you can even have a full-fledged match with other players.
In addition, you can download the Hogwarts map in advance and create your own world in the spirit of Gary Potter, where each of the players will play a role, for example, a student or teacher.
Warning: this Minecraft mod for robes does not add new items to the game, but changes the appearance of armor. The robes and scarves are armor and helmets made of different materials.
Updated at
13.09.2021
Game versions
1.16
Functionality tested on Minecraft
1.16.201
Genre
Armor, Clothes, Mods
Platform
Android, iOS, Windows
Files
hogwarts_robes.mcaddon
166.36KB
Leave comment