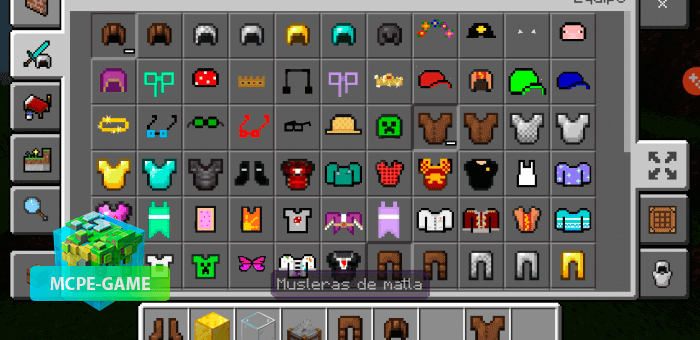 If you're looking for a great clothing mod for Minecraft PE that adds many different costumes, hats and other clothing to the game at once, we recommend checking out the Dharkcraft Clothes Add-on.
To get new clothes in Minecraft PE will need to use the stone cutter and put a piece of clothing – helmet, bib, pants, or boots to open a complete list of all available clothing for crafting. Then you will only have to choose the item of clothing you like and apply it to your character.
With this add-on you will be able to get over 70 items of clothing for all purposes in the game. For example, if you are playing with your friends on a RolePlay-style server, you will be able to change your casual and work clothes or open your own shop.
Update 2.0
In the updated version of the mod Dharkcraft Clothes was added more than 200 new types of clothes for every taste, making this addon, can be considered one of the biggest costume and clothing mods in Minecraft!
Among the new clothes you will find a variety of costumes of mobs, superheroes, professions, as well as normal everyday clothes.
Updated at
13.09.2021
Game versions
1.17 1.16
Functionality tested on Minecraft
1.17.0.50 1.16.220 1.16.210 1.16.201 1.16.200 1.16.101 1.16.100
Genre
Clothes, Mods
Platform
Android, iOS, Windows
Files
Dharkcraft Clothing [Behavior]
5.07MB
Dharkcraft Clothing [Resource]
5.71MB
Leave comment