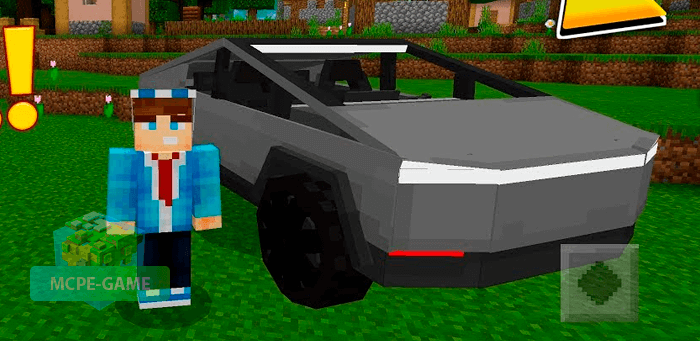 We have prepared for you a selection of mods for Minecraft PE that add legendary Tesla cars to the game. Choose any or several at once and travel the world of the game on modern electric cars!
Tesla CyberTruck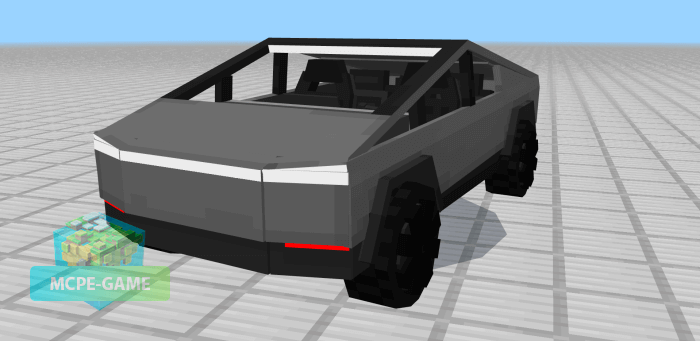 The most futuristic and extraordinary car Tesla CyberTruck can become yours today! Despite the fact that official sales won't start until 2022 at the earliest.
Tesla CyberTruck for Minecraft PE has a unique motion animation, sounds, has a driver and passenger seat for your friend, as well as a trunk for 27 slots!
Incredibly beautiful and sporty Tesla Roadster will be waiting for you right after installing the mod. Become the owner of an eye-catching car, hiding a huge power under the hood!
The red Tesla Roadster incorporates many luxury supercar features while remaining practical for everyday use. There is enough space in the cabin for four players at once, and the trunk can be used to store things. The car is capable of speeds of up to approximately 140 km/h.
A luxury sedan for everyday life – that's how you can describe the Tesla Model S car for Minecraft.
The Tesla Model S seats five people and has a huge trunk. The iconic design is realistic in size and has many new animations
The one and only Tesla Model 3 will be added to Minecraft thanks to this mod. Enjoy the attractive design and great driving speed, not to mention the fact that you and four of your friends can fit in this car.
Tesla Model 3 for Minecraft PE includes an infotainment system above the center console, a large windshield for optimal visibility and an incredibly stylish design.
Updated at
13.09.2021
Game versions
1.16
Genre
Cars, Mods
Platform
Android, iOS, Windows
Files
Tesla CyberTruck
619.24KB
Tesla Roadster
628.81KB
Tesla Model S
1.03MB
Tesla Model 3
428.76KB
Leave comment