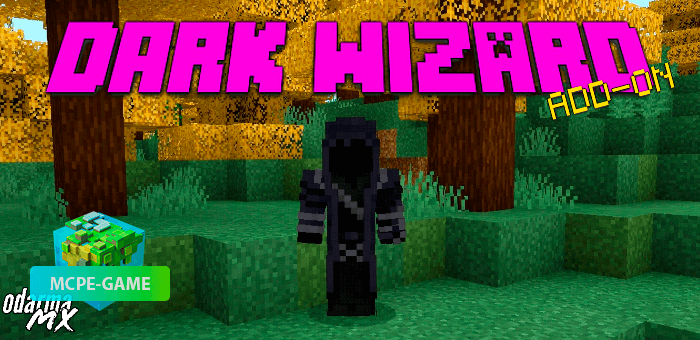 Fight a new boss in Minecraft PE, possessing enormous power and wielding magic, whose name is the Dark Wizard!
According to legend, under his black hood hides the face of a man full of pain and despair, because he was one of the first to get into the underworld, and after, got to the portal to the Ender-world and defeated the Dragon of the Edge. True, during his journey he was always accompanied by his beloved, who died in a great fight with a dragon, after which the Dark Wizard, began experimenting with alchemy and travel through worlds, trying to turn back time.
You can meet the new boss in Minecraft Poket Edition in taiga biomes, usually at night time. He has 2,000 health, and his attacks deal 15 units of damage.
In addition, the Dark Wizard is capable of releasing fireballs, with which he attacks his enemies at a distance. That's why, fighting with the new boss in MCPE, you'll have to be constantly on the alert and think about the tactics of combat. Simply attacking melee is not enough, because Dark Wizard is also able to teleport away from his attacker!
We do not recommend fighting the new boss in Minecraft PE near your buildings, because he can quickly turn them into ashes.
Updated at
13.09.2021
Game versions
1.16
Genre
Bosses, Mods
Platform
Android, iOS, Windows
Files
Dark-Wizard.mcaddon
752.18KB
Leave comment