Minecraft Dungeons Armor Add-on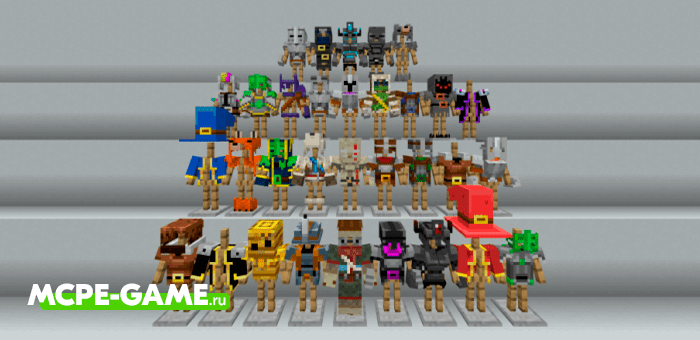 The amount of available weapons and armor in the RPG version of Minecraft Dungeons is much more extensive than in the standard version of the game, but with this mod you can add a huge variety of new armor sets to the game!
Among the new armor from Minecraft Dungeons you'll find all the combinations you're already familiar with – wizard costume, wolf skin, heavy armor of knights and horsemen, and even, spider's attire.
At the moment, you can get new armor from Minecraft Dungeon only from the creative game mode, but in the future the authors promise to add recipes for crafting.
Update 2.0
The new version of the Minecraft Dungeons Armor mod has added even more different versions of armor and costumes that will definitely not leave you indifferent!
You'll now be able to use battle robe, climbing clothes, dark armor or sheep's wool armor set, as well as many other sets. Unlike other armor mods, which are usually just created from new materials, in this mod you'll have to make a difficult choice between what to wear!
Updated at
13.09.2021
Game versions
1.16
Functionality tested on Minecraft
1.16.210 1.16.201 1.16.200 1.16.101 1.16.100
Genre
Armor, Mods, RPG
Platform
Android, iOS, Windows
Files
Minecraft Dungeons Armor v2
166.36KB
Leave comment